Wales a 'divided country' on immigration, say anti-racism campaigners
By James Williams
BBC Wales political correspondent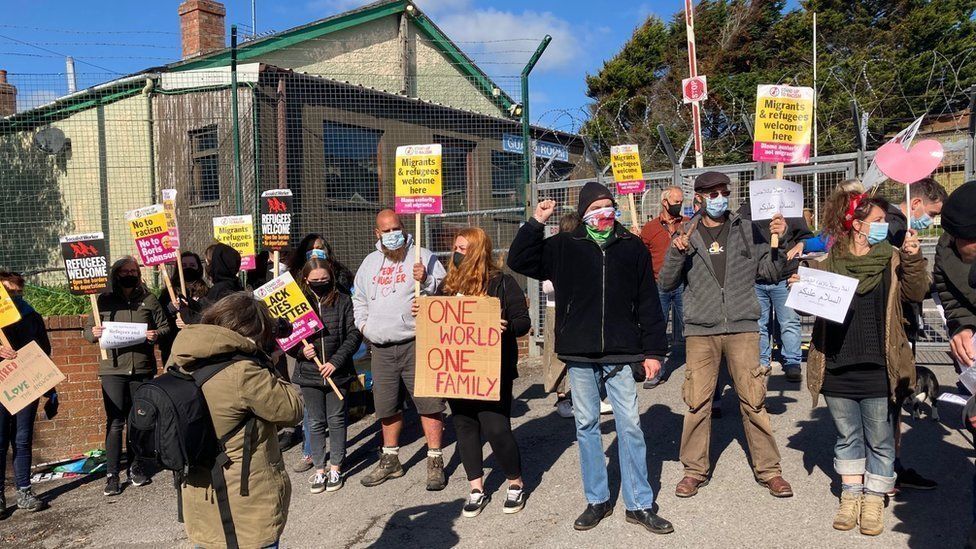 Wales is a "divided country" with most open to immigration but has "pockets of hostility" emerging, say campaigners.
A survey conducted on behalf of Hope Not Hate suggested most people (57%) believe immigrants have changed their local area for the better.
However 43% of respondents said they have made things worse.
Opinion was almost evenly split on whether people were worried (46%) or not (48%) about the arrival of new immigrants in their community.
The survey also suggested there is great concern about the lack of opportunities for young people, the decline of the high street, and poverty in Wales.
As part of campaign group Hope Not Hate's first wide-ranging analysis of identity in Wales, registered opinion pollsters Focaldata conducted an online survey of 1,043 people in Wales between 27 March and 2 April 2021.
Getty
Immigration and a multiracial society
Responses to Hope Not Hate's survey in Wales
56%On the whole, immigration has been a good thing

44%On the whole, immigration has been a bad thing

66% Having a wide variety of backgrounds and cultures is part of British culture

34%Having a wide variety of backgrounds and cultures has undermined British culture

53%Britain is a successful multicultural society where people from different backgrounds generally get along well

47%Britain's multiracial society isn't working and different communities generally live separate lives
Source: Focaldata online survey of 1,043 people in Wales, March-April 2021
Asked to describe Wales, the most popular term used by participants was 'welcoming', chosen by a third (33%) of all respondents.
This was followed by 'divided' (20%), 'uncertain' (20%), and 'safe' (20%).
Most respondents (54%) agreed with the idea that immigrants often do jobs Welsh people do not want to do, and 42% said immigration was a good thing for Wales because of the nation's ageing population.
But there was also a widespread view that immigrants have made it harder for Welsh people to get jobs (42%), and that immigrants do not want to integrate (40%).
Asked whether people agreed or not with the idea that you 'cannot be proud of your national identity these days without being called racist', 49% agreed with the sentiment, whilst a quarter disagreed.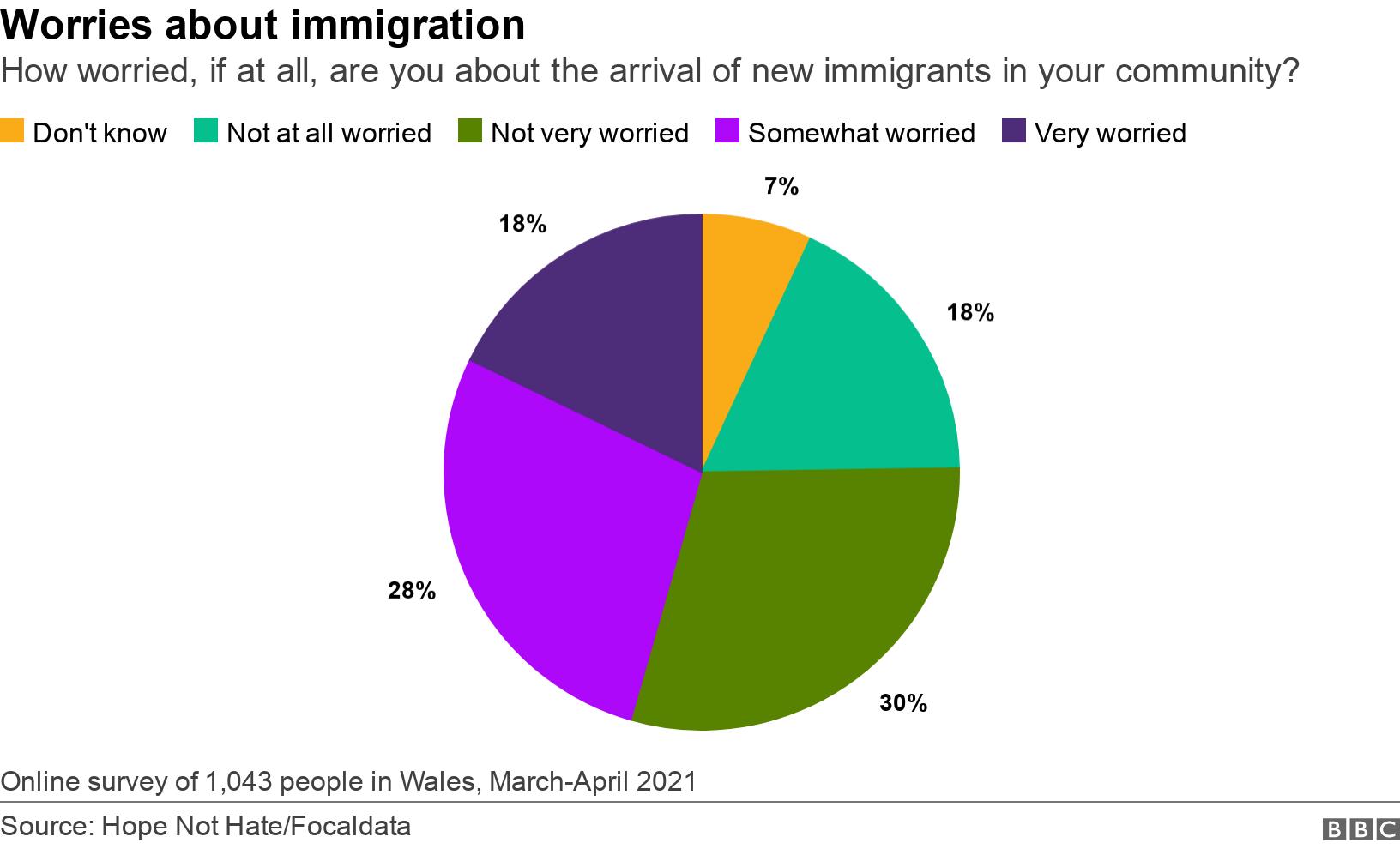 More respondents agreed (40%) with the statement that 'feminism has gone too far and makes it harder for men to succeed' than disagreed (33%).
Over a third of people (34%) also said that Islam poses a threat to the British way of life.
'A very strong sense of Welshness'
Rosie Carter, senior policy advisor for Hope Not Hate and a co-author of the 'Fear and Hope: Wales' report, said: "The lines that divide the population are not set and we know that certain things can increase division, other things can build greater resilience.
"Looking at the economic impact that's coming down the line, this could quite likely widen these divisions as it deepens inequality and increases mistrust.
"We found a very, very strong sense of Welshness across the spectrum.
"So, from people who have very liberal views across to people who have more hostile views on things like immigration, all of these people had a very strong sense of being Welsh, but what they meant by that Welshness was very, very different.
"So, it's not so much that there were divisions on identity in that sense but by what people meant by it and that cut across the political spectrum too," she added.
The report and survey suggest there is widespread concern about poverty and jobs.
Asked how worried they were about a range of issues, the respondents were very or somewhat worried about:
lack of opportunities for young people - 69%
decline of the high street - 68%
poverty - 65%
impact of global warming - 62%
level of racism - 54%
Exactly half the respondents said they were very or somewhat worried they or someone in their family may lose their job as a result of the pandemic.
Many said they had struggled financially, as one in five said they had applied for universal credit (19%), been furloughed (19%), had their hours reduced (21%), or lost out financially because they had to self-isolate (22%).
Pandemic disproportionately effecting young people and women
The Hope Not Hate report said the survey suggested the pandemic has had a "disproportionate economic impact" on young people in Wales, with under-35s "considerably more likely to have lost hours at work, gotten into debt, dipped into their savings, been furloughed or lost out financially because they've had to self-isolate".
The report also suggested women were "more likely to report having felt negative impacts", including:
41% of women said they had dipped into their savings, compared to 29% of male respondents
Almost a third (27%) of women had fallen into debt, compared to 21% of male respondents
Almost half (47%) had felt a deep sense of loneliness, compared with 28% of male respondents
Shavanah Taj, General Secretary of the Wales Trades Union Congress, said: "The uncomfortable reality is that our economic model in Wales was broken prior to the current crisis.
"Over the last decade we have seen a sharp increase in insecure work as well as major growth of in-work poverty.
"Households with at least one adult in paid work now make up over half of all those in poverty - undermining the idea of work as a guaranteed route to some form of economic security.
"It is therefore unsurprising to see poverty identified here as a major concern by two thirds of the population," she added.