Hospitals: Study to look at benefits of outdoor treatment
By Neil Prior
BBC News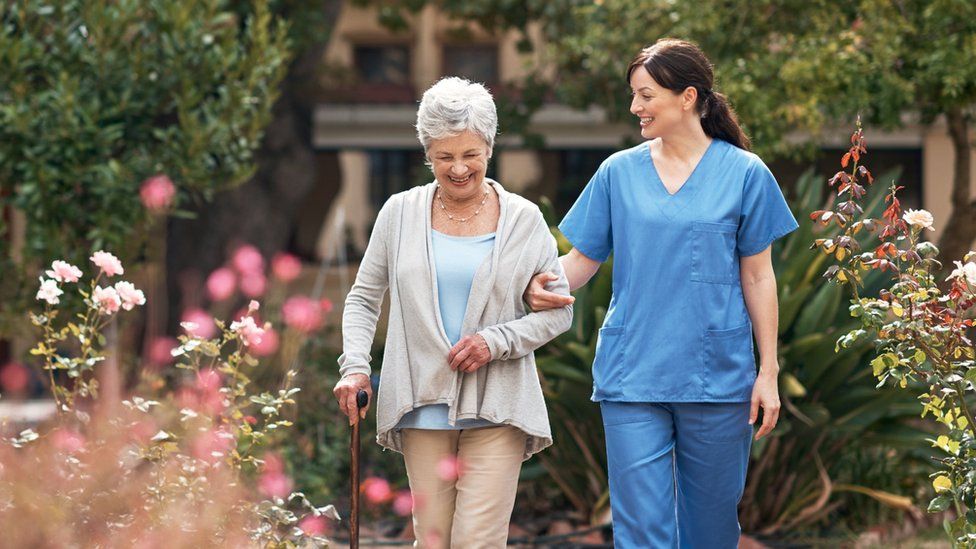 A new study will look at whether treating hospital patients outdoors could speed up recovery and improve mental health.
Swansea University has been awarded £50,000 by the Welsh government to evaluate two projects at hospitals in south Wales.
One involves an outdoor healthcare and rehabilitation centre being created at University Hospital Llandough.
The researchers hope the study will provide evidence for more schemes.
It will explore the benefits of the Fit for the Future project, set up by social enterprise Down to Earth, at two sites.
The first is Our Health Meadow at the hospital in Llandough, Vale of Glamorgan, which began in June and brings together patients, staff and the local community to transform a seven-acre (two hectare) field and another seven acres of surrounding woodland into an accessible outdoor healthcare and rehabilitation facility.
The second, a future scheme at Velindre Cancer Centre, will create green spaces as part of what will become the new hospital grounds.
Prof Jason Davies, of Swansea University's School of Psychology, said these projects were taking things full-circle to forgotten and overlooked ideas from the past.
"Throughout the 19th and early 20th centuries, outdoor treatment was part of everyday healthcare.
"Beds were routinely wheeled out on to balconies in general hospitals to allow patients to take the air, and in psychiatric facilities gardens and farming areas were a key part of creating an atmosphere of normality and calm, and to provide exercise."
He said somewhere along the line healthcare became a largely indoor task with more focus on treating individual symptoms than supporting people.
"Projects like this emphasise the whole person whilst developing spaces which can be enjoyed by all," he added.
The ambition of the project is to involve patients, NHS staff and the local community in designing and creating sustainable and environmentally sound spaces within hospital settings.
Down to Earth said it was an approach that was "good for people and good for the planet".
Dr Kim Dienes, also on the research team, added: "Green initiatives are recognized as especially important after the lockdowns of the past year. The Fit for the Future scheme integrates mental health, ecological engagement, and wellbeing for some of those who need it most: NHS staff and patients."
The researchers said that, while people generally agreed green spaces were important for health and wellbeing, there was not a great deal of data to back this up.
They hope to provide evidence which could lead to the expansion of projects like this across the rest of Wales and the UK.
The study will use a listening booth to gather qualitative information about how people feel while taking part and then several months later, alongside mental health surveys.
NHS staff who take part will also be invited to provide saliva samples to study their levels of cortisol.
"Cortisol is a hormone commonly associated with stress, so by taking a mouth swab we can monitor the level of cortisol over time," said Prof Davies, describing this as the most ground-breaking feature of the research.
The study begins next month and will continue until June 2023.