Time capsule found in Northop a 'good omen' for builders
By Sarah Easedale
BBC News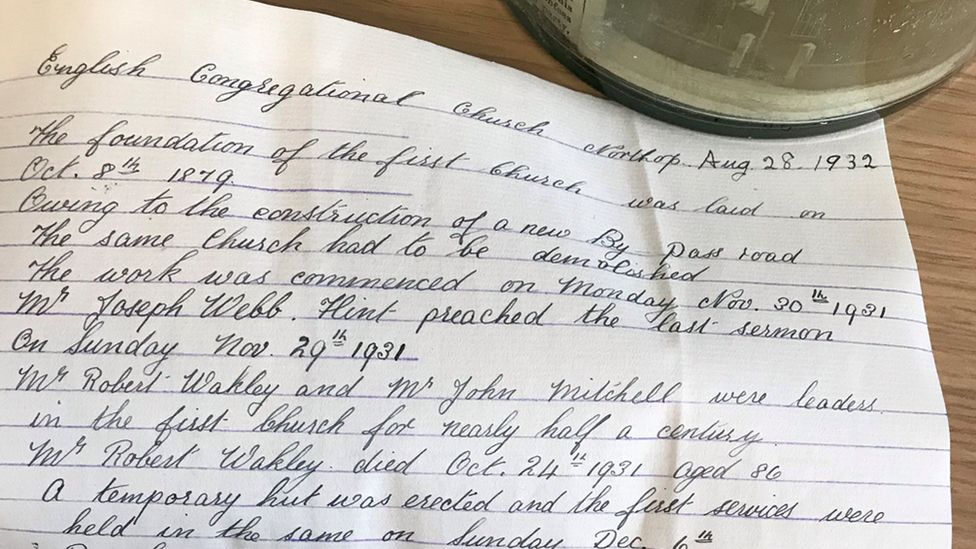 Developers of the site of a former church have said they hope discovering a 1930s time capsule is a "good omen".
A builder demolishing the United Reformed Church in Northop spotted the glass jar in an internal wall.
It contained photographs and documents about the church - as well as the contents of another time capsule found in the 19th Century church it replaced.
Claire Boot, of the United Reformed Church National Synod of Wales, called it "a delightful surprise".
"After this church and its long history... it was really lovely to realise that the people who were involved in building the church in 1932 obviously felt they were doing something significant and special and they wanted to mark it," she added.
The church, on the Flintshire town's High Street, closed in 2017 after the congregation became too small to support it and it is now becoming home to an affordable green-housing project.
Ms Boot, a property officer, said the use of the land - though different - would "still be of service to the community".
The church is working with Housing Justice Cymru and its project Faith in Affordable Housing, which identifies surplus or disused church land for housing need.
Wales and West housing association will develop four houses and two apartments on the site, with work beginning in September.
But before the contractors start the build, schoolchildren from the area will bury their own time capsule, bringing more than 140 years of history full circle.
Related Internet Links
The BBC is not responsible for the content of external sites.