Mind Cymru: Covid mental health 'crisis' for young people
By Gwyn Loader
Chief correspondent, Newyddion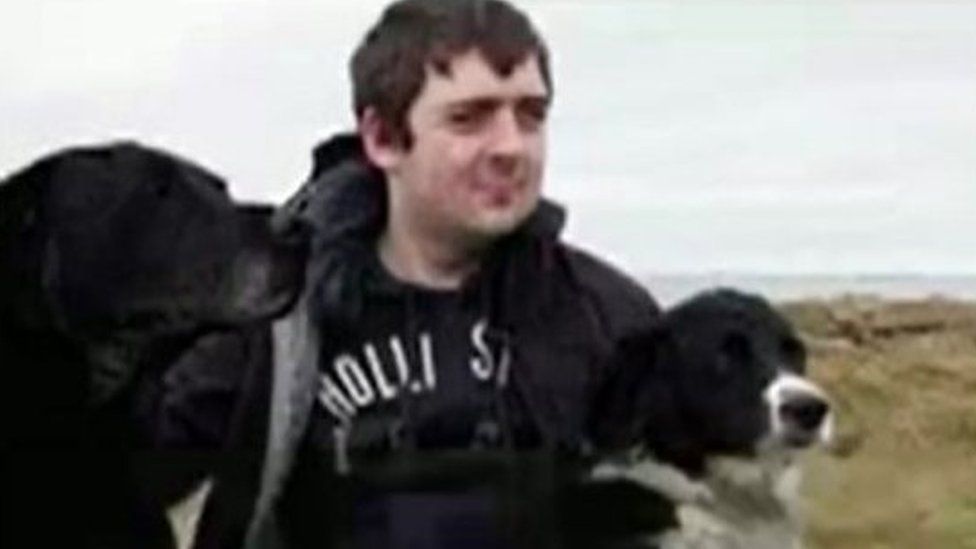 A charity is calling for urgent action to ensure mental health support does not worsen as a result of the pandemic.
Children and young people's mental health services were "in crisis despite the efforts of the workforce" before Covid struck, Mind Cymru said.
A report by the charity suggested pressure on those services would rise.
The Welsh government said it was prioritising mental health services, investing an extra £42m to improve support.
Research published on Thursday by Mind Cymru demonstrated the effect the pandemic and lockdown periods have had on the mental health of young people.
The report said that of 106 young people aged 13-24 it had spoken to in Wales, 68% reported their mental health had worsened during the pandemic.
By the end of the third national lockdown earlier this year, 53% of those young people described their mental health as being "poor" or "very poor", with 45% saying they had self-harmed during the pandemic.
Nia Evans, Mind Cymru's children and young people manager, told BBC Wales' Newyddion programme: "We are acutely aware the pandemic will have had a lasting impact on the mental health of young people.
"We are still in early days as to the impact of lockdowns, but there is growing evidence to suggest it has has had a disproportionate impact on young people.
"Welsh government has made a public commitment to invest in children's and young adults' mental health services, but that investment seems quite slow.
"We are campaigning to ensure Welsh government hears the voices of these young people and understands this investment has to be made quickly and its effects truly felt by these young people."
The campaign has come too late for some.
Twenty-year-old Iwan Caudy from Bridgend died in May last year. The Oxford University student had suffered with mental health problems for some years, and took a fatal dose of heroin.
His mother Tania Wear told BBC Cymru Wales: "It has been hellish. Losing a child is the worst pain anyone can possibly endure.
"There's a lot of guilt too - it's difficult to overcome it and find a reason to carry on."
Mr Caudy and his family had sought help before his death. A month previously, he had attempted to end his life.
Although he was taken to hospital, he was sent home because of the risk of contracting Covid-19. An appointment with a psychiatrist was also cancelled because of the pandemic.
But his mother said even without the pandemic, more investment was needed for mental health services.
"Even without Covid, you're waiting six months or even 12 months for an appointment with a psychiatrist. It's a big problem for the NHS.
"But I don't blame the health service - they don't have enough money."
A bright student, Mr Caudy had been studying at Oxford University. But having moved from home, his mental health deteriorated. His family believed he had turned to illicit drugs to try and self-medicate and deal with his issues.
"If his problems had been taken more seriously to begin with, it's likely he would still be here today," said his mother.
"The issue is that the NHS, the mental health teams, put a plaster on a gaping wound.
"They don't have the resources to help until the problem is so serious it's very difficult to offer any assistance."
The family said it did not blame anybody for Mr Caudy's death, but wanted to ensure services were adequately funded and that there was better awareness in society of the devastating effect of mental health issues.
In a statement, the Welsh government said: "We sympathise with Iwan's family during this difficult time.
"The pandemic is having a huge impact on people's emotional and mental health. Ensuring that people have access to the right kind of support for their mental health needs has been a priority for us throughout the pandemic and we have invested in easier-to-use services, which do not have to be referred by a doctor.
"But we know there is more to do. Our Programme for Government makes it clear that we will prioritise investing in mental health services. We are investing an additional £42m this financial year to improve mental health support.
"Responding to the impact of the pandemic on mental health will require a multi-faceted approach from several agencies and we are committed to working with partners, including Mind Cymru, to do this."
Related Internet Links
The BBC is not responsible for the content of external sites.