Photographs reveal people behind rare illnesses
By Catherine Evans
BBC News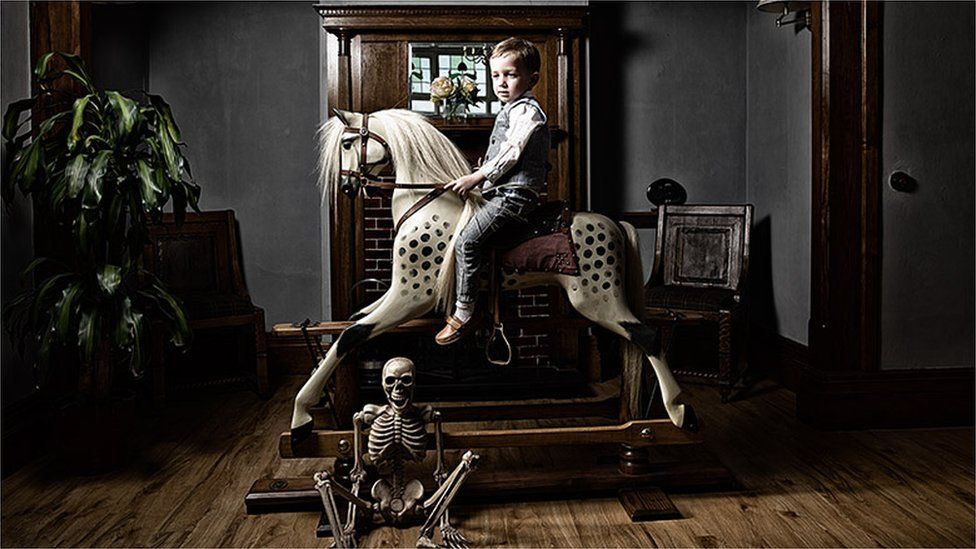 A mother whose three children died of the same condition, a young man facing "the worst illness of all time" and a teenager who lost her hair feature in an exhibition to challenge concepts of beauty.
Beauty of Rare was created by north Wales-based charity Same but Different.
Each photograph tells a story about each person's identity and their experience of a rare illness.
Photographer and charity founder Ceridwen Hughes said: "Each scene was created around the individual and their condition with small details that, on first glance may, not make sense but on reading the narrative will become clearer."
Here are the stories of some of those who feature.
When Jonathan Bennett was diagnosed with Huntington's, he already knew his fate.
He saw his father die from the disease and has watched his younger sister and older brother deteriorate.
With no cure, Jonathan turned to running to deal with the physical and mental impact of the disease. But his body told him to stop.
The 34-year-old from Wrexham said: "I have Huntington's which is a really complex disease that affects you in different ways.
"I was diagnosed when I was 26, but to be honest, I've always believed that I've had it.
"The worst part of the condition is the end, probably, seeing my sister and brother and the way it has affected them, but at this point I am just trying to be positive. That's all I've ever done."
There is currently no treatment for Huntington's disease and Jonathan said it was really important as much research as possible was done.
"When you initially get tested and given the diagnosis, it is really hard going. It is a nightmare," he said.
"If I was able to speak directly to the researchers, I'd say it is the worst illness of all time. They need to keep on fighting for the people like myself and my family because we're all fighting for the research ourselves, every day.
"If you start thinking about it, it'll drive you crazy. You just have to crack on with your life."
Jonathan's sister Lizzie, who also took part in the photography session, has since died.
'He'll lose the skills we've watched him gain'
Jack, 8, was diagnosed with Duchenne muscular dystrophy in 2015 when he was just two years old.
His mother, Anna Clark, said: "It's a rare condition that mainly affects boys. It's a muscle-wasting disease, so he'll gradually begin to lose all of the skills that we've watched him gain."
She said the family were given the news over the phone by a duty doctor, which she wished had been delivered another way.
"It's never going to be good news to hear, it completely throws your world upside down. It takes away all the hope that you have for your child and you start grieving for the life that they should have."
She added: "After the diagnosis, we just threw ourselves into fundraising and finding out as much as we can in the hope that new drugs and treatments will come along and help to save his life.
"We try and keep him in the best condition that we can do so that when that treatment or cure comes along, he's going to have the best chances of extending his quality of life, and it's all about quality of life.
"We try not to think to the future. You have to live every day because looking ahead is just too scary, it's too unbearable. You want to press a pause button, more so than any parent, because you dread what the future holds if this disease continues."
'At 17, to lose all my hair... I felt really ugly'
Lucy Root, 21, has Ehlers-Danlos Syndrome (EDS) Type 3, a soft-tissue connective disorder which causes hypermobility.
"Because it's a collagen deficiency as well, it can affect anywhere in your body, from your brain to veins, or even your heart. It just has an effect everywhere," she said.
"As recent as 2017, I also lost all my hair, it just fell out in the space of just 48 hours. As a 17-year-old girl, to lose all my hair was huge. I felt really ugly and just didn't want anyone to see me."
She said having a rare disease as a teenager had impacted her "massively" as she initially became ill when she'd only started building her first real friendships.
"I have only really got one proper friend who has stuck by me. There was a time when I missed a year-and-a-half of school because of EDS and so, I've basically had no friends or social life for a few years," she added.
"If I could tell people one thing it would be that having a rare disease does not make you a weirdo. We're just as normal as you, we just have a few quirky little bits about us. I just want people to treat me normally and accept our differences."
Toni Mathieson, 52, first heard of Niemann-Pick disease when her daughter Lucy was about five weeks old.
"We looked at our gorgeous little baby and just could not believe that she was so unwell," she said.
Toni said when they were given the initial diagnosis, they were given the wrong information and she wished she could revisit that appointment to address what happened.
"We went on to have two further children but sadly they too were born with the condition and we lost all three children within the space of four years," she said.
"I didn't want anyone's pity and I still feel I don't need it, even though, yes, I get that reaction.
"If someone asks, 'have you got children?' and then I tell them our story, I can see the pity in their eyes. I don't want that; I want them to listen and understand that I am very grateful for the experiences I've had and the time that we had with our children.
"It's very special to me and I feel very lucky. I know that sounds ridiculous, but I do, I feel really lucky and I want people, if I talk to them about my experiences, to learn from me and pass it on and raise awareness and support and help. That's what I want from them and not their pity."
'See the person, not the condition'
Photographer Ceridwen Hughes said her own experience with rare disease started the day her youngest son was born.
"From that moment I became aware that people often see the disease or disability before the child.
"I founded Same but Different as a way to redress that balance and encourage people to see the person rather than the condition."
On the creation of the exhibition, she said: "We wanted to create something that encouraged people to want to know more and to find out about the people involved and their conditions.
"Despite 1 in 17 people being affected by a rare disease in the UK, awareness is limited."
Related Internet Links
The BBC is not responsible for the content of external sites.