Covid: Loneliness a 'bigger health risk than smoking or obesity'
By Catherine Evans
BBC News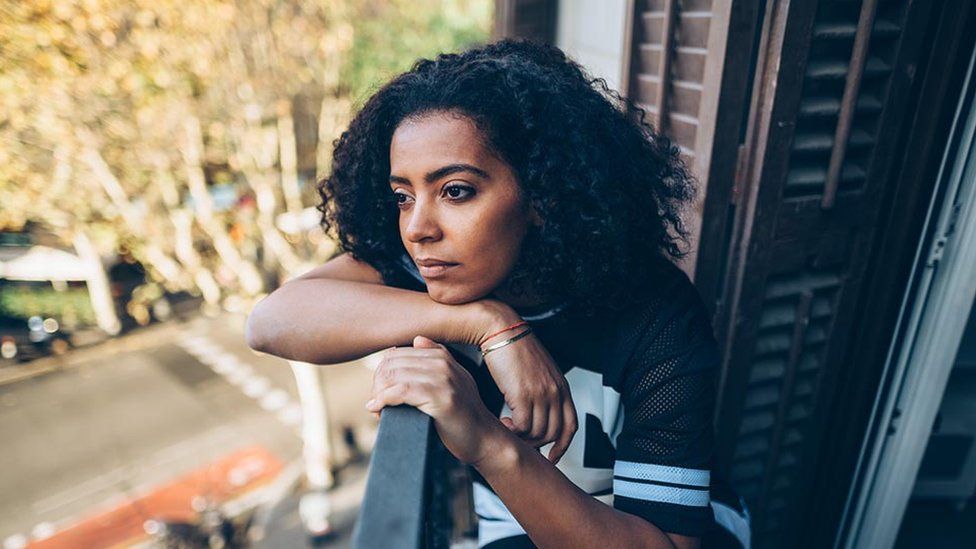 NHS prescriptions for gardening and dancing are "vitally needed" to help tackle rising levels of loneliness after lockdown, people suffering from isolation have said.
A Mind Cymru pilot project is looking into its impact on mental health.
One woman who felt isolated in lockdown said loneliness was now a bigger health risk than smoking or obesity.
Alice Gray, a 29-year-old science communicator and producer from Cardiff who struggled with loneliness during lockdown, said social prescribing was "vitally needed".
She added that loneliness could often be stereotyped as affecting older people, but she spent long periods in isolation during the pandemic, even spending the last birthday of her 20s alone because of social distancing rules.
"Loneliness is a widespread problem, even prior to pandemic," she said.
"It's not only incredibly isolating, but it's very stigmatised and often associated with the older generation - despite more young people struggling with loneliness. Three times as many young people deal with loneliness compared to older people."
After spending many months entirely on her own, Ms Gray said she would personally benefit from something that would "enable me to get on a path out of loneliness".
"But also, as a neuroscientist, I think people underestimate the impact loneliness has on our brain and health - with lonely people being more than twice as likely to have mental health issues and loneliness is considered a bigger health risk now than smoking or obesity.
"I think having access to a service like that [social prescribing] could have impacts on the mental and physical health of people on a personal level, as well as on a broader level."
What is social prescribing?
Social prescribing creates a formal way for primary care services such as GPs to refer patients to a variety of non-clinical services.
It is sometimes referred to as a community referral and often involves a link worker called a social prescriber, who helps design a package of services or activities.
These can include gardening clubs, dance sessions or even just group chats.
Pre-pandemic, the Royal College of General Practitioners Wales called for all practices to have their own social prescriber in a bid to tackle GPs' workload, and "free up their time for those patients most in need of medical care".
In its loneliness action plan it said: "Loneliness and social isolation can be as bad for patients as chronic long-term conditions.
"Loneliness puts people at a 50% increased risk of an early death.
"It can be hard for people who are lonely to know where to turn for support. That's why we want to see a dedicated professional for every GP surgery, a 'social prescriber' so that people who are lonely or are at risk are supported to make the right connections."
Nick from Ystradgynlais, Powys, said social prescribing helped him after a mental health crisis.
"Social prescribing is a way of helping people deal with the things in their lives that can make them feel unhappy or anxious.
"Addressing these things takes a little extra time and support, so social prescribing helps you find lots of different activities and support in your local community that can help you turn things around. I was referred to a number of different activities that have helped me."
He added the experience helped him make new friends and "allowed me to come out of my shell".
Covid and social prescribing
Loneliness spiralled during the pandemic, particularly as a result of lockdown, with people forced to stay away from family, friends and unable to meet new people.
According to Mind Cymru, social prescribing has been adapted to help those with mental health problems over the phone or online, providing support and strategies to help.
The easing of restrictions to include outdoor meetings for organised groups has also allowed many activities to restart.
It seems social prescribing is being taken seriously at government level as well as in the third sector, with First Minister Mark Drakeford including it in his 17-page plan for what he wants to achieve in the next five years.
He plans to introduce an all-Wales framework to roll out social prescribing to tackle isolation.
"Social prescribing solutions to mental health are quickly becoming more and more viable, as well as being assigned by increasing numbers of GPs and charitable organisations gaining more funding the possibilities for recovery and healing through social prescribing are near endless," he said in the document.