River pollution Wales: Farmers face 'six-figure sum' to comply
By Mari Grug
BBC News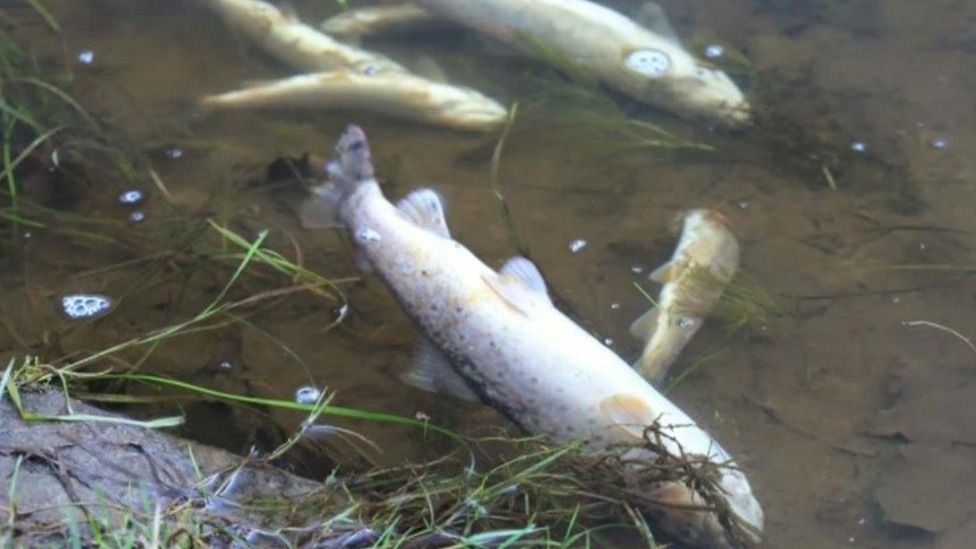 Some farmers will face having to fork out a "six-figure sum" to comply with new rules aimed at tackling river pollution, it is claimed.
Andrew Jones, who lives on a family farm near Lampeter, in Ceredigion, said many farmers would leave the industry.
The Welsh government has designated the whole of Wales a "nitrate vulnerable zone" and introduced stricter rules on the storage and spread of slurry.
Senedd members, including Labour, backed a review in a vote on Wednesday.
It comes after the Welsh Conservatives and Plaid Cymru triggered a Welsh Parliament debate on the issue.
The Control of Agricultural Pollution Regulations are being introduced in phased way over the next three years, after which farmers face being penalised.
Previously, only about 2.4% of the land area of Wales was designated a nitrate vulnerable zone (NVZ).
Farms that come under the scope of the new regulations will have to comply fully with rules on the storage and spread of slurry.
These include upgrading storage facilities to a capacity of at least five months.
They will need to be covered to reduce the amount of rain that can fall into the slurry, which increases its volume.
There will also be periods between August and January when spreading slurry will be banned.
If new regulations are not met, farmers face losing part or all of their basic payment.
The Basic Payment Scheme is the main source of direct farm support payments in Wales.
Mr Jones said he had already spent almost £2,000 applying for planning permission to erect a shed to cover the slurry store, but those costs could rise considerably.
"We are talking about a six-figure sum," he said.
"Where that money is going to come from, at this stage I can't tell you, but we have no choice because the penalties are so high.
"I can see farmers leaving the industry and a change in farming where farms will get bigger with even larger dairy units.
"I think we are in danger of losing the smaller family farms. If farmers have no succession, it's not worth the money to try and comply with these new rules and it will be easier to sell up."
And Mr Jones said the rules would "make things worse" in terms of agricultural pollution.
"Restricting the spreading months will put more pressure on stores and come January all the tankers in the area will be out trying to get rid of their slurry," he explained.
"If we then have heavy rain, we will have more pollution."
Farmers' unions have described the measures as "draconian", and said the costs of upgrading facilities could be too much for some smaller farms.
A joint Welsh Conservative-Plaid Cymru motion on Wednesday called for a Senedd committee to hold an "urgent" review of the new regulations.
The opposition, including Liberal Democrat Jane Dodds, initially held Labour to a tied vote on the motion - 29 to 29 - which was then voted down by deputy presiding officer David Rees.
Labour then amended the motion removing criticism of the NVZ but keeping the call for a review, which then passed 58 votes to nil.
A committee review will not bind the Welsh government, however, and Senedd committees are yet to be formed after the election in May.
During the debate Labour Rural Affairs Minister Lesley Griffiths said "more rapid progress on reducing pollution from agriculture" was needed from "across the whole industry, and across the whole of Wales".
Plaid Cymru's agriculture spokesman Cefin Campbell said the vote was "a victory for common sense".
Mr Campbell added: "How on earth can the minister justify offering £11m in financial support, when the government's own assessments suggest that the cost to farmers could be between £109m, and £360m?"
Ms Dodds said the Lib Dems were calling for a "sustainable and targeted approach to water pollution in Wales".
"I have heard many farmers say that their cattle will have to go if these regulations are fully implemented. The consequences for our environment and rural economy will be catastrophic," she added.
James Evans, of the Welsh Conservatives, said it was a "blanket policy" that was "hurting the industry" and said the financial package of support was "woefully inadequate".
The Welsh government said there had been more than three pollution incidents per week in the past three years, adding agricultural pollution was "affecting water quality across the whole of Wales".
A spokesperson said the rules would "enable the industry to demonstrate the sustainable nature of food production", and added the Welsh government was "providing financial assistance and will continue to provide advice and guidance throughout the implementation phase and beyond".