Covid: Managers need to adapt for home working, boss says
By Sarah Dickins
BBC Wales economics correspondent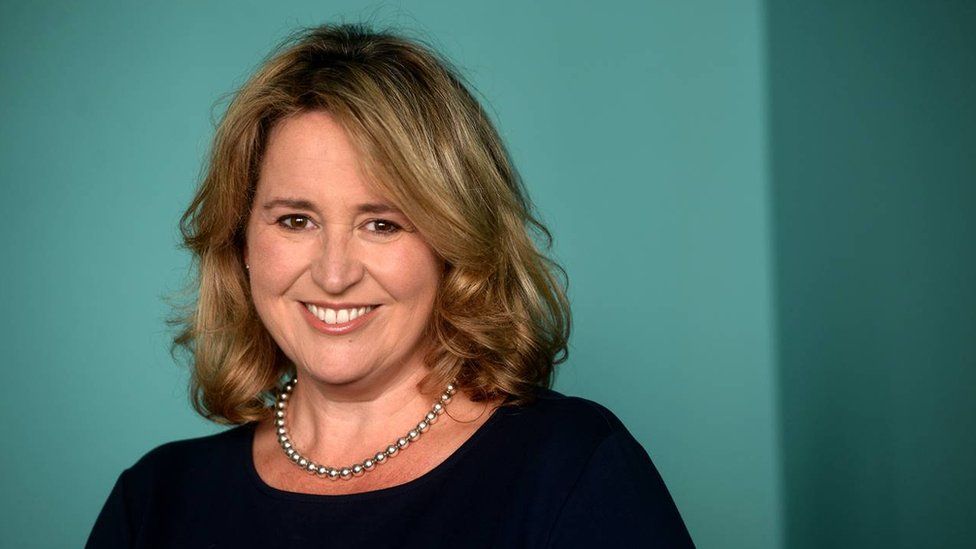 Managers need to adapt if staff continue to work from home, a Welsh businesswoman says.
Joanna Swash said those working from home couldn't leave their private lives at the office door, and bosses should admit to having bad days too.
Office for National Statistics figures show a third of staff worked from home in 2020, up by four times compared with before the pandemic.
But an academic warned it can leave some "stuck in a toxic environment".
Ms Swash is chief executive of Wrexham-based telephone answering and live chat provider Moneypenny.
She is adamant the pandemic has changed working life permanently because while some working from home will stay, "old ways of leadership are dead and gone".
"People who have found it very, very hard to get their teams and their companies through this pandemic are those whose leaders who have micromanaged, who have not given people enough freedom and who have not given their people the environment where they can be themselves," she said.
"One of the biggest things I think we can do as leaders is to sometimes say 'I am having a bad day' because if you can say that yourself you are actually making it OK for people to say that as well."
Like many others, Moneypenny - which employs 1,000 people, mainly in Wrexham - moved from office working into people's homes when the pandemic hit.
Haf Gardener has been working there for three years and runs live chat options for clients.
She has enjoyed working from home but said she was "lucky to have a small spare room and set hours".
She also said she was anxious about the prospect of heading back into the office.
"We've had a whole year of being told to stay at home to keep ourselves safe, keep others safe, and now all of a sudden everything is opening again which is nerve-racking."
'People need separation from work life'
Rhys Jones of Aberystwyth University said for many people "home is a place of safety".
But he added: "There is a lot of work that shows for some women the home is a place of hard work, unpaid work and in some cases a place that isn't safe, it can be a place of abuse so spending more time there can be a problem.
"Traditionally we would have had a separation between our work life and our home life and in many ways that is a positive to be able to walk away from work and switch off.
"Not being able to have that separation can lead to the pressure of work inhabiting your home and that can be challenging for a lot of people."
The Welsh government has launched eight trial "hubs" to help people who cannot go in the office or work from home, with the first one in Rhyl.
Deputy minister Lee Waters said the experience of more people working from home during the pandemic "showed us it is possible, was productive and it brought all sorts of other benefits".
"There's the environmental benefit from having less traffic, less air and noise pollution, and an economic benefit trying to stop money leaking out of areas," he said.