Brexit: Lorry driver shortage could mean higher prices in shops
By Sarah Dickins
BBC Wales economics correspondent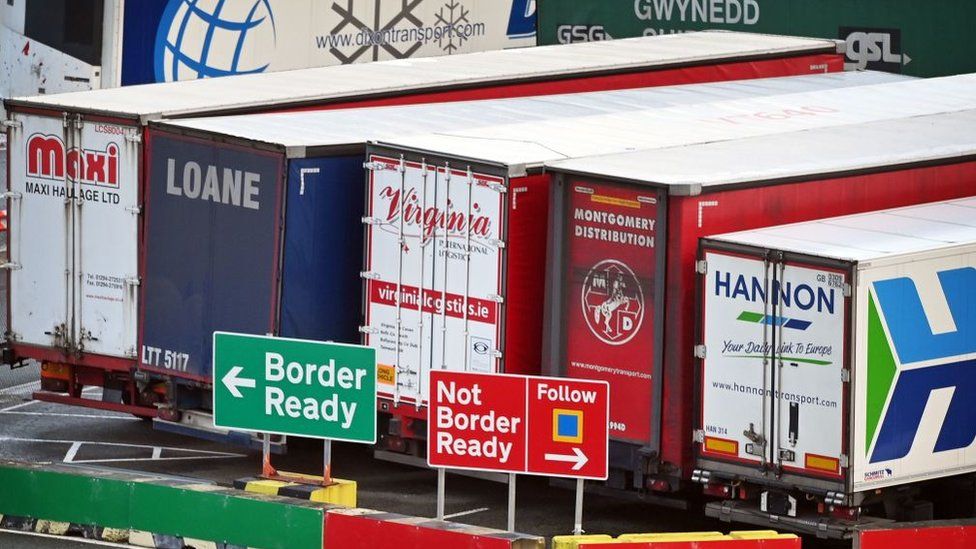 Shoppers face higher prices or possibly even empty shelves unless more is done to help end a shortage of lorry drivers, the industry has warned.
One leading Welsh haulier said lorry firms were facing a "perfect storm", caught between Brexit and Covid.
Owens Group in Carmarthenshire said it had lost 50 drivers who were EU citizens, as they did not meet the new criteria for skilled work visas.
The UK government said it was working with hauliers on the issue.
It said its new immigration system meant employers should invest in the domestic workforce.
But Ian Jarman from Llanelli-based Owens Group has called for more action to be taken.
"In the pandemic we were seen as an important industry keeping the deliveries going in the UK," he said.
"If it doesn't improve in the coming months there could possibly be delivery shortages."
Wine importer Daniel Lambert said that was already happening.
He brings in drinks to his warehouse near Bridgend and supplies pubs, restaurants and supermarkets across the UK.
"It's pretty dire at the moment," he said, highlighting one delivery service from Devon and Cornwall that used to deliver overnight but now takes three to four days.
"What we have seen since Brexit is that transit times have dramatically increased," he claimed.
"I'm aware of a major haulier who has 550 containers of wine waiting in Belgium to come to the UK, but they can't because the paperwork isn't right."
He said some continental producers at a vineyard level did not realise they have to complete special paperwork to sell to the UK.
"They haven't left the EU but they still have to deal with Brexit," added Mr Lambert.
The construction industry in Wales said it was also feeling the pinch.
Richard Brian, the managing director of building merchants Hughes Forrest in Newport, said it felt like driver shortages meant haulage loads were being "cherry picked" - with fewer deliveries and rising prices.
He said timber prices had doubled in the past 18 months and they have had to start rationing other products, such as cement.
"If someone is asking for 60 bags, I say I can only give you 40," said Mr Brian.
Since 1 January, EU citizens are included in a new immigration system in the UK, which gives priority to high-skilled roles.
Owens Group has 1,000 vehicles and employs 950 drivers so it is the skills shortage that Mr Jarman is worried about.
Standing by one of his new lorries, he said: "Not everyone can take that out onto the road and manoeuvre into places customers want you to drive it."
His concerns have been echoed by industry body the Road Haulage Association.
It said there were about 60,000 driver shortages and that there used to be about 60,000 drivers from the EU.
It added about 30,000 HGV driving tests were lost last year because of Covid.
Chief executive Richard Burnett has warned the UK government its Covid recovery plans will be hit "if we do not do something soon".
"The industry will be unable to maintain the integrated supply chains and cope with artificial spikes caused by hot weather and the easing of lockdown, increasing demand for food and drink into supermarkets, pubs and restaurants and goods into retail outlets," he said.
The Home Office said its points-based immigration system said employers should "focus on investing in our domestic workforce, especially those needing to find new employment, rather than relying on labour from abroad."
"The government is working with the haulage sector to promote jobs, training and a range of other initiatives to get more people into HGV driving," added a spokesperson.