Covid: Concerns over NHS staff shortage for cancer scanners
By David Grundy & Holly Lewis
BBC Wales news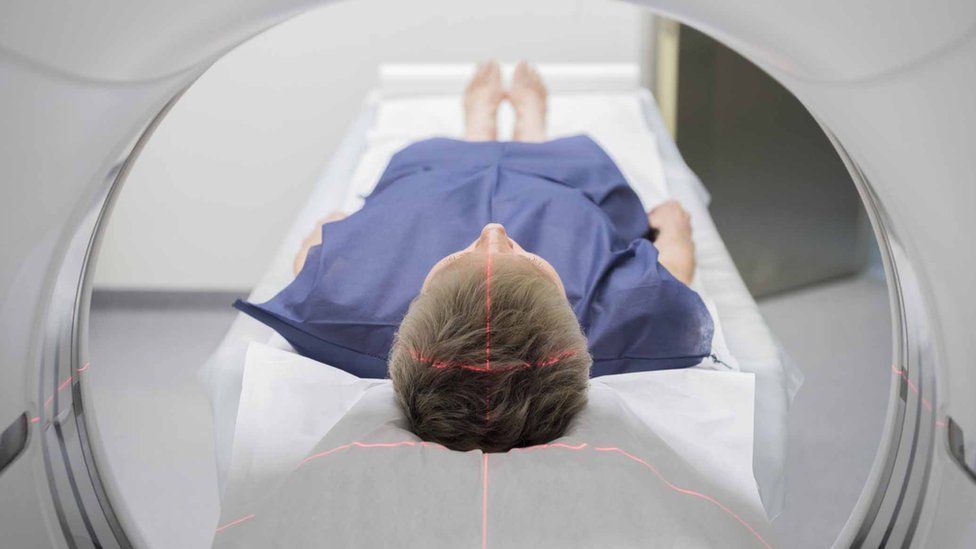 Ageing equipment to spot cancer early is being upgraded to clear growing waiting lists - but there are concerns over a shortage of staff to operate the new scanners.
Health Minister Eluned Morgan said £25m would be spent on NHS diagnostic equipment to stop a "bottleneck" in treatment.
The Royal College of Radiologists (RCR) warned more staff must be recruited.
Oncologist Sarah Gwynne said new CT scanners would make treatment more accurate and improve patient care.
Dr Gwynne said the CT scanner at Singleton Hospital, Swansea, was 10 years old and "technology had moved on dramatically in that time".
The (RCR) welcomed the new equipment, but said radiographers, radiologists and doctors were needed to operate it and interpret the results, adding there was "a shortage of all three", with more expected to leave the NHS or reduce their hours in the next year.
"It's very welcome as the equipment it's funding is top-end stuff and it is going to make a different to patients," said Dr Toby Wells, from the RCR.
"You need the machines [but] you need the radiographers to take the imaging and the radiologists, the doctors, to interpret what the scans show and there's a shortage of all three of those."
There have been concerns that many people fearing they have cancer may not have contacted their GPs during the coronavirus pandemic.
Latest Welsh government figures show more people than ever - the equivalent of 18% of the population - are waiting for planned treatments.
There were 568,367 people on waiting lists in March, up 24.4% on the same time last year.
With many people unable to attend hospitals for imaging and diagnostic appointments during the pandemic, waiting times for scans and tests have also increased.
Announcing £25m to upgrade CT, X-Ray, ultrasound and MRI machines across Wales, Baroness Morgan said the new diagnostic equipment was vital to start to clear the "backlog" and would "transform lives".
Speaking during a visit to Singleton Hospital, she said she was concerned about 30,000 fewer people had contacted the NHS about cancer concerns this year, compared to 2020.
Clearing the waiting list for cancer scans and treatment was a "key priority" for the Welsh government because people with cancer "cannot wait".
"We are aware there is a huge backlog that we need to address, but cancer services in particular have always been essential services throughout this pandemic," she said.
Dr Gwynne said she hoped a £5.5m new state-of-the-art CT simulator would help to cut waiting lists for treatment, with its accuracy speeding up the process.
She said the new CT simulator would allow them to get a "better picture of where the tumour is" to allow them to kill cancer cells with radiation more accurately, without harming surrounding cells.
She said this greatly benefitted patients with tumours in their chest - such as breast and lung cancer - as they can move while breathing, as well as helping target radiation.
It also warned that many radiologists plan to leave NHS Wales next year and those staying intending to reduce their hours.
"They've started and they've given us this kit and they've funded more radiology trainees, but we need more," said Dr Wells.
Those concerns were echoed by Judi Rhys, chief executive at Tenovus Cancer Care: "We know that there are still approximately 35,000 people in Wales 'missing' from the cancer system and additional diagnostic equipment will help address the backlog.
"But we also need to invest in other elements of the NHS, including the workforce."
The Welsh government has already announced £100m of funding to help deal with the backlog caused by Covid-19.
Baroness Morgan is to announce that £25m of the cash would be used to upgrade "ageing equipment as part of our effort to ensure the NHS can respond to demand with resilient services".
The spending plan includes:
£2.3m for a CT scanner and two diagnostic radiology rooms at Ysbyty Ystrad Fawr, in Ystrad Mynach
£3.3m for a gamma camera and interventional radiology suite at Wrexham Maelor Hospital
£2.1m for CT simulator replacement at Ysbyty Glan Clwyd
£3.2m for fluoroscopy and cath lab at University Hospital of Wales, in Cardiff
£3.1m for an upgrade of MRI and fluoroscopy room, providing X-ray imaging at the Princess of Wales Hospital, in Bridgend
£4.5m for two replacement CT scanners at Glangwilli Hospital, in Carmarthenshire and Withybush Hospital, Pembrokeshire
£1m for fluoroscopy X-ray imaging and MRI upgrade at Velindre Cancer Centre, in Cardiff
£350,000 for four ultrasound machines at Brecon, Newtown, Llandrindod Wells and Welshpool hospitals
"It's our priority to support the recovery of the NHS and this is a first step to ensuring the health service has access to sufficient diagnostic capacity to deal with the people waiting as a result of the pandemic," Baroness Morgan added.
"We aren't out of the pandemic yet. Investing in the diagnostic national capital replacement programme and upgrading the equipment available to our incredible healthcare workforce is key to diagnosing, treating and caring for people as we move forward."
Cancer charities have raised concerns about the impact of the pandemic on waiting times for both patients and staff.
Baroness Morgan has also previously warned that the Welsh NHS faced "a gargantuan task" to tackle "record high" NHS waiting lists.