Mayhill, Cwmbran and Cardiff: What is behind recent violence?
By Jenny Rees & Matt Lloyd
BBC Wales News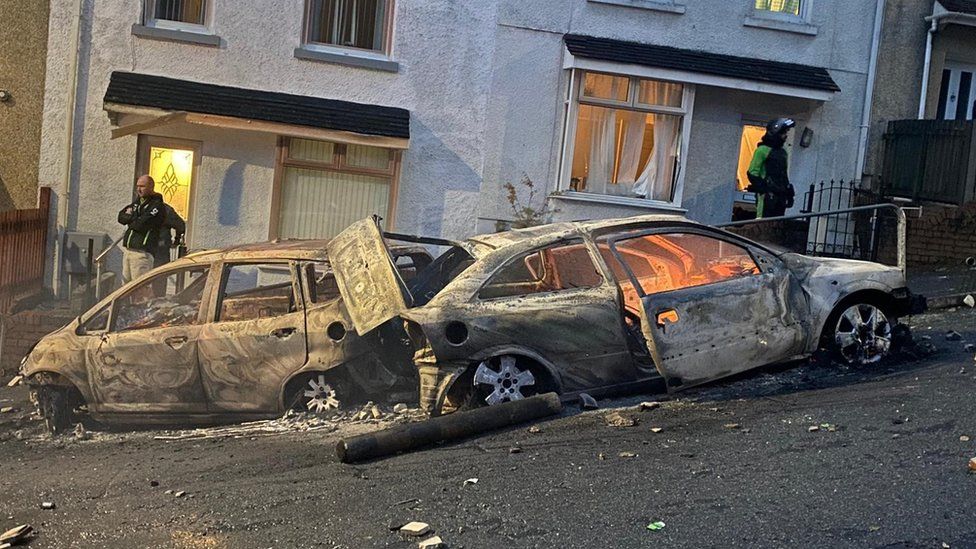 A stash of weapons recovered in Cwmbran, schoolchildren in Cardiff kept indoors while armed police patrolled nearby and a riot in Swansea.
It has been a tumultuous past seven days for communities in south Wales.
There has, of course, been widespread condemnation and outrage, while one leading criminologist fears things could get even worse this summer.
So BBC Wales has looked at the factors at play - and the potential consequences.
Spring often brings with it a rise in anti-social behaviour due to the longer evenings, better weather and school holidays.
However, experts have spoken of a "perfect storm" brewing, with the impact of the pandemic on education, leisure activities and jobs combining with the easing of restrictions after a string of lockdowns going back 15 months.
The Crime and Security Research Institute (CSRI) at Cardiff University has even warned that the school summer holiday could pose "a recipe for trouble".
"You tend to see escalations of anti-social behaviour in the spring and summer in an ordinary year. But given what everyone has been through, it's as if that's been amplified or intensified," said CSRI director, Martin Innes.
"There's no precedent [so] the danger point was always when you start to unlock and as we [do so], from now through until the summer, it's almost as if we are facing a perfect storm.
"A lot of the long-term preventative work that is needed hasn't been able to be delivered, at the same time as a toxic blend of frustration and boredom is growing amongst some young people."
This is particularly key, Mr Innes said, for young people who may feel cut adrift or disconnected as they leave education and are concerned about their prospects.
"We should be worried about the summer holidays. Lots of people won't be able to go away, there won't be as many summer jobs available, many young people will be bored - it's a recipe for trouble."
These are the reasons why, for some of those working with young people in Swansea, the outbreak of trouble in Mayhill came as no surprise.
While First Minister Mark Drakeford and Home Secretary Priti Patel led the condemnation, youth worker Owen Pillai called on authorities to realise "we all play a part".
"This is the result of decades of a multifaceted undermining of resources, societal breakdown, generations of unemployment - you can't look at it in isolation, unfortunately," he told Radio Wales in the aftermath.
He said it was "a scientific fact young people want to engage in risky behaviour", and argued a lack of access to positive activities such as sport could lead to problems.
Many youth clubs, football clubs and boxing clubs across south Wales are helped by the proceeds of crime fund, such is their role in keeping young people off the streets. But the shutters remain closed on many, while jobs are scarce.
Mr Pillai added: "We need to channel huge amounts of resource into listening, looking at restorative practice, involving these young people rather than just locking them away - they need to confront the reality of what they have done."
Luke Fletcher, Member of the Senedd for South Wales West, said politicians must look at the root causes of the violence.
"There are a lot of elements behind these scenes. There's no doubt lockdown has played a part, but also there are parts of the community feeling forgotten," he said.
It was following the lifting of some restrictions in the first lockdown that a mass brawl between youths was caught on camera at Ogmore-by-Sea, Vale of Glamorgan, in June.
Public order offences across Wales trebled between 2015 to 2020. In Gwent, the figure in that period has quadrupled while in north Wales, the number has increased nearly five-fold.
Furthermore, an officer in Wales is more likely to be physically or verbally abused than a counterpart in England. Seven were injured in Mayhill last week.
Lockdown has presented police forces with an unexpected problem.
Their numbers have been swelled by the UK government's push to recruit 20,000 officers. However, policing empty streets during lockdown has left many new recruits lacking the experience to deal with public disorder such as that seen in Swansea.
"There hasn't been the issues of pubs, clubs, restaurants and alcohol-fuelled events, so we have now officers with potentially 14 months of service who have never ever faced that type of policing," said Police Federation Welsh lead Nicky Ryan.
"We're very concerned for officers - about the incidents they're having to go to, the rise in violence and the young workforce - all of that is a perfect storm that's potentially coming together."
But could these public order disturbances have been predicted?
South Wales Police and Crime Commissioner Alun Michael believes they could, to a point.
"Something that weighed heavily on my mind was what behavioural scientists told us - that you can get people to obey stringent rules for a short period of time, but after a couple of months that will be difficult to maintain," he said.
"By Easter weekend we were 14 months in, so we did expect it - the problem is, you can't tell where it will emanate.
"We don't have a standing army of police officers sat in riot gear and batons waiting to respond. Mobilising public order trained officers - from across south Wales and Gwent - takes a bit of time, but [with Mayhill] it was put in place very quickly indeed.
"Was it quick enough? All of those detailed questions are now being asked by senior officers and I'm assured by the chief constable they are being very self-critical to look back at the timeline to ask those questions."
Related Internet Links
The BBC is not responsible for the content of external sites.