Mayhill: Clean-up starts after riots 'like a war zone'
By Catherine Evans
BBC News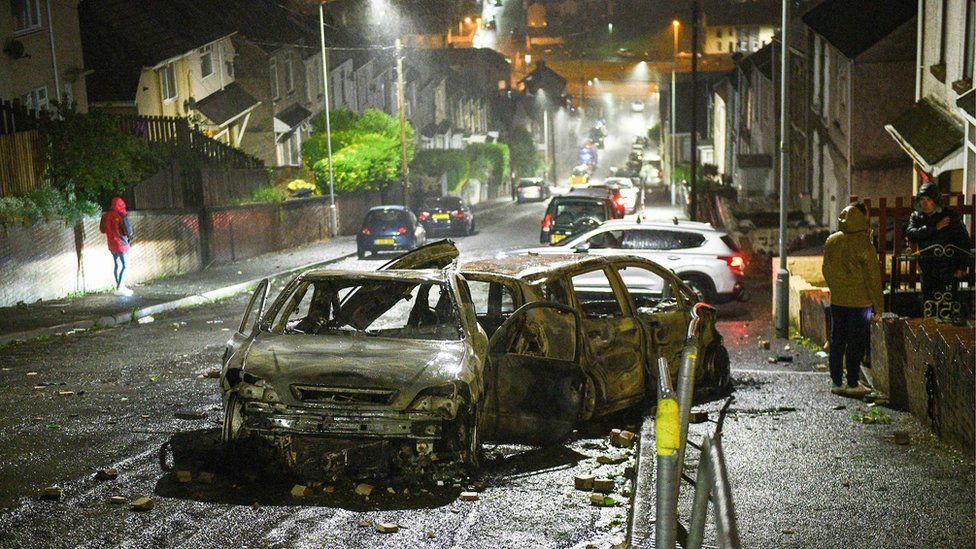 Windows have been boarded up, burnt-out cars towed away and the scorched road cleared after Thursday night's riot on the streets of Swansea.
The community of Mayhill has been left frightened and angry, after the "shameful" scenes which left terrified residents trapped in their homes.
The disturbance began after a vigil was held for a local man who had died.
A balloon release had been planned in memory of 19-year-old Ethan Powell who collapsed and died suddenly on Wednesday. But it escalated with fireworks being set off, followed by widespread disorder.
Mr Powell's family are said to be deeply upset by the violent scenes when the events were meant to have been a celebration of his life.
Emily Fender, who organised the community clean-up in Mayhill, said: "No one wants a relative remembered like that, it's shameful. But it's not their actions it's the actions of other people.
"We're just tidying up, making sure that people on their way to school and work haven't got to see this nonsense really.
"There's a good community in Swansea that when a call to action goes out, people answer it."
Swansea resident Ryan Stephens drove to the street on his way home, about an hour after the violence had subsided, after seeing videos circulating on Facebook.
"It looked like a war zone," he said.
"I stopped and spoke to some of the people who were outside the houses to see if there was anything I could do.
"They were all traumatised. Especially the ones who'd had their houses attacked as well, their cars burnt out, things like that.
"I spoke to the son of a 90-year-old woman, who'd had her window put through. There was a single father with two young kids, they were screaming crying. They could see the fire and they had their window put through as well.
"He had to go out pleading with the crowd, saying 'I've got two young kids in there, screaming, that think they're going to die'."
He added that many residents had expressed concerns over a perceived lack of police action.
"For at least two hours after the event, there was no police presence," he said.
"Pretty much everyone I spoke to said something to the tune of 'Where are the police? There's literally nobody here. There's been no support whatsoever'.
"Some people had been in their houses trying to hide. They felt let down."
South Wales Police, however, said its response was "immediate and officers trained to deal with public order incidents were deployed to the scene".
Swansea council deployed extra resources to the Mayhill and Waun-Wen area of the city following last night's disorder, to repair damaged roads and pavements, doors and windows.
Temporary concrete bollards have been placed at the scene.
One resident from Mayhill, called Maria, told a phone-in on BBC Radio Wales that she was "very sad and shocked about the behaviour that went on".
"I speak for the community, we all feel the same," she said.
"It's embarrassing and tarnishing our area. I've lived here all my life and we all look after each other, respect each other, we all stick together.
"But last night's behaviour, it's not acceptable at all. I felt sickened. It was unreal, it looked like scenes from a movie. It was horrendous."
'Disgusting and unacceptable'
Swansea council's leader Councillor Rob Stewart said: "We are here for the community of Mayhill and Waun-Wen.
"The council is acting quickly to respond to last night's disorder by cleaning-up damage, reassuring residents and helping make people's properties safe and secure. We will also liaise with residents in the community to explore if there is any further support the council can give.
"What happened last night is neither reflective of Mayhill and Waun-Wen, nor Swansea. These yobs are a minority and their behaviour is disgusting and unacceptable. We are working with South Wales Police to help identify, pursue and prosecute those responsible.
"People have the right to feel safe in their home and community. We will be doing everything we can with the police to ensure this doesn't happen again."
Deputy leader Councillor David Hopkins added: "It's absolutely awful. I really feel for the community. Lots of people with young children live in this area as well as very old people, very vulnerable people.
"This was not anti-social behaviour, this was a mini riot. I feel for the police. I know some suffered minor injuries."
Politicians condemned the behaviour of those involved as First Minister Mark Drakeford said the "violent scenes were completely unacceptable and will not be tolerated".
Home Secretary Priti Patel said the scenes were "disgraceful" and said her "thoughts are with Mayhill residents who had to endure such shocking behaviour".
South Wales Police has told the community of Mayhill that officers "will stop at nothing" to find the culprits.
"So many families will have been tormented by those responsible," said Chief Constable Jeremy Vaughan.
"We will work hard with others to help and support local residents who deserve better than this."
Online fundraising pages have been set up to raise money for "anyone who has been affected by this mayhem".
"Last night we all know the state Mayhill was left in and the damage that was caused by those who decided to turn against the police and their own morals," said organiser Emily Danaher.
"Children and elderly persons' windows being destroyed along with their feelings of safety in their on homes. Animals terrified, cars destroyed, police and their vehicles attacked.
"It made me really sad to see what was happening and imagining that was my family whose window was broken, or my gran that was fearing for her safety."