Covid: Nearly two thirds of people in Wales have antibodies
By Steve Duffy
BBC News
Nearly two thirds of people in Wales are estimated to have antibodies to help protect them against Covid-19.
But this rises for older age groups up to an estimated 90% of those over 80.
Presence of antibodies suggest people have either had the virus already or, in most cases, had a vaccine.
For the youngest age groups, where the vaccine roll-out has only recently started in Wales, 38% of 16 to 24-year-olds are estimated to have antibodies.
This then rises to 47.% of those aged between 35 to 49.
But the presence of antibodies is really noticeable for those aged 50 and above, where take-up of first doses of vaccine in Wales - according to Public Health Wales figures - is currently between 87 and 96%.
The proportion who were found to have antibodies to protect against Covid was 81.7% of those in their 50s, at least 81% for those in their 60s rising to 90.4% of those aged 80 and above.
The ONS survey has also modelled for individual ages - so estimates 20.4% of 16-year-olds and 39.4% of 25-year-olds have antibodies.
It also shows 66.4% of women have antibodies, compared to 59.7% of men. This gender gap is widest in the youngest age groups.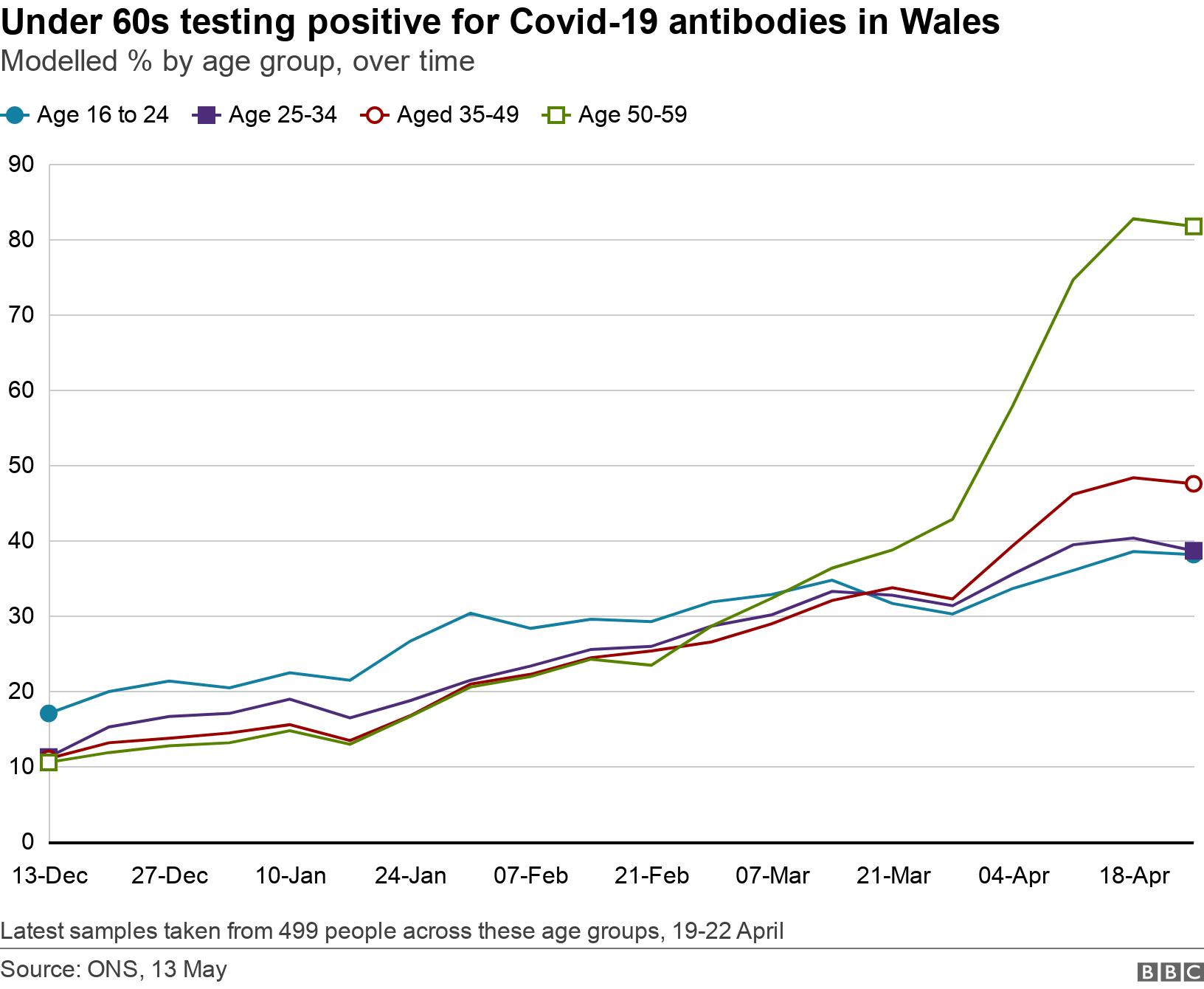 Antibodies are a key part of our immune defences and stop the virus from getting inside the body's cells.
Having antibodies can help stop people being infected again although it's not yet known if it affects the chance of getting Covid again. Once infected or vaccinated, antibodies stay in the blood at low levels and can decline over time.
We can see in the survey too how antibody positivity can fall in age groups between first and second doses.
Official statisticians said that across all UK nations, there was a clear pattern between vaccination and testing positive for Covid antibodies "but the detection of antibodies alone is not a precise measure of the immunity protection given by vaccination".
The survey does not include residents of care homes.
The BBC is not responsible for the content of external sites.