Election 2021: Labour gains police commissioner in north Wales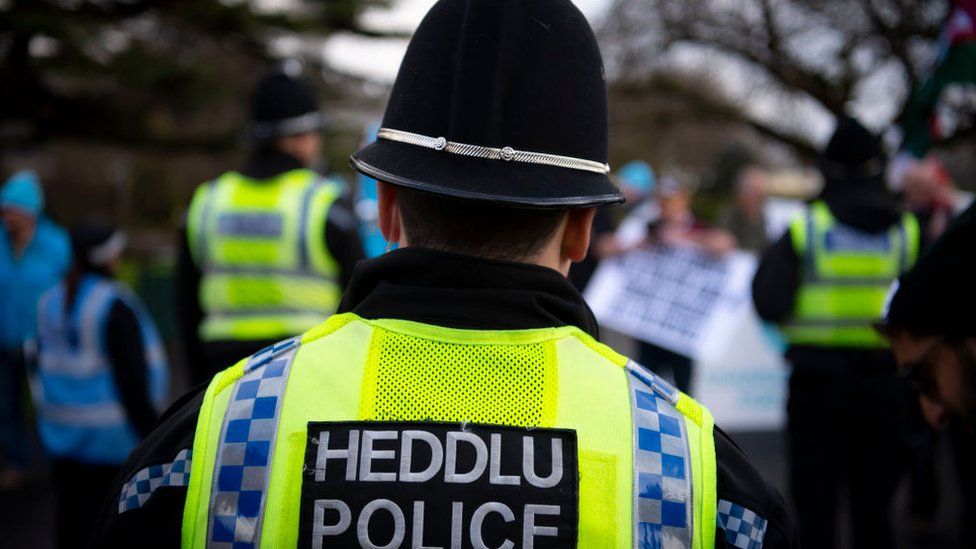 Labour now has three of four of Wales' police and crime commissioners (PCCs) after Andy Dunbobbin secured a gain for the party in north Wales.
The other three PCCs were re-elected and between them all, they decide how £760m of Wales' police budget is spent.
PCCs work to ensure police forces are run effectively and efficiently.
Plaid Cymru's Dafydd Llywelyn was re-elected as the PCC for Dyfed-Powys Police, geographically England and Wales' largest force area, and will oversee a budget of almost £120m.
Former First Minister Alun Michael was re-elected to oversee South Wales Police, Wales' largest police force, and the Labour PCC will see how the force's £320m budget is spent.
Conservative Pat Astbury had led Mr Dunbobbin in the first round of the north Wales count, with 75,472 votes to 69,459 as Plaid's Ann Griffiths missed out on the second round with 67,673 votes.
Once second preferences were distributed, Mr Dunbobbin won by 98,034 votes to Ms Astbury's 90,149 nominations.
"I'm here to represent the people of north Wales," Mr Dunbobbin said. "Everybody's voices I want to hear, I want to do things with that voice."
The voting system used means unless a candidate gets more than 50% of votes in the first round of counting, all but the top two candidates are eliminated from the election - and secondary votes on the ballot paper are then counted.
Mr Michael, the only PCC to have held the job since the first election in 2012, saw off a challenge from the Conservative's Steve Gallagher, with 225,463 votes to 127,844 to be re-elected in south Wales.
To remain as Dyfed-Powys Police PCC, Mr Llywelyn had 94,488 votes overall versus 77,408 by Jon Burns on the Tories.
Mr Cuthbert beat Conservative Hannah Jarvis by 92,616 overall votes to 60,536 to be re-elected as PCC for the Gwent force area.
The police and crime commissioners in Wales can earn an annual salary of anything between £65,000 and £85,000-a-year.
The elections are supposed to be held every four years but were postponed in 2020 due to the pandemic.
Policing in Wales remains under the overall responsibility of the UK government, but not all the power lies there.
Roughly a third of the 2021-22 budgets of Welsh police forces come from the Home Office, which means the rest was allocated by those holding purse strings here in Wales.
They have a say in how much council tax we pay, because part of it - the "precept" - goes to the police. In England that amount is capped but in Wales it is not.
This year, council tax pays for 47% of the combined police budgets in Wales. The rest - just under a fifth (18.6%) - comes from the Welsh government.
What are police and crime commissioners?
PCCs are elected representatives who work to ensure police forces in England and Wales are running effectively.
The UK government insists PCCs are not there to run local police forces but to hold them to account and respond to the needs of the public.
Their responsibilities include appointing - or dismissing - chief constables, holding them to account for the performance of their staff, and providing a link between the police and communities, which includes consulting local people, councils and other organisations.
PCCs also oversee community safety and crime reduction, ensure value for money policing, and set out force strategy and policing priorities through the Police and Crime Plan.
Taken as a whole across England and Wales, the commissioners are responsible for about £11bn a year of spending as they set out forces' budgets.