Welsh election results 2021: Mark Drakeford set to stay as first minister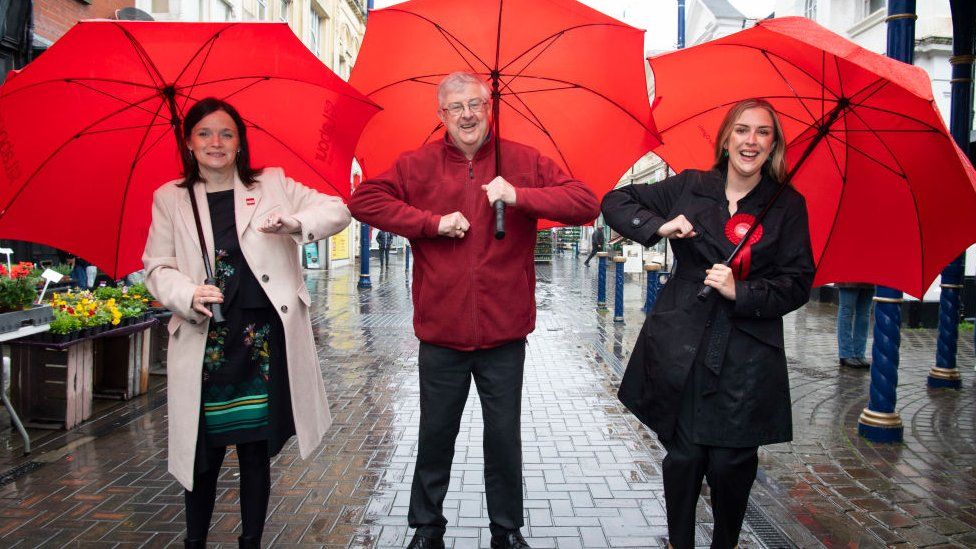 Labour's response to the Covid pandemic helped the party retain power after it won the most seats in the Welsh elections, Mark Drakeford has said.
Mr Drakeford is set to continue as Wales' first minister after Labour won 30 of the 60 Welsh Parliament seats.
The Conservatives had their best Senedd campaign with 16 seats while Plaid in third took 13 seats.
Welsh Labour leader Mr Drakeford has said his next Welsh government would be "radical" and "ambitious".
He said people felt they've been "kept safe here in Wales" and that was a "strong theme" in the election.
"From the very first day of the campaign here in Porthcawl, people have been coming to the doorstep to tell us that they feel glad they've lived in Wales over the last 15 months," said Mr Drakeford.
"A government I lead will continue to follow the science to do what our medical advisers tells us we should do, and that does mean doing things in a way that continues to keep Wales safe."
The Welsh Government controls Wales' Covid response and the relaxing of restrictions - such as meeting inside pubs and restaurants and travel rules - has tended to have been more cautious in Wales.
"But on other matters, our manifesto is a radical manifesto with a host of ideas that are ambitious for Wales," added Mr Drakeford.
"I'll be very keen to ensure that we give that the most powerful sense of momentum behind it to get those things happening here in Wales."
Labour, who have been in power in Wales either in coalition or as a minority ever since devolution in 1999, did fall one seat short of the 31 needed for an outright majority.
But this is a feat no party has ever achieved in the history of the Welsh Parliament.
Fifty-two of the 60 Senedd seats were declared on Friday, with two final regional list results on Saturday.
Both the South Wales East and South Wales Central constituencies returned two Welsh Conservative and two Plaid Cymru Members of the Senedd (MS).
In South Wales East, Delyth Jewell and Peredur Owen Griffiths were elected for Plaid, while Laura Anne Jones and Natasha Asghar will represent the region for the Welsh Conservatives.
Ms Asghar has become the first woman of colour to be elected into the Welsh Parliament and she was welcomed by Welsh Conservatives' Senedd leader Andrew RT Davies.
Mr Davies was elected in South Wales Central alongside fellow Tory politician Joel James and Plaid Cymru members Rhys ab Owen and Heledd Fychan.
Labour fell one short of an outright majority, but the Welsh Liberal Democrat leader Jane Dodds, who was elected as an MS for Mid and West Wales has said she will not be seeking a ministerial role, like her predecessor Kirsty Williams.
"I'm absolutely clear that I'll be working across parties and I need to focus on what we can deliver," she said.
"But it is it is the case, I hope that I can work with and I can influence other parties, predominantly Labour, in order to deliver some of those real liberal values".
Four parties are represented in the new Senedd, which features 34 men and 26 women. Nineteen of the 60 MSs, just under a third, are serving in the Welsh Parliament for the first time.
The Welsh Conservatives will be the second largest party in the Welsh Parliament and made gains on both the constituency and regional lists, but failed to win some of its target seats needed to win the election.
It did take the Vale of Clywd from Labour for the first time in 22 years, but Clwyd South and Wrexham, which both voted Conservative in the 2019 General Election, remained red.
The party also took Brecon and Radnorshire from the Liberal Democrats and won eight seats on the regional lists, more than any other party.
The 16-seat total beats the Conservatives' best result in a Welsh Parliament election of 14.
"The team has gone above and beyond and deserve great credit for the positive campaign we've run right across Wales," said leader Mr Davies.
"I am thrilled to see Natasha Asghar make history in South Wales East by becoming the first female from a BAME background to be elected to the Senedd.
"It's been an unconventional campaign and it's clear incumbency and continuity has played a significant part. To that end, I would like to offer my sincere congratulations to Mark Drakeford and Welsh Labour on a successful campaign."
Plaid Cymru won 13 seats, but former party leader Leanne Wood lost her seat in Rhondda to Labour.
The party's MP for Ceredigion, Ben Lake said on Friday losing Rhondda was "an absolutely terrible blow" for Plaid.
Speaking after the final results came in on Saturday, Plaid Cymru leader Adam price said the Senedd would be a "poorer place" without Ms Wood, who served in the Welsh Parliament for 18 years.
He also extended his congratulations to Mr Drakeford.
He added: "Although disappointed not to be returning more Members to the Senedd, I am proud Plaid Cymru ran a positive campaign based on a transformational programme.
"Our Senedd group will bring renewed energy and fresh ideas, and I look forward to working with all my colleagues as we continue to build the case for independence."
There were no wins for smaller parties, including UKIP, Abolish the Welsh Assembly Party and Reform UK - in sharp contrast to the seven regional seats UKIP took in 2016.
The new Senedd chamber will be made up only of members of the traditional parties.
Despite fears that turnout could be exceptionally low due to the coronavirus pandemic, turnout for the election was the highest in the Senedd's history.
At 46.6% this was just slightly higher than the record high of 46.3% at the first Senedd election in 1999, but is significantly lower than turnout for general elections.