Sub-postmaster's wife 'cried eyes out' over jailing
By Anna Marie Robinson
BBC Radio Cymru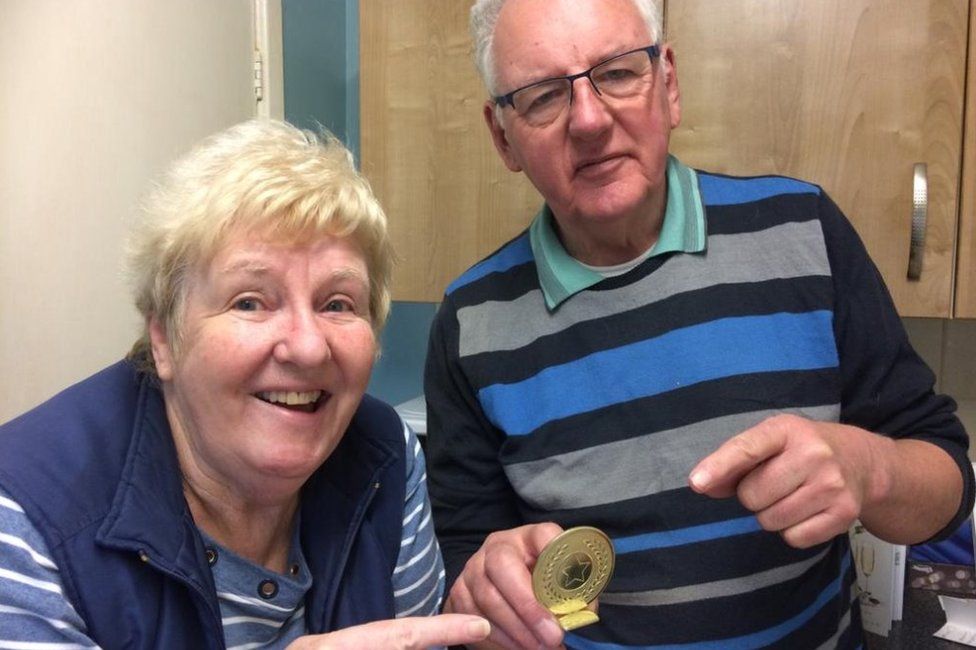 The wife of a wrongly jailed sub-postmaster has spoken publicly for the first time about the ordeal of seeing her innocent husband being locked up.
Eira Thomas, of Gaerwen, Anglesey, said her family's lives had been turned into a nightmare by the treatment of husband Noel, 74, by the Post Office.
He said his experience over the past 16 years was "like falling from the top of the ladder to the very bottom".
He was jailed for nine months in 2006 for false accounting after £48,000 went missing from office accounts.
"They knew that he hadn't taken the money," said Mrs Thomas.
"We had a second-hand car - we didn't live the high life.
"I wouldn't work for them again after the way they've treated him, I wouldn't."
Mr Thomas maintained his innocence from the start, blaming the Post Office's faulty Horizon computer system.
The former councillor said he had thought he was the only one affected until an investigation by BBC Wales' Taro 9 found 30 other sub-postmasters claiming they had had similar experiences.
Other programmes took up the investigation, including Panorama in 2015.
After years of fighting, he and the other 38 sub-postmasters' convictions were quashed at London's Court of Appeal.
"They cleared me, and they cleared my colleagues," Mr Thomas said outside court.
"It's been 16 years and for the first four, I thought I was the only one."
A number were wrongly jailed, dozens lost their livelihoods, and more than 700 people were prosecuted between 2000 and 2014.
It was the biggest miscarriage of justice in British history.
Many more are now expected to come forward to clear their names.
However, Mrs Thomas said the latest result would not change what the Thomas family went through.
"Sian, my daughter, phoned from the first case [in Caernarfon] and she said to me, 'Dad isn't coming home'," said Mrs Thomas.
"I didn't understand what she meant."
She said no-one had expected her husband to be jailed for nine months.
He had been persuaded to accept a "deal" by his former employer, she said.
To avoid going to jail for theft, she said he had been told to plead guilty to false accounting, on condition he did not blame Horizon.
"When he went to jail, that was the lowest point," Mrs Thomas said.
"They were showing him on television getting into that big van.
"I cried my eyes out. I just thought, 'you shouldn't be there Noel fach - you should be home with us',"
Mr Thomas said being at Kirkham Prison, near Preston, over Christmas and on his 60th birthday was hard.
But coming home to face his new life was hardest of all, he said.
"It was like falling from the top of the ladder to the very bottom," he said.
"I used to earn £30,000 as a sub-postmaster and between £11,000 and £13,000 as a councillor, but I lost all of that.
"I lost the respect of others too and it's human nature to think, 'he's a thief.'
"It happened after I'd come home from prison and went to Asda one day.
"Someone shouted, 'Watch out - the thief's arrived'."
Mr and Mrs Thomas, who have been married 52 years, last year lost their eldest son, Arfon, aged 51 after a short illness.
"We called him 'Posti' because I'd worked in the post," said Mr Thomas.
"I would have liked to have seen him with me in London [at the Appeal Court], we'd have been sure to have found a place to celebrate, because Posti liked a pint."
The Post Office was ordered to pay £58m in compensation but after court costs only £12m remains, which will have to be shared between 550 people.
"It won't really be any consolation," said Mr Thomas, who now works in a garden centre.
"The only thing I have asked from the very start, is for my money back.
"I've done the sums many times, and I lost about £250,000 - my pensions and so on - so getting my money back is the first thing.
"If any more comes, I won't refuse it.
"We've got three young children in the family, and we've just become great-grandparents - a Hen Nain and Hen Daid - so I hope it will help them."
Mr Thomas' daughter Sian has supported him throughout.
"I put my life on hold, in a way, to try and get him justice," Sian said.
"I sold my house and moved in with them to support them, and I'm still here now.
"I've been Dad's secretary for years, helping him with things like Zoom, because he doesn't quite understand them."
The family said they planned to celebrate Mr Thomas clearing his name with family and friends when things were safer.
"I hope now that they will have their health, because they have a lot of love, and I just want them to be able to have a peaceful time together," Sian said.