Welsh election 2021: How to organise a national vote in a pandemic
By Matthew Murray
BBC News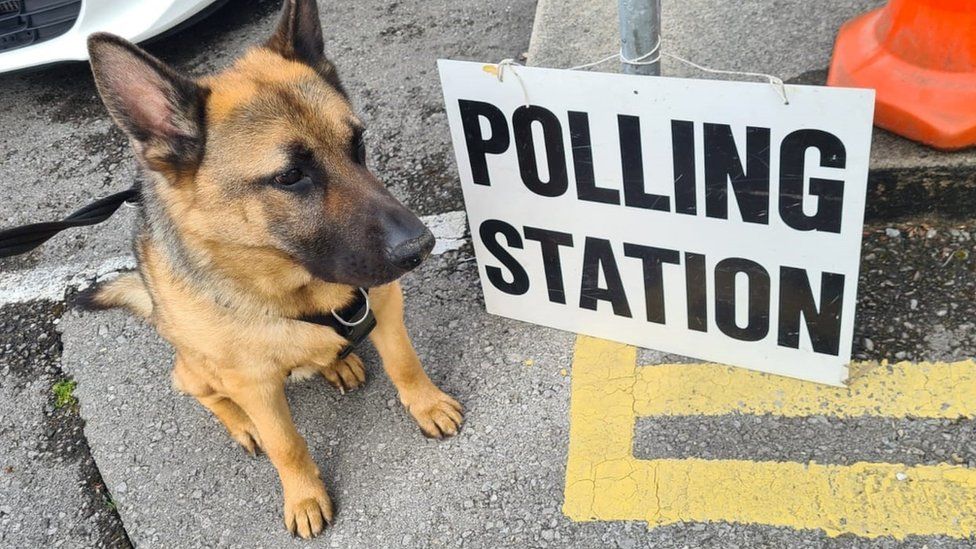 The 2021 Senedd election has been the most challenging ever to organise because of the Covid pandemic.
Polling stations and count centres have had to be made safe and registering voters has become more complex by the inclusion of 16 and 17-year-olds.
Traditional polling stations, like village halls, have often been closed during lockdown.
And some councils have had to cope with count halls being turned into vaccination centres or field hospitals.
Many older buildings have also been unsuitable because of poor ventilation.
Some authorities will also host four separate counts: constituency and regional counts for the Senedd; Police and Crime Commissioner; and by-elections.
But social distancing rules mean there will be fewer staff doing the counting on Friday, despite a greater number of votes to count.
Flintshire council is one of those facing a juggling act.
It is dealing with two Senedd constituencies with seven candidates in each.
There are also 14 parties on its Senedd regional North Wales lists, five Police and Crime Commissioner (PCC) candidates with a second preference voting system included, and several local by-elections.
Flintshire chief executive Colin Everett is at the eye of the storm.
He is the returning officer for the Flintshire constituencies; regional returning officer for the Senedd elections for North Wales; and police area returning officer for the PCC elections.
"After 40 years this will be my last set of elections," Mr Everett said.
"But I never would have foreseen we'd have such a strange circumstance with so many elections coming together at the tail end of a pandemic, but the job is there to be done and we'll do it well."
The elections were "a massive logistical challenge", he said.
"Only three months ago we were questioning whether it would be safe to hold these elections at all with the presence of Covid, and we've had to whittle down the risks one by one."
Mr Everett, who said he believed they were now safe to hold, will be dealing with about 350 elections staff.
"Our count centre is a huge double sports hall, which is a massive 'L' shape," he said. "A sports hall running one way and indoor running track on the other side."
Flintshire has two constituency votes, so one will be counted in one hall and one in the other.
"It's a huge vacuous space so we are lucky because some councils have smaller centres and because of social distancing it's harder to pull it off," Mr Everett said.
"It's sometimes like a rugby scrum around a table where people are trying see what's going on.
"It'll be fewer staff with everyone spaced out, so it won't have the same atmosphere as previous years, but the important thing is we run this safely and we get a good safe election result which everyone trusts."
Flintshire council has an electorate of more than 120,000 people.
A total of 21,000 postal votes have been sent out and more than 2,000 new young voters have registered.
Mr Everett said: "I am so pleased that Wales has followed Scotland's lead and enabled young people to vote.
"I think it's fantastic. It has been hard work getting young people to register, maybe because it's something new and the significance wasn't clear, but in the past few weeks we've seen many young people register.
"I think because people must register and vote either via post or turning up to a polling station, it's pretty alien for young people who are so used to the digital world."
In Ceredigion, council buildings were handed to the health board for use during the pandemic.
This year's count will be held at Ysgol Bro Teifi in Llandysul for the first time.
Lowri Edwards, head of democratic services at Ceredigion council, said: "We've over come every challenge so far, but it's just taken longer than it'd normally take.
"I won't breathe though until Monday, and it's all done."
The count is being held at Ysgol Bro Teifi because it's bigger than the location in previous years at Aberaeron's leisure centre.
"The gym will be doing the count and it also gives us the main school hall," Ms Edwards said.
"The candidate and agents will be in the hall, so they won't be in the count room because of limited numbers.
"But we will stream what is happening in the count centre into the main hall."
Safety and accuracy were "paramount," she said. "It will take as long as it'll take."
The county has 77 polling stations with 235 staff working at them.
An extra staff member has been employed at each station to manage voter flow.
Ms Edwards said: "Once you get into the polling stations, there'll be Perspex screens, protecting the electors and the staff.
"The staff will be two metres from each other unless they're in their own bubble.
"We do have some who are mother and daughter or husband and wife, so they can cwtch up a bit more.
"They'll all be wearing masks and we have hand sanitiser at every point through your journey through the polling station."
It was the result of "a lot of hard work", she added
Natalie Chambers, 32, and her mother Dilys Davies, from Llanon, Ceredigion, will be working together at a polling station in Penparc, Cardigan.
Council accountant Natalie said: "After such a long time working from home in isolation it will be lovely to actually work face-to-face with someone, and the fact that it is family makes it even better."
Counting would normally get under way when polls close at 22:00 BST. This year it starts on Friday morning.
Counting for Wales' Police and Crime Commissioner elections will be on Sunday.
Head of Wales' Electoral Commission, Rhydian Thomas, said this year's elections were "especially challenging".
He said: "The commission has worked closely with a number of partners including the Wales Electoral Coordination Board, the Welsh and UK governments, the Senedd and political parties across Wales, to ensure the elections are delivered safely and effectively and that voters and campaigners are able to participate with confidence.
"We will be reporting on the management and planning of the election and expect to publish our recommendations in the autumn."