Election: Can Labour strike lucky twice in race for the Senedd?
By Laura McAllister
Professor of Public Policy, Cardiff University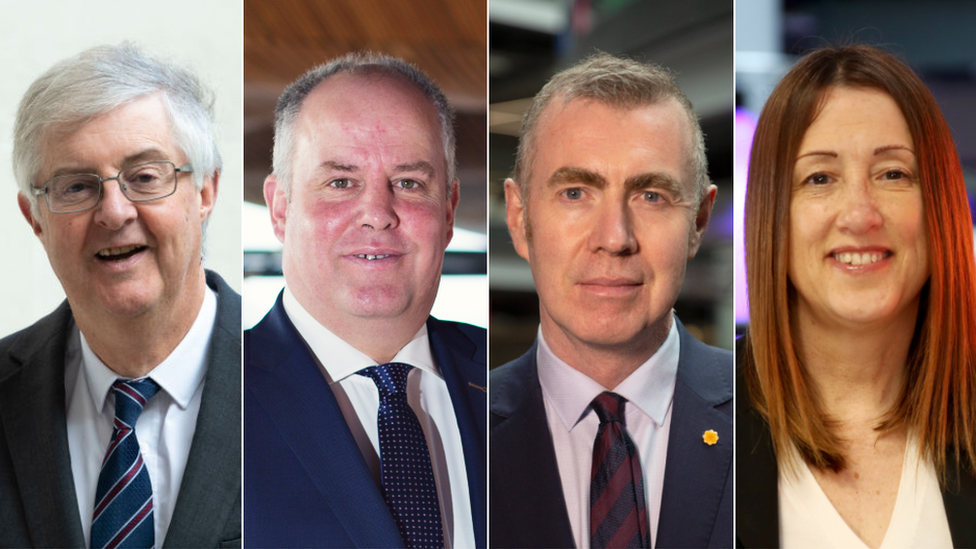 These Senedd elections are not the ones we anticipated and there's a strange contradictory feel to them.
It's been a low-key campaign which has scarcely dazzled, yet the results on Friday feel more significant than ever.
The Members of the Senedd - or MSs - elected will serve in a proper parliament with law-making and tax setting powers.
Added excitement comes from the very tight margins that will decide at least a quarter of the constituency seats and several regional list seats.
Small shifts in votes could determine the distribution of seats to parties and therefore the shape of our next Welsh government.
So, the final results are unpredictable, dependent as they are on several important unknowns.
First, this is a Covid election - both practically and policy wise.
We are edging out of lockdown, but with gargantuan recovery problems ahead.
Most of us had imagined a dramatically different political landscape for Senedd 2021, framed by post-Brexit adaptation not a pandemic.
Wales' 'dirty little secret'
Then there's turnout: I called devolution Wales' 'dirty little secret' as no election has generated a turnout of above 50%, impacting on Senedd credibility and legitimacy.
It should be higher this time, but who knows as we ease out of lockdown restrictions.
It's also less about the raw percentage figure and more about who actually goes out to vote that matters - this time more than ever, with such small margins deciding many seats.
Whilst the overall votes are likely to be split relatively evenly between the three big parties, Wales's semi-hybrid - and increasingly dysfunctional - electoral system benefits the largest party whilst offering opportunities for the smaller parties on the regional list.
Any chance of a majority government?
Attention will be on whether Welsh Labour can win an overall majority (and no party's ever achieved this) or has to govern alongside Plaid Cymru, with or without a formal coalition.
What about the other 'c's - credibility and the constitution?
Voters will also have been able to judge the credibility of the main contenders for first minister.
Welsh Labour's campaigning has been all about packing its defence and playing up its sure footed Covid handling.
The party's had least need to adapt, keeping the push on its track record of delivery, competence and trust.
Labour has been in power for all of devolution's 22 years and the most (small 'c') conservative and successful political party in Wales (there's a lesson there) is running on a platform of carrying on with what it's doing.
It has been helped by the fact that Mark Drakeford has become an electoral asset, newly recognised and mostly popular, an avuncular "safe pair of hands".
Amongst the Welsh-identifying, centre-left part of the electorate, Covid handling is not a particularly promising route to criticise the Labour government.
How are the challengers looking?
Bluntly, this impacts Plaid Cymru most.
Plaid's intention to make the case for the removal of Mark Drakeford was wrecked by Covid.
Voters appear ensconced in national identity "tribes" with limited crossover between them.
Welsh Labour and Plaid currently share the same tribal identity - but Labour is clearly dominant.
Plaid's planned presidential campaign had its charismatic leader, Adam Price front and centre but its hopes of replacing Welsh Labour à la SNP were shattered by the way Welsh public opinion realigned over Covid.
It's fair to say that Welsh Labour has ridden its luck in Senedd elections, not least in 2016 when it clung on to many seats in what became known as the 'Red Wall' - often by very small margins, a good way of describing this is as a very efficient votes to seats won ratio!
This time, seats like Llanelli, Wrexham, Brecon and Radnorshire, Gower, Delyn, Rhondda, Vale of Clwyd, Caerphilly and Vale of Glamorgan are all interesting for different reasons.
Still, due to the inbuilt compensatory mechanism of our electoral system, Labour would have to lose several constituency seats in the south, including some in the valleys to Plaid, not to be the largest party on 7 May.
The problem for the Tories is that it's not as straightforward as getting out the half a million Welsh voters who supported them in 2019.
That was a UK election, all about getting Brexit done - and "done" it is in most people's minds.
We know that many in the 'Red Wall' were not necessarily natural Tories and there's long been plenty of voter mobility in Wales.
Andrew RT Davies' populist style might well capture some of UKIP's sizeable vote last time around, but that might be too dispersed to help the Welsh Conservatives win many of their targets.
Before recent events at Downing Street, the Welsh Conservatives were in bullish mood.
They will still likely make some seat gains but what currency will these have given Davies has effectively ruled out all feasible routes to governing?
Still, winning some of its plausible Labour-held targets would probably seal the results day narrative and surely be noticed at UK level given the potential implications for both Johnson and Starmer.
Any realistic coalitions?
Despite plenty of interest in the topic from media far and wide, this is not an independence election.
Nevertheless, strong support for independence amongst young voters - especially with 16- and 17-year-olds now on the electoral roll - and amongst Labour supporters might prove critical if a mandate for Indy Ref 2 is delivered in Scotland.
If Plaid plays the long game, this could prove significant.
Adam Price ruled out most realistic coalitions early doors, but his party's best hope now is for a last-minute surge in support in a couple of key constituencies, along with picking up a couple of extra regional list seats.
If Labour doesn't manage to ride its luck twice - and its 2016 results represent a high bar after all- this would mean some fascinating negotiations over the shape of our next government.