Bridgend burial ground for 2,000 on sale to developers
By Chris Wood
BBC News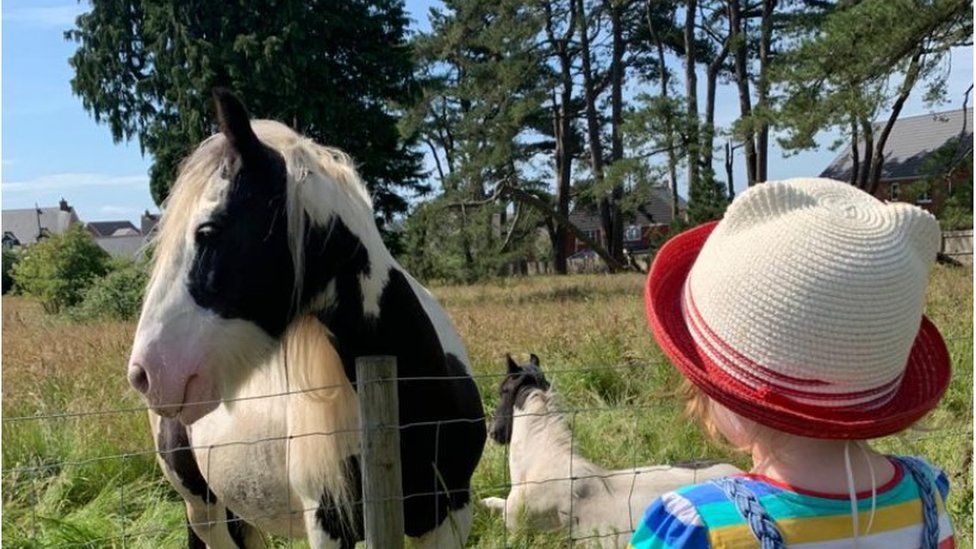 Land where 2,000 people are buried is up for sale.
Estate agent Watts & Morgan is advertising the 1.3 acres of land "with residential development potential" in the village of Coity, Bridgend.
The land, currently used for horses, is the burial ground of Parc Hospital, which stood where Parc Prison is now.
The estate agents said it was one of its "most challenging" sales, adding developers would need to exhume the bodies and inter them elsewhere.
Local people said the outline of graves could still be seen at the site when it rains.
"There are a lot of people buried in that little bit of land - 2,000 according to the burial register," historian Louvain Rees said.
"They were buried there from 1887, with the last registered in 1958.
"There are just three gravestones, and they've been put up by the fence. But there are a lot of people, not just one person in one grave."
The half-hectare site opened in 1864 when Glanrhyd Hospital was built to look after patients with mental health conditions, but this soon surpassed its capacity, with Parc Hospital opening its doors in 1887 to accommodate more.
"People were sent to Glanrhyd initially but, if they were seen as long-term patients or incurable, they were sent to Parc Hospital to either get better or to die," Ms Rees added.
Initially, the collective site was known as "Glamorgan County Lunatic Asylum". Ms Rees and Anthony Rhys are writing a book about life at the site titled Angleton, another of the institution's former names.
She said many men were treated there for general paresis, caused by syphilis, while women with post-natal depression were sent there as well as children with Down's Syndrome.
"A lot of the children died from things such as tuberculosis - they often wouldn't die from what they were treated for but things they caught there," Ms Rees added.
"A lot of people were there until old age, quite a long time.
"There was one man there for 40 years, he just couldn't cope in the community on his own. He would probably be in supported accommodation now."
Among others buried on the land for sale is a baby born in the hospital to a patient whose condition was recorded as "pre-natal psychosis".
While wooden crosses no longer remain, Ms Rees said she believed any proposed development would bring objections from those with relatives there.
Watts & Morgan's Dyfed Miles acknowledged that could happen, adding: "We have never marketed a piece of ground like this before.
"A developer would need to exhume the remains and inter them somewhere else.
"It's not consecrated ground and we understand visitors pay respects to family members and friends."
Mr Miles said it was the last parcel of family-owned land at Parc Farm, with the vast majority now making up the Parc Derwen housing estate.
The Parc Farm Building Complex - old stone barns where hospital patients had classes - was auctioned off five years ago and 20 affordable homes were built there.
Referring to the burial ground, Mr Miles added: "It's been on the market some time.
"There's been lots of offers from neighbouring homeowners, who almost want to keep it as a pony paddock.
"It's a very challenging site for someone to acquire."
Coity councillor Amanda Williams said: "On Google Earth, you can see the outline of the graves and when it rains, you can see where they are.
"Although homes are all around, no-one has shown interest in buying it so far, I suppose because of the cost and effort of removing all the bodies."
Related Internet Links
The BBC is not responsible for the content of external sites.