Welsh election 2021: New laws demand to halt Wales' mass extinction
By Steffan Messenger
BBC Wales environment correspondent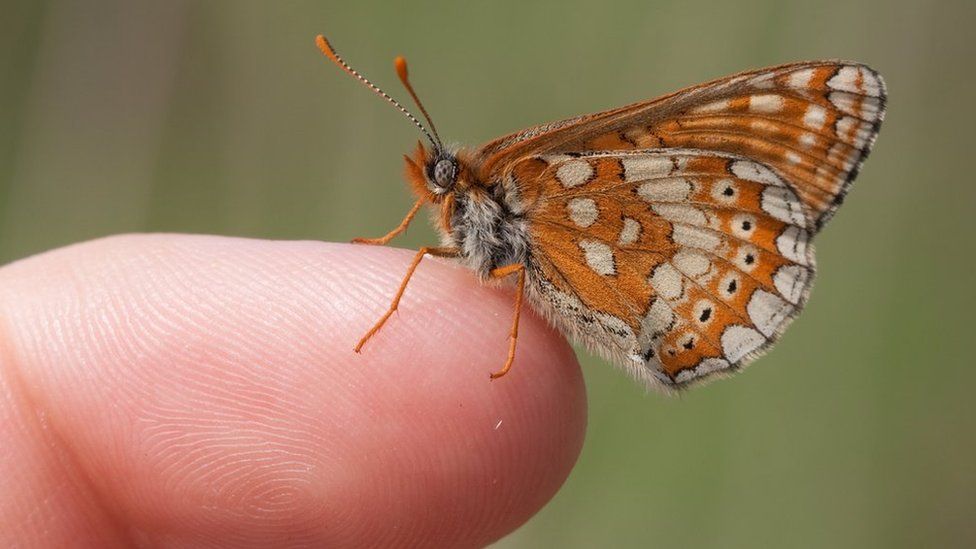 Nature and wildlife in Wales is undergoing a "mass extinction event", environmental charities have said.
Ahead of next week's election, they have urged politicians to take action, with measures such as new, legally binding targets on biodiversity.
Campaigners want the issue to be given the same priority as plans to fight climate change.
They have also called for a national nature service, offering jobs to people on wildlife restoration schemes, and for 30% of land and sea to be actively managed for nature by 2030.
Charities believe they have widespread public support after a year in which people have reconnected with green spaces during Covid lockdowns.
The ramifications are huge because threatened ecosystems support us - from pollinating insects that enable us to grow food, to trees and plants that help prevent flooding while soaking up industrial emissions.
Rachel Sharp, chief executive of Wildlife Trusts Wales, said the next Welsh government needed to set out its plan "with pace and urgency".
"We're in the middle of a mass extinction event - it's really tragic that future generations won't get to experience the nature we see now," she warned.
"We've got the most amazing landscapes and seascapes and we're already seeing an increase in tourism because people are starting to understand and appreciate that. The new green economy, if we can get it right, can create new jobs, new careers."
WALES ELECTION: THE BASICS
What's happening? On 6 May, people will vote to elect 60 Members of the Senedd (MSs). The party that can command the support of a majority of MSs will form the Welsh government. Find out more here.
What powers does the Senedd have? MSs pass laws on aspects of life in Wales such as health, education and transport - and have some tax powers.
Acknowledging the focus parties had put on green jobs during the election campaign, Ms Sharp said they often meant in areas such as waste management, energy generation or transport.
"Nature's getting left out of the picture," she said, arguing politicians risked playing "one crisis off against the other" if nature loss and climate change were not given parity.
"Let's really tackle this nature crisis and actually show where Wales can be leading in the world."
At the National Botanic Gardens of Wales in Carmarthenshire, Rob Parry, chief executive of Initiative for Nature Conservation Cymru, is running a project to rear one of the UK's most critically endangered butterflies, the marsh fritillary.
The group hopes to raise £60,000 for the eight-year scheme, with the aim of releasing the butterflies on Llantrisant common in Rhondda Cynon Taf to try and secure a stable population in the area.
The butterfly depends on a network of marshy grassland habitat, usually grazed by cattle, with a plentiful supply of the devil's-bit scabious plant - its favourite food.
But the loss of such habitats means its population has plummeted - with the small, glossy butterfly now only found at a handful of sites across Wales, meaning projects such as his "with lots of different species" will be needed in future, Mr Parry said.
"If we don't do something then species like the marsh fritillary and countless others will be lost from Wales - this is really the last measure that we've got."
"The people of Wales have really spoken throughout the lockdowns and have become really connected to nature," Mr Parry said.
"So any government going forward really does need to listen to that and put projects like this and nature conservation in general at the forefront, because it's what people need right now."
Wales Environment Link - which represents environment and countryside organisations - said it also wanted more lessons on climate and nature in schools and for the NHS to offer green prescriptions - such as nature-based volunteering for anxiety and depression - when appropriate.
Nature Friendly Farming Network - which launches a report with its election asks of politicians on Thursday - suggested farmers were "uniquely positioned to accelerate positive change at scale" with the right government funding.
What will political parties do about the mass extinction?
The Welsh Liberal Democrats said they would introduce "legally binding nature recovery targets with regular milestones, backed up by monitoring and reporting" as well as "nature and marine recovery plans".
The party also said it would make every town a "tree town" with a minimum of 20% tree cover in urban areas and 30% in all new developments.
Tree cover on farms would also be supported by funding a hedges and edges scheme.
Plaid Cymru said it would introduce a nature act to set a legal duty and targets to restore biodiversity on land and at sea.
A spokeswoman said "we will invest in protecting and developing an extensive network of wildlife sites… and will also close the environmental governance gap created by our departure from the EU, by establishing an independent environmental governance body for Wales".
Natural Resources Wales (NRW) and national parks funding would also "reflect the key role they have to play in tackling our climate and biodiversity crisis", she said.
The Welsh Conservatives said they would scrap environment watchdog NRW.
A spokesman said the party would ensure the organisation's "regulatory and commercial duties were carried out separately, so we can tackle issues such as nature loss and enhance biodiversity in a more effective and dynamic manner".
The election provided the chance for "change", he said and "the Conservatives will use this opportunity to improve environmental protection, regulation and maintenance in Wales."
Welsh Labour said it would abolish more of the most commonly littered single use plastics and create a national forest for Wales.
A new system of farm support payments to reward nature-friendly farming practices and upholding bans on fox-hunting and badger-culling are also pledged.
A spokesman said the party's plans would "build on Wales' world-beating recycling record with further action to support a circular economy, helping to reduce our global impact on biodiversity".
Related Internet Links
The BBC is not responsible for the content of external sites.