Covid: 500,000 on Welsh NHS waiting lists amid pandemic
By Owain Clarke & Steve Duffy
BBC Wales health correspondent
More than half a million people are now waiting for treatment on NHS waiting lists in Wales after record backlogs during the coronavirus pandemic.
Most non-urgent treatment was postponed in March 2020 to prepare the NHS for Covid patients.
New figures show that as of February, waiting lists had hit record levels with 549,353 awaiting treatment or surgery - a 19% rise in a year.
This is the equivalent of 17% of the Welsh population.
The figures, published by Stats Wales, also show almost 218,000 had been waiting more than 36 weeks - nine months - for treatment by February this year.
That is about eight times higher than in the same period last year, before the pandemic officially hit, and makes up 39.6% of the waiting list.
However, there have been some improvements, with the number of those waiting the longest falling 4,194 between January and February this year.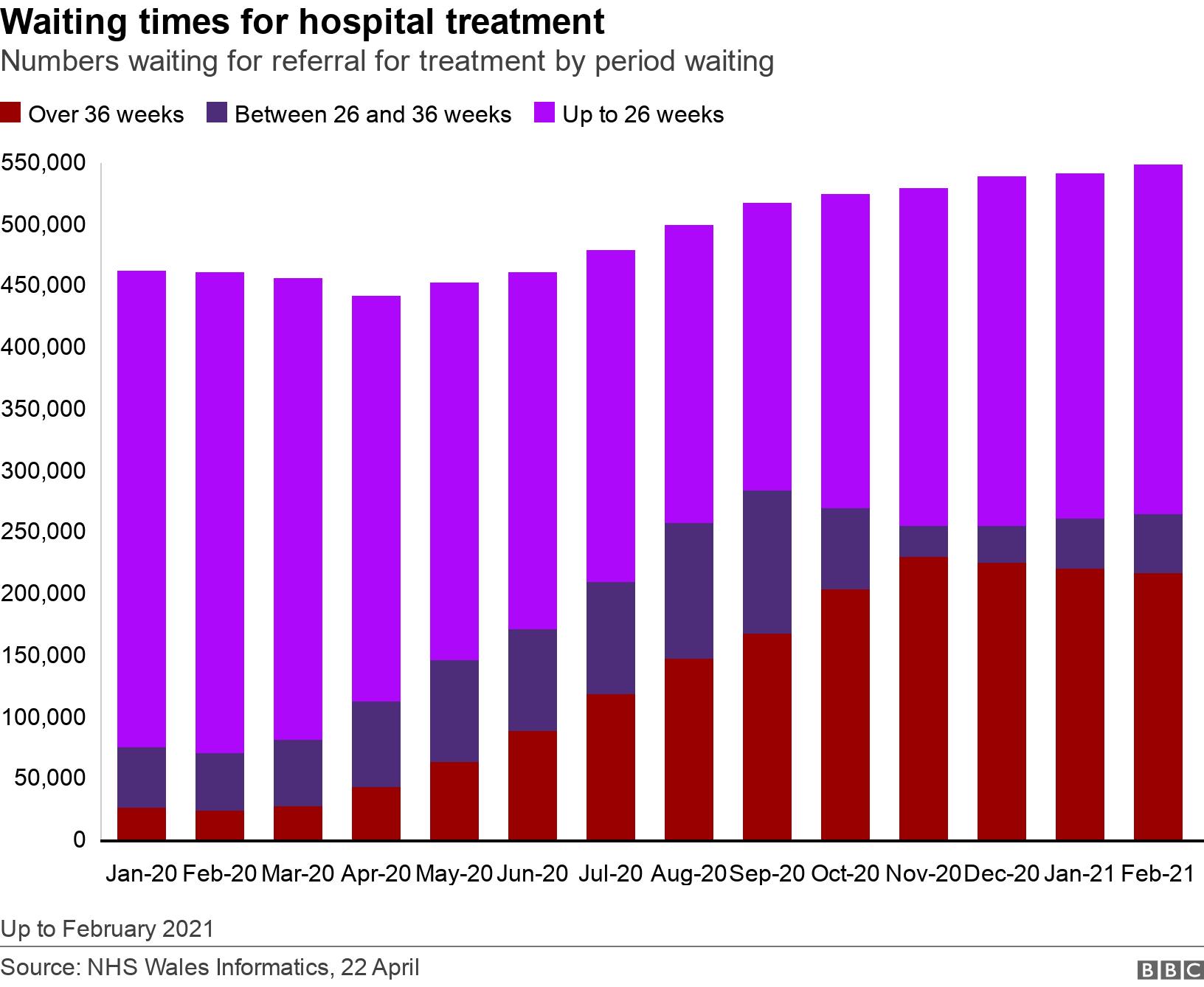 Dealing with the growth in waiting lists during the course of the pandemic is likely to be the biggest challenge facing whoever becomes the next Welsh health minister following the 6 May vote.
Statistics showing the waiting times for treatment for conditions, show the scale of the challenge facing the Welsh NHS:
In February 2020, 252 people had been waiting more than nine months for cardiology treatment, a year later that had grown to 4,328 - an increase of 1,617%
For trauma and orthopaedics the waiting lists increased by 519%, up from 8,424 to 52,173. The waiting list peaked in November, but the longest waits have only come down slightly, by 89 since then
Numbers waiting the longest for cardiothoracic surgery had grown from 44 to 188
Those waiting the longest for general surgery had also grown from 2,288 to 25,181, representing a 1,000% rise
While two people were waiting more than nine months before the pandemic for restorative dental work, that has now increased to 848 - a 4,230% rise
For neurology treatments, numbers rose from 22 to 1,028 - a rise of 4,572% - while for opthalmology, waiting lists are up from 4,083 to 31,694
WALES ELECTION: THE BASICS
What's happening? On 6 May, people will vote to elect 60 Members of the Senedd (MSs). The party that can command the support of a majority of MSs will form the Welsh government. Find out more here.
What powers does the Senedd have? MSs pass laws on aspects of life in Wales such as health, education and transport - and have some tax powers.
The disruption caused by Covid-19 has also led to a huge increase in people waiting for diagnostic tests, to either confirm an illness or rule out a disease.
There were 1,752 waiting more than 14 weeks in February last year, now that has increased to more than 38,000 - a 2,072% rise.
While bodies representing health care workers have warned hospitals do not have the capacity to provide care "in the way it had done before" because of social distancing measures needed during the pandemic.
While case rates have fallen to 15.2 per 100,000 people, those representing medical staff in Wales have warned the pandemic is not over and the impact of the virus will be felt for years.
Recently the Welsh NHS Confederation said it was "impossible to say" when services would return to normal, and there were concerns about new variants, and spikes in case rates in other countries.
Darren Hughes, director, said issues around testing before surgery and social distancing, meaning less beds on wards, were adding to delays for patients, and many staff had been redeployed to administer the vaccine.
"We are doing everything we can to get up to the maximum capacity as soon as possible," he said."Delivery of normal service, under the Covid-adjusted way of doing things is very difficult," he added.
What is the political reaction?
With health one of the biggest topics at the Welsh Parliament election, all parties have been asked to comment.
Plaid Cymru said waiting times were "already unacceptably long even prior to the pandemic and have now been exacerbated by Covid".
A spokesperson said if elected to power the party would recruit 4,000 nurses, 1,000 doctors and 1,000 allied health professionals, and deliver new diagnostic centres for cancer and other conditions.
They said this would "ensure early treatment, and create a new sustainability, a new robustness, in a new and transformed National Health and Care Service".
The Welsh Liberal Democrats said it was a "good time" to rethink how the health service works.
"Welsh Liberal Democrats want to see a greater emphasis put on preventive care and early diagnosis, along with investment in technology and community pharmacies delivering a greater range of services to take pressure off hospitals and A&E departments," a spokesperson said.
Welsh Labour said the pandemic had had an impact on all parts of the NHS across the UK and its "cautious approach" to easing lockdown had been important to get cases under control.
"The NHS is our top priority and that's why we've pledged an NHS Recovery Plan on day one with more than £1bn of funding behind it that can help our NHS and its staff tackle the number of cases we need to deal with," a spokesperson said.
"A costed plan that includes a commitment to train 12,000 staff. We have a plan to get Wales through the pandemic and then to move our NHS forward."
The Welsh Conservatives said figures meant more than 550,000 were "anxiously waiting for their treatment to start".
"Today's figures round off another disastrous five years of Labour at the end of 22 painful years of them being in power, and show the urgency for a radical change of tack," a spokesperson said.
"Welsh Conservatives would develop a clear plan to enable the Welsh NHS to clear the waiting list backlog, including by making use of cross-border and independent facilities to speed up treatment, as well as delivering five new and upgraded community hospitals over the next Senedd, as well as recruiting 1,200 more doctors, 3,000 more nurses, and other professionals through our 'Retain, recruit and train' programme."