Covid-19: Cwm Taf Morgannwg shows no deaths for second week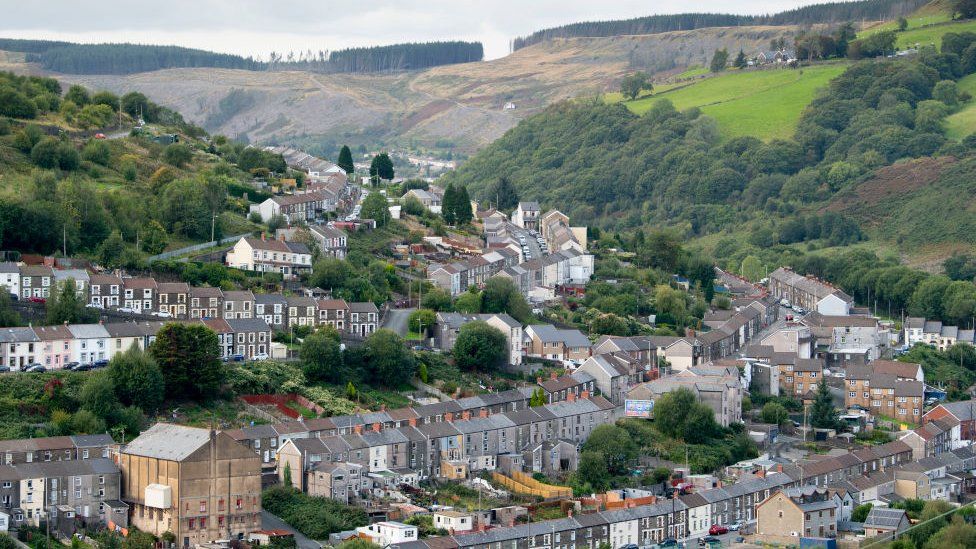 The worst hit part of Wales in the pandemic has seen no Covid-19 deaths for a second successive week.
The latest figures show the Cwm Taf Morgannwg health board area has not recorded any further fatalities.
Rhondda Cynon Taf (RCT) has Wales' highest Covid mortality rate, while Bridgend experienced the most deaths in the peak in January.
But neither saw any Covid deaths registered, along with seven other counties.
Deaths overall are also below normal for a sixth successive week, a key pandemic indicator.
The number of deaths involving Covid-19 rose slightly after falling for 11 weeks in a row in Wales, the Office for National Statistics (ONS) figures show.
There were 19 deaths involving the virus, accounting for 3.3% of all deaths in the week ending 9 April, the ONS revealed.
This compares to 15 in the week before. But this is still lower than for any other week since 25 September.
With numbers now at similar low levels seen last summer, figures are likely to show some weekly small fluctuations.
The trend has been steadily downward and the latest week's total is 72% fewer Covid deaths than registered a month ago.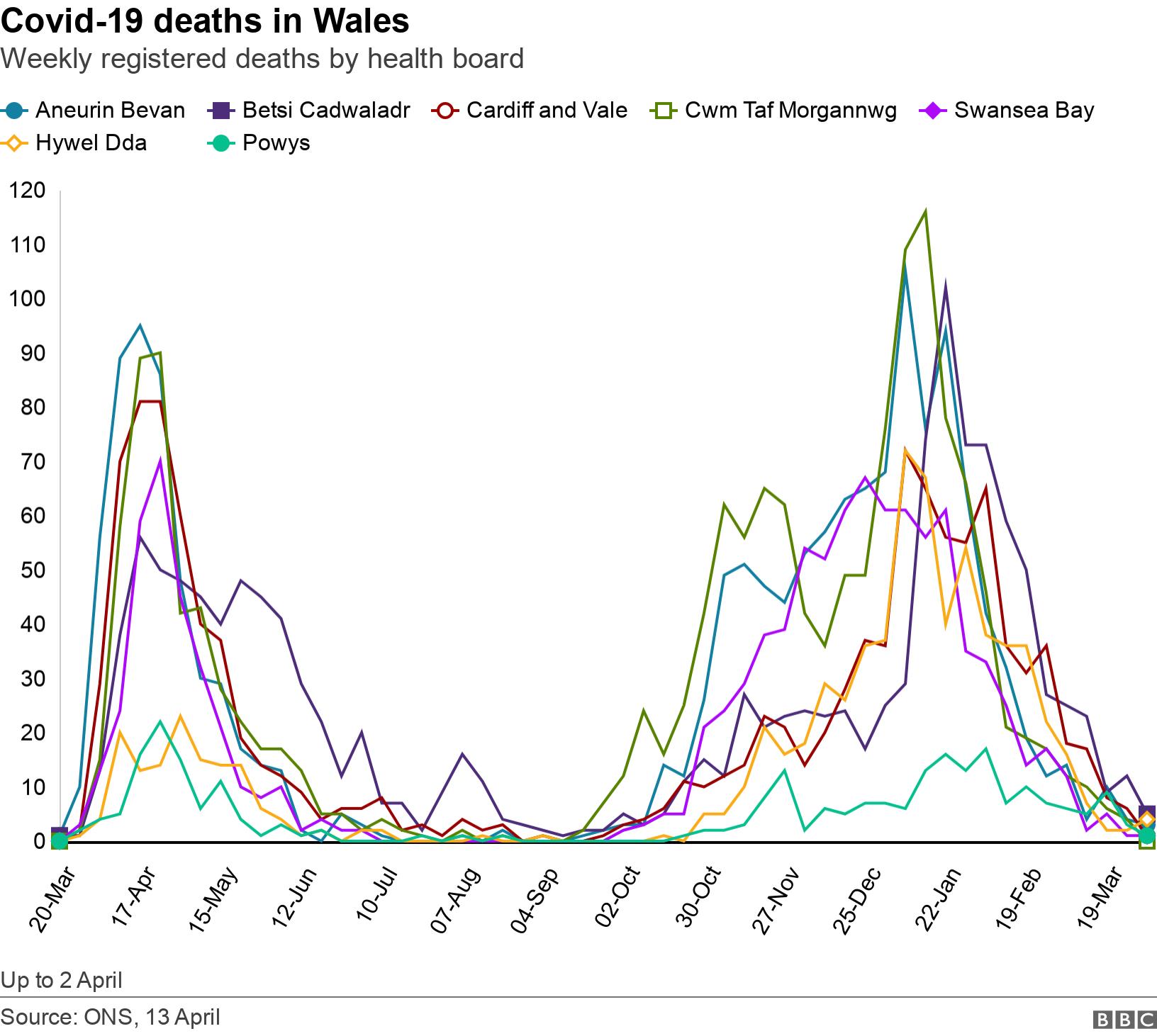 During the latest week, up to 9 April - there were eight deaths in the Betsi Cadwaladr health board area and four in both Aneurin Bevan and Cardiff and Vale, two in Swansea Bay and one in Powys.
There have been no deaths in Hywel Dda for the first time since October.
When broken down by local authority area, there were no fatalities involving Covid patients across nine counties: Bridgend, Carmarthenshire, Ceredigion, Monmouthshire, Merthyr Tydfil, Pembrokeshire, Rhondda Cynon Taf (RCT), Torfaen and Wrexham.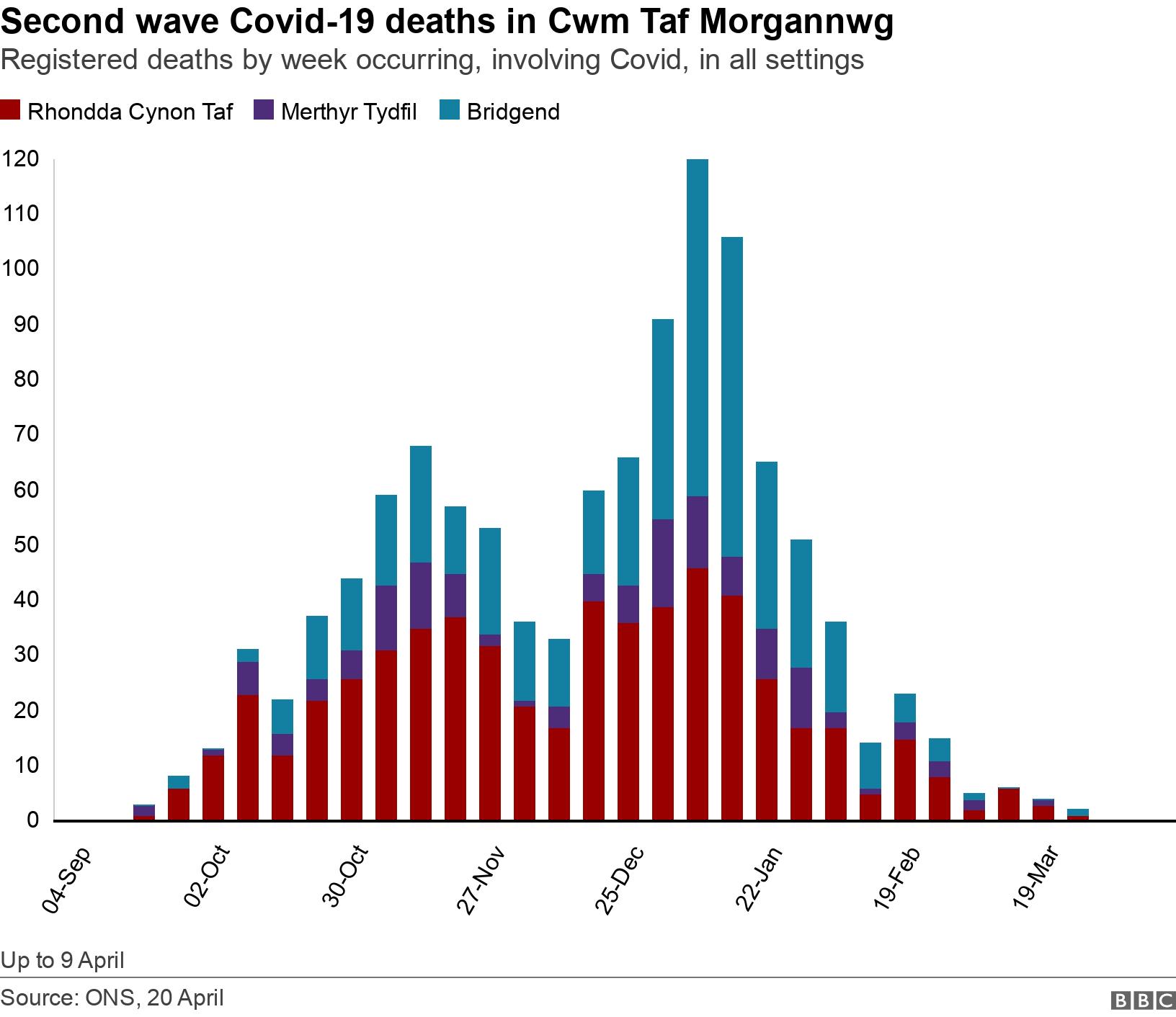 Recovery in Cwm Taf Morgannwg
RCT has been particularly hard hit over the course of the pandemic.
Its mortality rate, where Covid is the underlying cause of death, is the highest in Wales - 339.8 deaths per 100,000 in the year to the end of February. This is also one of the highest across Wales and England.
Bridgend was the worst affected during the second wave peak, with 159 deaths due to Covid in January alone, a mortality rate of 1277.8 per 100,000 for that month.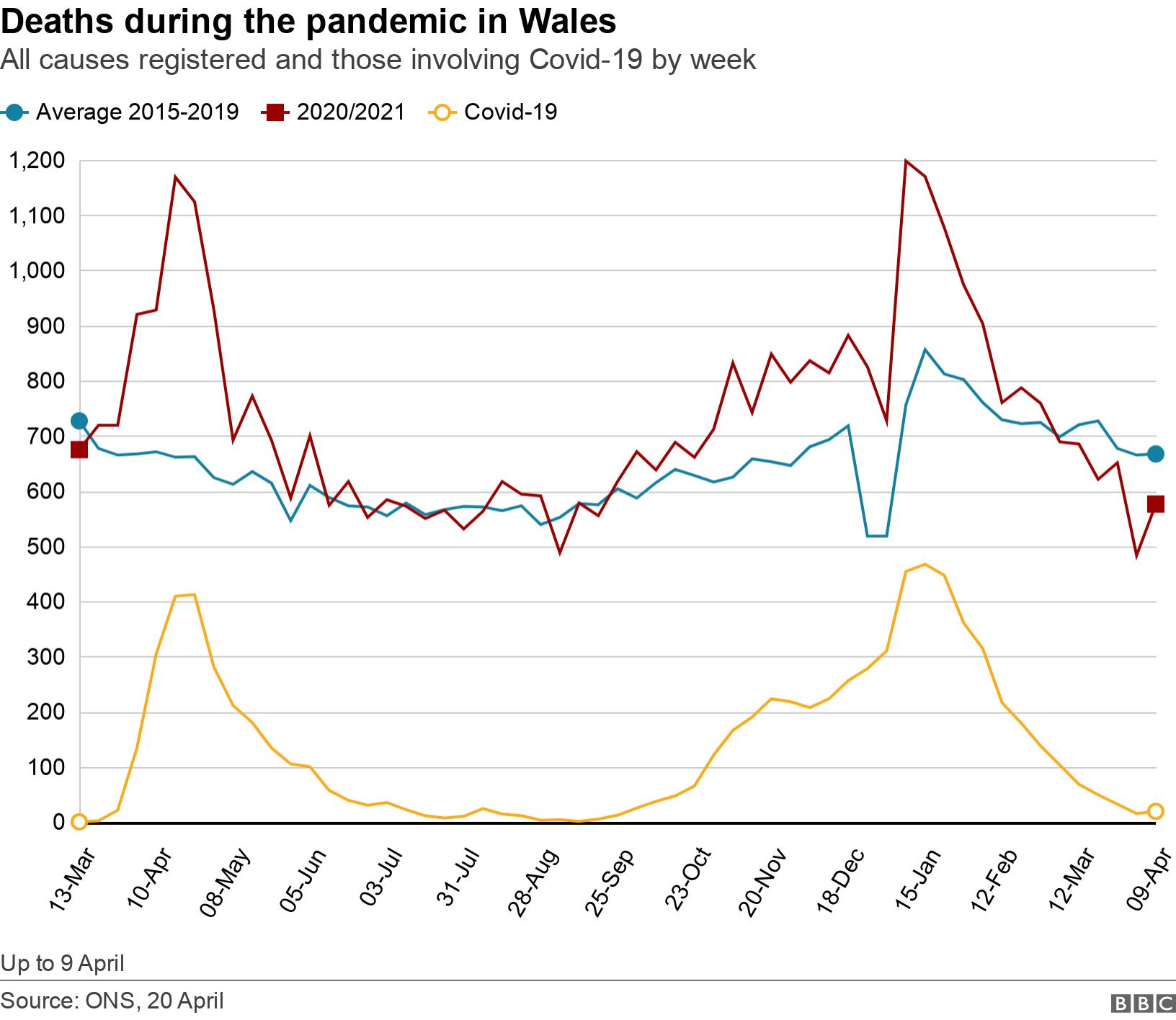 Deaths overall continue to be below normal levels
So-called excess deaths, which compare all registered deaths with previous years, are now below the five-year average for the sixth successive week.
Looking at the number of deaths from all causes we would normally expect to see at this point in a typical year is seen as a reliable measure of the pandemic.
The number of deaths from all causes in Wales rose to 576 in the week ending 9 April. This was 91 deaths (13.6%) fewer than the five-year average.
That below average proportion is greater in Wales than England and all its regions for this week.
ONS said some caution is needed with interpreting this period because of the Easter holidays falling in different weeks over the years.
Looking across the course of the pandemic so far, there have been 41,784 deaths from all causes, 7,831 mentioning Covid-19 on the death certificate. This was 5,717 deaths above the five-year average.
When deaths occurring up to 9 April but counting later registrations are included, the total number of deaths involving Covid rises to 7,838.
We can see the peak of the second wave came on 11 January, when there were 83 deaths. Since late March there have been two days when no Covid deaths occurred at all.
The ONS publishes a weekly set of figures on registered deaths, when Covid is mentioned on death certificates. This is when either Covid is confirmed or suspected by a doctor and occurs in hospitals, care homes, hospices and people's homes.