Welsh election: 'Visiting Edinburgh is easier than much of Wales'
By Chris Wood
BBC News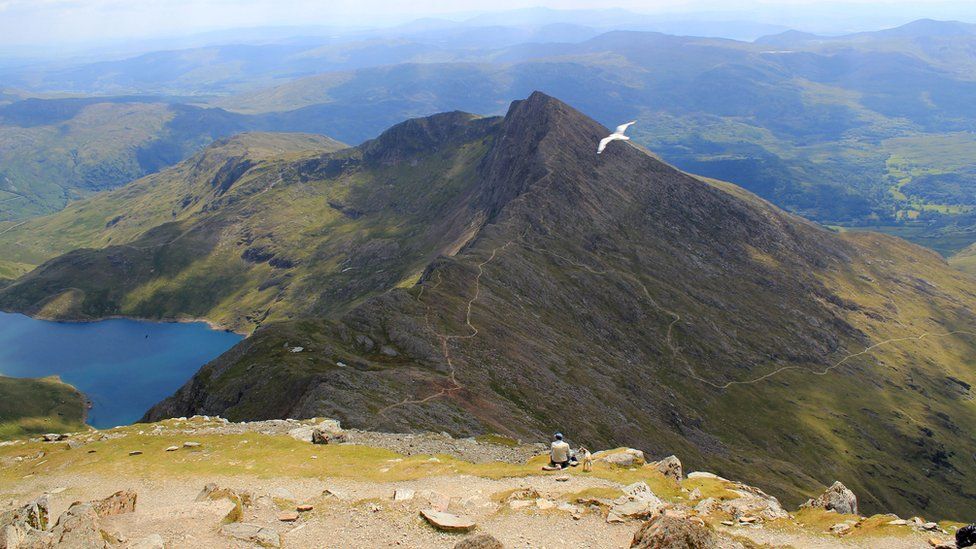 After moving to Wales, Ben Quigley was looking forward to exploring Snowdonia, the Brecon Beacons and other beauty spots.
But he was better connected to much of the country in his home city, Birmingham.
He does not drive and found it strange he had to travel into England by train to move from south to north Wales.
Ahead of the Senedd elections, we asked people what they would change - and Ben wants better transport links.
"I had been to Snowdonia on school trips and really like the area, but it's very difficult to get to as I don't drive and it's some distance," said Ben, 26.
"You can get from Cardiff to London in under two hours, but it's five or six hours to Snowdonia.
"The really weird part is you have to come out of the country to get to other parts. It's really difficult to get around."
Since moving to Wales' capital five years ago to work in financial services, this is one of the things that has struck him most.
Both Snowdonia and London are roughly 150 miles (241 km/h) away - yet one takes about one hour 50 minutes and a single journey on a train, while the other means up to six hours, multiple changes and travelling out of Wales and back in again.
Ben added: "It just seems a missed opportunity (for tourism). There are quite a lot of examples, even the west coast and places like St Davids.
"It's far more time consuming getting around, compared to other parts of Britain. It is much quicker and easier to get to other parts (of the UK outside Wales)."
Moving to Wales made Ben realise how well connected his home area of the Midlands was to the rest of Great Britain from its central location.
There were regular direct trains across the border, to Wrexham, Bangor and Holyhead in the north, across the middle to Aberystwyth and to Cardiff in the south, while he could get to Swansea in the west with one change.
Travelling around Wales was not so easy.
When Ben studied in Swansea University eight years ago, moving west around the coast through the Gower, Pembrokeshire and Ceredigion was difficult.
For example, Aberystwyth was 70 miles (112km/h) away, yet would take more than three hours using a train and then bus.
The situation on travelling the 49 miles (79km/h) from Carmarthen to Aberystwyth is more stark - and currently on the train it takes six hours, via Cardiff, Newport and Shropshire.
Ben also lived in Caerphilly for six months, and on some Sundays he found trains ran every four hours on the seven mile (11km/h) journey to the capital.
He added: "It took me 40 minutes to fly to Edinburgh from Cardiff, so you can go so far in that time. It's not the same for places much closer.
"There aren't really airports up there (in north Wales) which have regular traffic. There are some flights from Cardiff, but not regular, and not commercial that could take people to Snowdonia."
When this happened in 2018, a Welsh government official said it was getting to the point where people were unable to book because of the lack of space.
The situation has left Ben frustrated, as he is keen to explore Wales more, but describes it as "near impossible" to visit areas such as St Davids in Pembrokeshire and Snowdonia without driving.
Saying he "genuinely found it easier, cheaper and much quicker" to fly to Scotland than see many of Wales' beauty spots, he would like politicians to focus on making the country more accessible to everyone.
As Covid restrictions continue to ease, and there is a UK "staycation boom", he believes direct bus links from cities such as Cardiff, Swansea and Newport to Gower, Pembrokeshire and Snowdonia, would at least give people the chance to explore Wales.
"Once we start coming out of lockdown, it's a missed opportunity, people can't travel around their own country," he added.
"The main missing piece of the infrastructure is a fast rail line through the middle of Wales.
"It's logistically difficult - through mountains in the Brecon Beacons and Snowdonia, but it has been done in other countries around the world, so it is surely feasible. The question is how to go about it as it would speed things up a lot."
Meurig Jones, who runs a waste management firm near Pwllheli, Gwynedd, also wants improvements, and said current roads are a barrier to north-south trade, with a minimum of a dual carriageway needed.
"All the companies that we deal with at present are in Deeside, Manchester and Liverpool - everything goes over the border, more or less," he said.
"We don't do anything with companies in south Wales, basically because of the road connections.
"We used to have a job in Carmarthen, we took loads down there, but because of the size of the wagon we couldn't go under the railway bridges, hence we lost the job."
WALES ELECTION: THE BASICS
What's happening? On 6 May, people will vote to elect 60 Members of the Senedd (MSs). The party that can command the support of a majority of MSs will form the Welsh government. Find out more here.
What powers does the Senedd have? MSs pass laws on aspects of life in Wales such as health, education and transport - and have some tax powers.