Free lateral flow Covid tests in Wales for those unable to work at home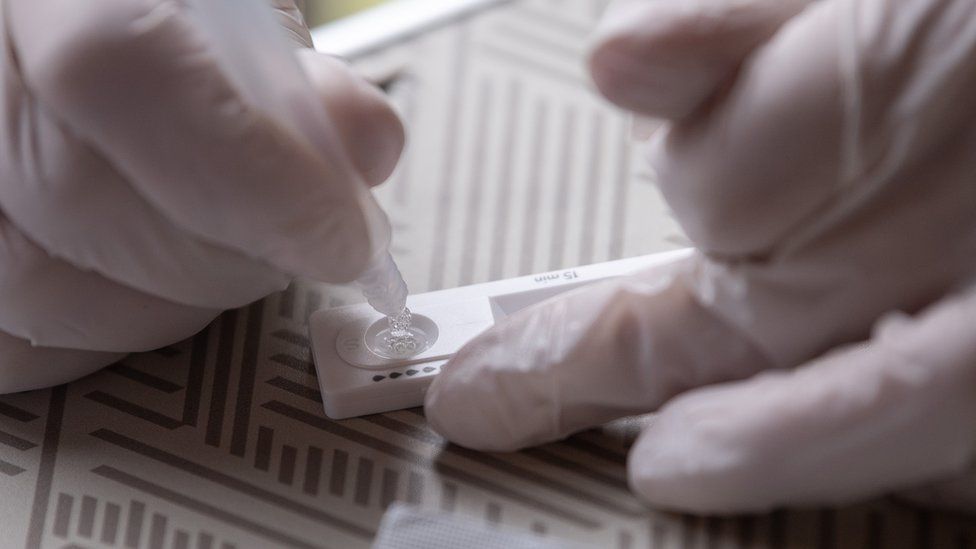 Anyone who cannot work from home in Wales will be able to get free rapid Covid home testing kits, the Welsh government said.
The lateral flow tests will be available to be picked up from local Covid-19 test sites from Friday.
Officials said they were also looking at making other locations available to collect self-test kits, as well as posting them out to individual homes.
Testing in schools will also be extended for all pupils from Year 7.
The Welsh government said the latest measures were a step forward in the fight against the virus, especially for those unable to carry out their jobs at home.
"It is hoped that improving the availability of lateral flow tests will make regular asymptomatic testing for coronavirus more convenient and accessible for people not covered under existing schemes at workplaces, childcare settings, schools, colleges and universities," an official said.
At each testing site people will be able to collect the rapid lateral flow tests between 08:00 and 13:00. They will not need to make an appointment before collection.
The sites will close for a deep clean and reopen for symptomatic PCR testing between 14:00 and 20:00 each day.
Each person will routinely be able to collect two packs of seven lateral flow self-test kits for home use. It is recommended tests are undertaken twice a week with the results recorded on the UK government portal.
The tests take about 30 minutes to give a result.
In addition to the new testing kits for workers in Wales, the Welsh government said it was extending rapid testing to all secondary school pupils from Monday.
At the moment, only those in Year 10 and above, as well as staff, are eligible for two free lateral tests a week.
The tests remain voluntary and will be taken at home, with results registered online.
What is the political reaction?
Health Minister Vaughan Gething said it was important testing was made "as convenient and accessible as possible".
"We are especially keen for self-test kits to be used by people who cannot work from home so they can undertake regular testing," he said.
"This will help to keep them and their families safe.
"We know that up to one in three people who have coronavirus have no symptoms at all and can therefore spread it unknowingly. As we continue to ease restrictions, the routine testing of asymptomatic people will be imperative in our battle against the virus."
A Plaid Cymru spokesperson said: "The wider rollout of fast turnaround lateral flow tests, whilst a positive step, has to work in tandem with financial support for those self-isolating.
"The Covid-19 Rapid Survey of Adherence to Interventions and Responses study found that only 52% in the UK have self-isolated when required.
"Plaid Cymru have called on both the Welsh and UK government to increase the level of support provided through the self-isolation grant and Statutory Sick Pay alongside designated self-isolation facilities to increase levels of self-isolation following a positive test."
Welsh Lib Dem leader Jane Dodds said the free tests were a "welcome development" for those working in shops, restaurants and schools and would "help us safely reopen our country and economy".
"These tests will help keep key workers safe and reassure the public in the process. I would encourage everyone who qualifies to take up this offer," she said.
A Welsh Conservative spokesperson said: "We must explore all avenues to get the Welsh economy on the road to recovery, and we are pleased Labour ministers have followed the action taken by the UK Conservative government and increased the scope for testing. "Welsh Conservatives have a comprehensive and cautious roadmap out of lockdown and our priority is delivering our economic plan to ensure Welsh employees and businesses can recover from the difficulties of the past 12 months."
Related Internet Links
The BBC is not responsible for the content of external sites.