Covid: Wales' gyms and household mixing changes brought forward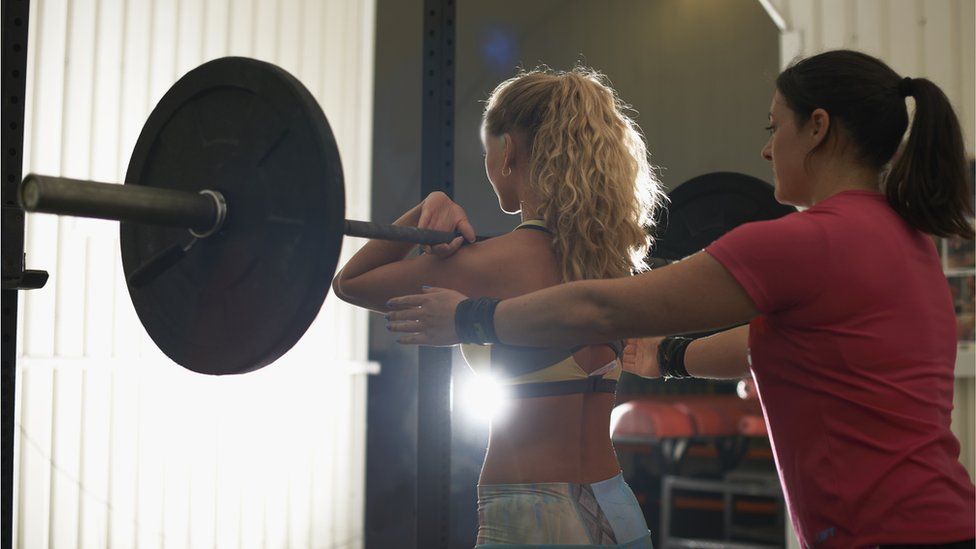 Gyms will be allowed to reopen and people will be able to form extended households a week earlier than planned in Wales, the first minister has said.
Gyms and leisure centres will be able to open from 3 May - instead of 10 May - while two households can bubble up to meet indoors from the same date.
Wedding receptions outdoors for up to 30 people will be allowed from 26 April, also moving forward a week.
A drop in Covid cases has prompted the changes, the Welsh government said.
The dates for reopening the hospitality industry have not changed - pubs, cafes and restaurants will still be able to reopen outdoors from 26 April.
When are gyms opening in Wales?
Individual and one-to-one training will be allowed once they reopen on 3 May, but exercise classes will still be banned.
The announcement on gyms and leisure centre is "huge", according to consumer and retail expert Kate Hardcastle.
But, she told BBC Radio Wales Breakfast, owners were keen to reopen as soon as possible because it was important to reconnect with members who might have spent money on fitness equipment at home.
Opposition parties welcomed the changes, but the Welsh Conservatives and Plaid Cymru called for gyms to be reopened even sooner.
The Welsh Liberal Democrats said it was important that people kept sticking to the rules.
Calvin Nap, who runs The Compound Gym in Cardiff, said it was "great news" but that the decision "doesn't make much of a difference".
He said: "This is still a month later than non-essential retail. I see shops reopening and close contact services reopening in tiny shops... it's frustrating.
"I've been closed [for] four months now. It's annoying that Welsh government are making changes all the time."
Michaela Breeze, a Commonwealth Games weightlifting champion who owns her own gym in Swansea, said the news was "fantastic" but she was "pulling my hair out in despair" because she had already spent money planning to open on the previous date.
"That decision has cost me several thousands of pounds," she told BBC Radio Wales.
"We are trying to run businesses here - it requires time, it requires practice and it requires planning to notify members."
Dylan Allsopp, a personal trainer in Treforest, Rhondda Cynon Taf, said: "It's great we have been given the opportunity to open early, but realistically we are still back of the queue with no data to back it up.
"When you look at the data and you see gyms contribute to two cases in 100,000 visits, you wonder why you aren't being allowed to open."
Is it safe to go to the gym?
Although she admitted to not being an avid user of gyms, molecular epidemiologist Dr Helen Wimalarathna said there was a risk to reopening them, but this needed to be balanced against the benefit to people's health.
"It's a question of ventilation and how much people exhale in a gym environment," she said.
"Getting hot and sweaty and breathing out over the equipment, then there's a high degree of sanitisation that needs to take place afterwards before it is safe for someone else to use that space.
"But obviously exercise is really important for people, physically and mentally, and we know that physical health and underlying factors like obesity have really contributed to the worst of this pandemic, so it is good to give people the opportunity to keep in shape."
When can shops open in Wales?
First Minister Mark Drakeford also confirmed that lockdown changes which had been planned for 12 April would go ahead.
This means, from Monday, all remaining children will return to school for face-to-face learning, non-essential shops will reopen, and close-contact services, such as beauticians, will be allowed to reopen.
Non-essential retailers have been closed since Wales went into lockdown on 20 December.
When can I travel from Wales to England?
Travel across the border between Wales and England will also be permitted from Monday.
The decision follows a rapid drop in the number of new coronavirus cases in Wales.
When do pubs open in Wales?
Dates for the reopening of the hospitality industry in Wales have not changed, despite the other alterations to lockdown easing dates.
Wales' case rate, which measures the number of infections per 100,000 people over a seven-day period, stands at 21, compared to 37 last week.
Confirmed cases in hospital beds are 26% lower than last Thursday, the lowest number since 22 September.
Mr Drakeford said: "Last week, we set out our programme to further reopen the economy and relax the restrictions we have lived with for so long, as part of our careful, step-by-step approach to keeping everyone safe.
"This week, because of the improvements we continue to see, we can bring forward some of our plans. This is only possible because of the efforts everyone is making to protect themselves and their loved ones."
What have politicians said?
Any of the changes proposed after 6 May could depend on the outcome of the Senedd elections and which party is in power.
Plaid Cymru leader Adam Price said: "Plaid Cymru has been pressing the case for gyms to reopen as quickly and as safely as is possible because they are crucial for people's mental health and well-being. This new date, whilst welcome, is still not early enough.
"The scenes of unregulated drinking over recent days has been a serious cause of concern and many will question the Labour government's decision not to move the reopening of outdoor hospitality forward. A regulated drinking environment is, after all, a better and safer option."
Andrew RT Davies, the Senedd leader of the Welsh Conservatives, said: "The great British vaccination programme protects more and more lives every day and gives us the ability to restore freedoms in a safe but accelerated manner.
"Pressure from the public and Welsh Conservatives have forced Labour ministers to act, but there is still more they can do in accelerating the roadmap with the safe resumption of activities such as outdoor hospitality and gyms."
Jane Dodds, leader of the Welsh Liberal Democrats, said: "This is welcome news. Gyms and fitness centres play an important part in both the physical and mental health of so many people across Wales. Everyone who has abided by the rules has played a part in bringing this announcement forward.
"The public must remember however that the virus has not gone away and they need to stick to the rules including with regard to social distancing."