Covid: Wales' hospital patient numbers drop by two thirds
The number of Covid patients in hospitals has fallen by more than two thirds in just a month, latest figures from NHS Wales show.
There were 148 confirmed and suspected Covid patients in hospital beds on Tuesday, compared to more than 450 exactly a month earlier.
This is a 92% drop from the record levels we saw in late December and back to numbers last seen in mid-September.
Recent Covid admissions are at their lowest levels since the pandemic began.
On 6 April, there were 553 Covid patients in hospital beds - and the daily average (580) is the lowest since 11 October.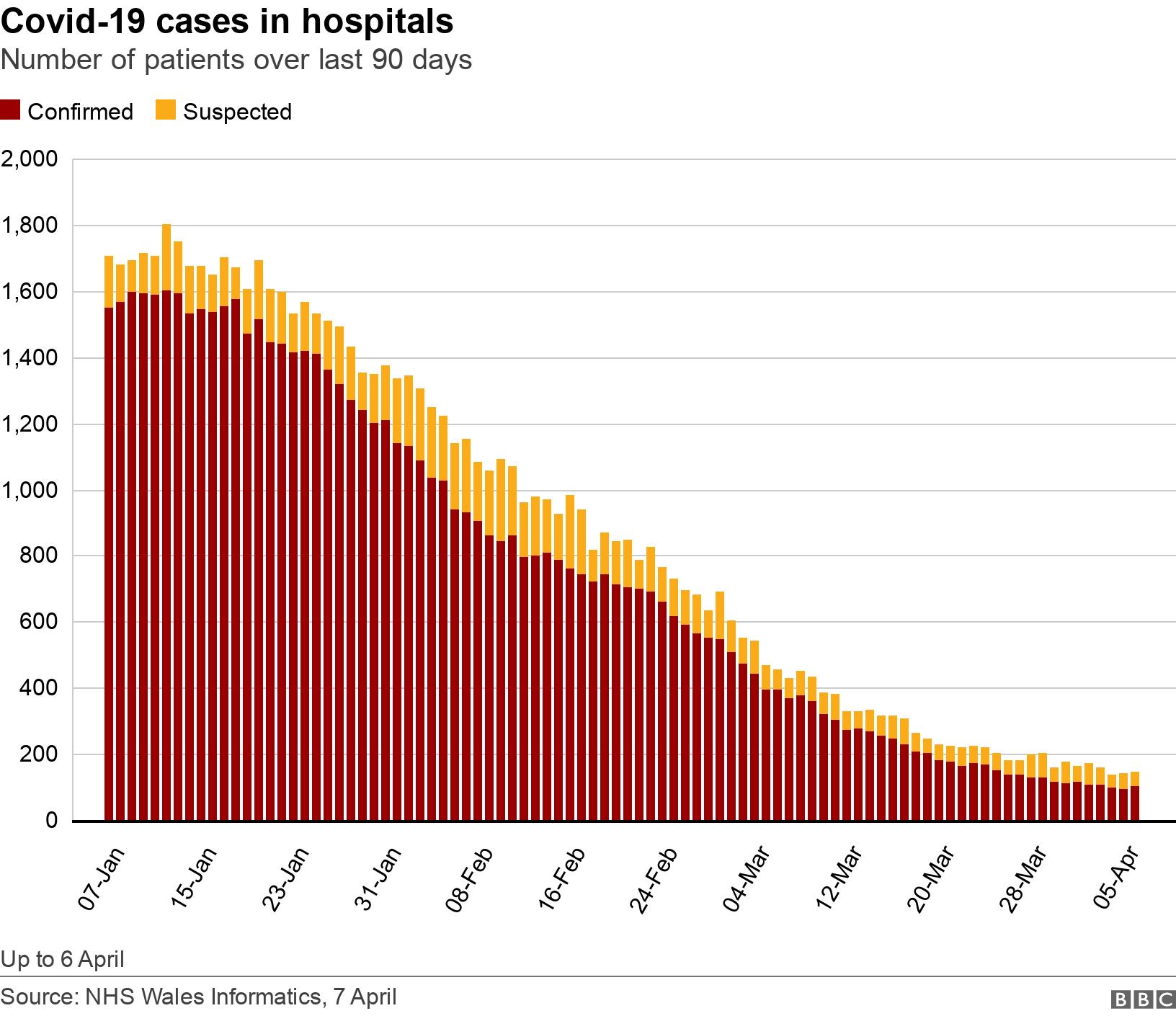 Some have other conditions which need treating and others are waiting for care packages or support to be available. They now make up 73% of Covid patients.
When counting "active" confirmed and suspected Covid patients, this means a 68% drop on a month ago.
This ranges from 78% falls in the Betsi Cadwaladr, Hywel Dda and Aneurin Bevan health boards to 70% in Swansea Bay, 57% in Cardiff and Vale and just 11% in Cwm Taf Morgannwg.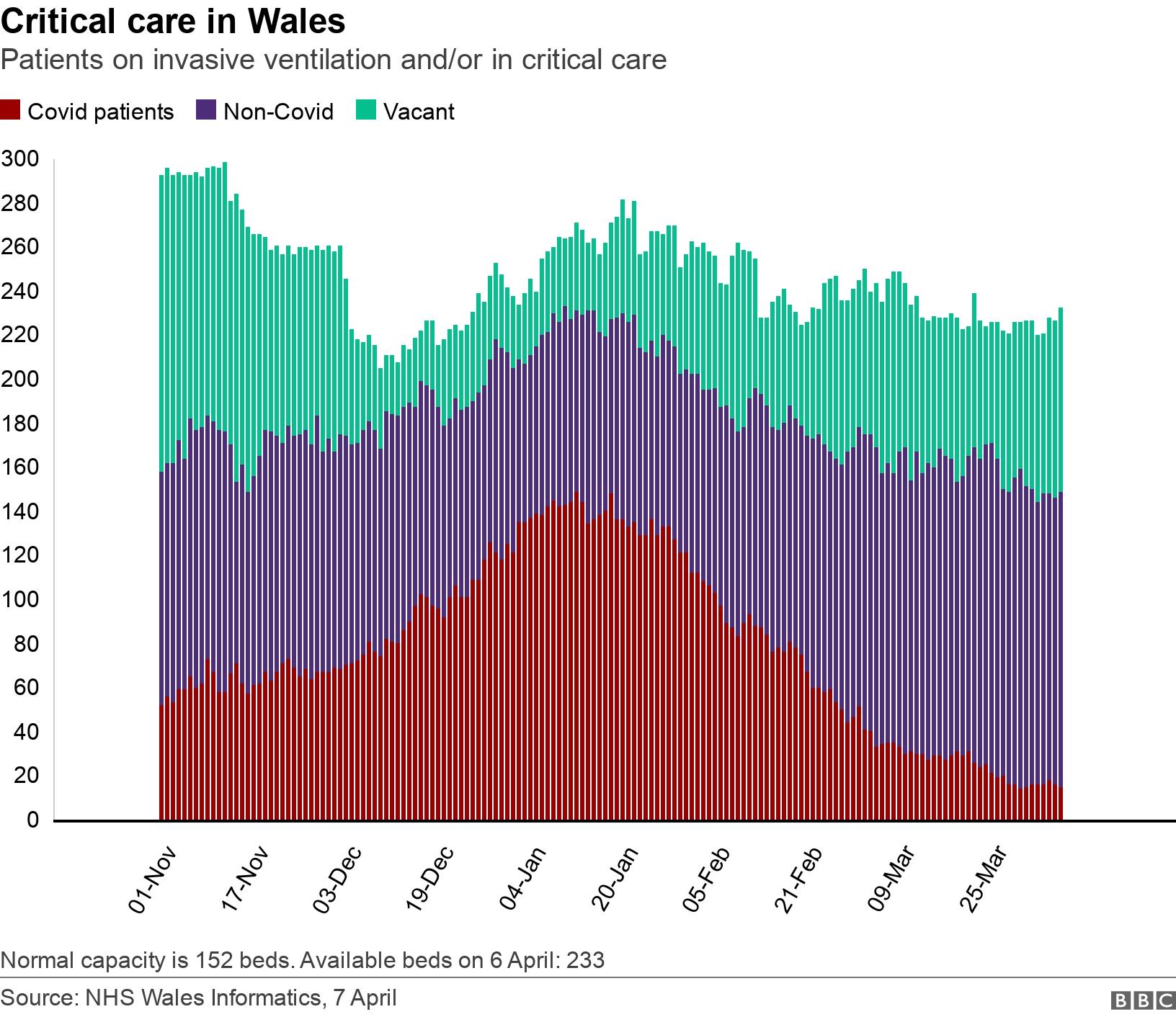 A total of 16 people were being treated on invasive ventilated beds, including in critical care, for confirmed or suspected coronavirus on 6 April, about the same as a week ago
This is 89% fewer Covid critical care patients than mid-January and the lowest since 21 September
There are eight times as many patients in critical care with non-Covid conditions, while units are at pre-pandemic capacity levels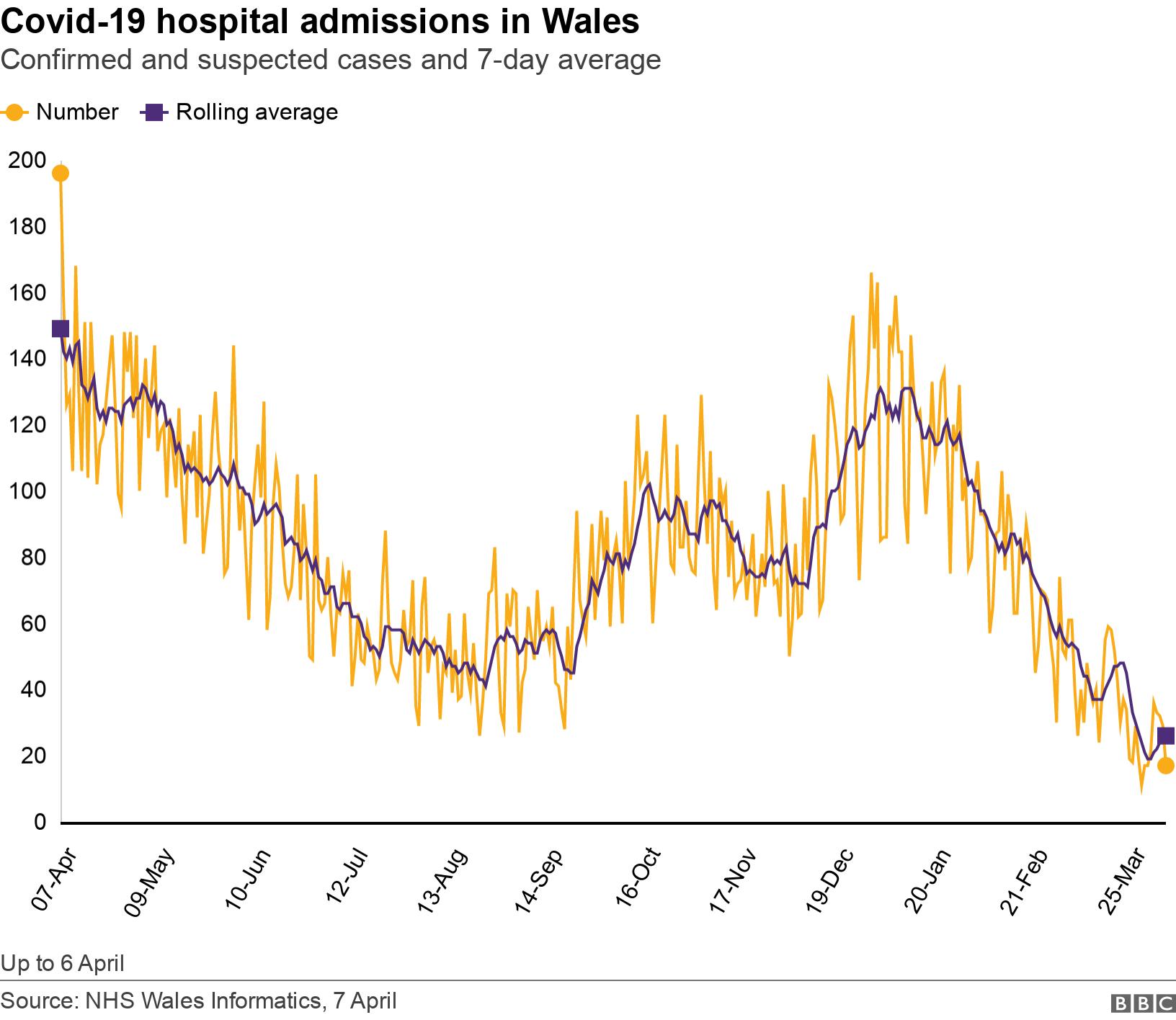 On 6 April, admissions to hospitals of confirmed and suspected Covid-19 cases were running at a daily seven-day average of 26.
This is slightly above last week's record low figures, but are still otherwise the lowest recorded numbers during the pandemic.
On Tuesday, 17 confirmed and suspected Covid patients were admitted across Wales, with no more than four in any one health board.
Admissions slightly bumped up in Betsi Cadwaladr hospitals over the Easter weekend, but there were no Covid admissions in Cwm Taf Morgannwg hospitals at all for four days in the past week.
Covid admissions now make up 2.8% of all hospital admissions.