Covid: Hairdressers reopen in Wales as lockdown eases
By Nicola Bryan
BBC News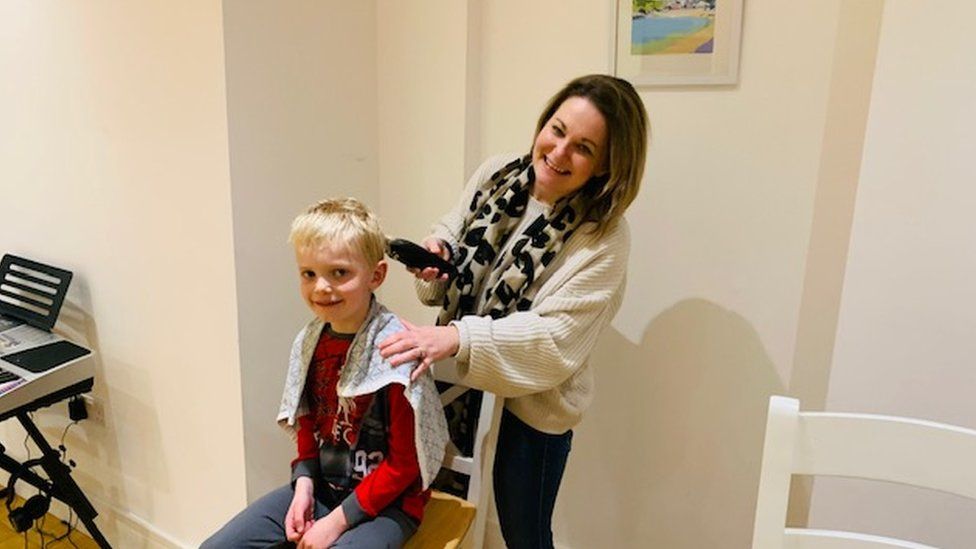 Many in Wales are looking forward to their first haircut in months as hairstylists reopen.
Kat Trelawny, from Rhiwbina, Cardiff, has already booked appointments for her family of four.
Salon owner Jacquie Jenkins said some clients who live alone burst into tears when she phoned them to say she was reopening.
Ms Jenkins said following Friday's announcement that she could reopen, she spent the day phoning regular clients to book them in and was "inundated" with phone calls and voicemails.
Her salon, in Llantwit Major, Vale of Glamorgan, is now fully booked for two weeks.
'It's not just about the hair'
She said some clients were emotional at the thought of returning.
"Some of them burst into tears when we spoke to them and said they could come in - some of them live alone and don't see many people," she explained.
"To come back and have a haircut, it's not just about the hair, it's the whole social thing and company.
"I'm sure I'll be quite emotional [when we reopen] as well."
She said she had been overwhelmed with the support from her clients: "People have given us lovely cards... people have actually taken the time to congratulate us on things like the [Covid] measures and everything and how safe they felt [when they last came in].
"Some have paid in advance for their hair... I've had one or two clients who've actually bought a year's worth of vouchers... it's been so lovely for them to think of it, really kind."
She had mixed emotions when she heard she could reopen.
"I think we were all quite apprehensive, not so much going back because of the virus, but just knowing it was quite hard last year - all the sanitising, cleaning, wearing the masks and the visors, I mean it's hard work," she added.
"On the flip side, having all of that in place has given them the confidence to go back."
Having not had a haircut since last summer, Ms Trelawny said she was "particularly excited" to return to her salon.
She said her lockdown hair was starting to get her down: "It is just really dark, I'm desperate for a cut, I've been using a straighteners and it is breaking, frazzled, limp...
"I've bought a special mask for my hair, heat protective spray and a nice serum... I dry it and straighten it too much."
She said visiting her hairdresser would give her a boost: "I'll feel loads better about myself and a lot more confident, a bit more vibrant - I just feel a bit drab at the minute."
In lockdown she has let hair grow but has been cutting her husband's and son's hair.
"I don't think I've done a great job but I've had a go," she said.
"I watched a few YouTube clips and bought myself some clippers."
Michelle Marshall, who has two hair salons in Cardiff, said she was "very relieved" at the news, but "disappointed" hairdressers only had three days notice to reopen.
"I heard the rumours at the beginning of the week so I got both teams in on Friday to clean the salon," she said.
"There's lots of health and safety things we have to do when a business has been closed, and sanitation - not just because of the coronavirus we've been used to, but this new variant.
"It does take longer because it's like a re-style really… It's not trimming what you can see, you've got to start a fresh again so everybody takes longer.
"And because of sanitation, you have to take at least quarter of an hour on top of the appointment time to clean down your station, sanitise your tools."