Nicola Faith: 'Mummy, have they found the red boat yet?'
By Chris Dearden
BBC Wales News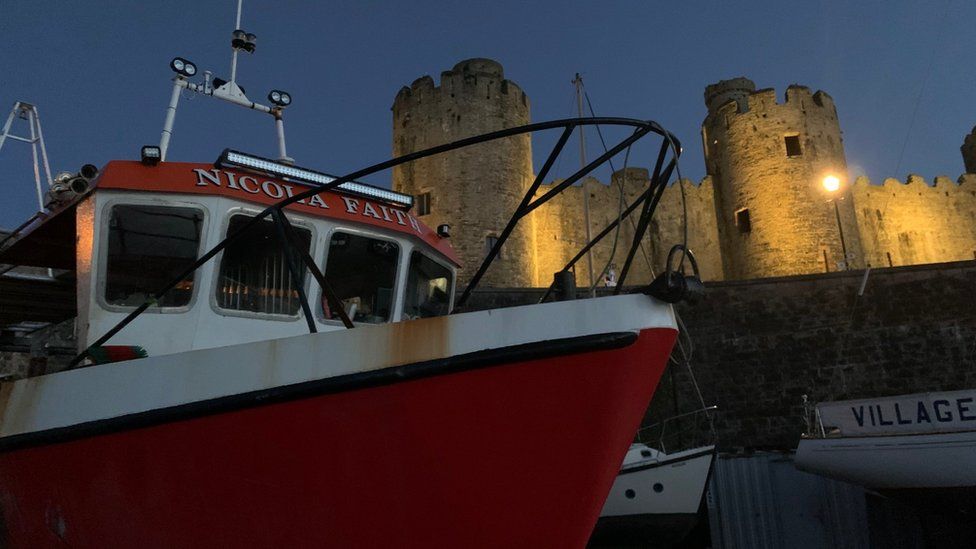 "Mummy, have they found the red boat yet?"
A small boy and his mother walk past Conwy's medieval castle, the child looking down towards the quayside and a gap in the line of fishing boats anchored there.
It is a gap which would normally have been filled by the Nicola Faith, a ten metre vessel that was a familiar sight to Conwy residents.
Her distinctive red colour scheme caught children's eyes.
People on a late-night dog walk would exchange hellos with her owner and skipper Carl McGrath as he unloaded his catch of whelks.
Down on the quayside, Nathania Minard is also looking at the space where the Nicola Faith would be.
Her son Alan was one of the three men on board when the boat set sail on 27 January - and never returned.
"He was 20, and quite a bit younger than the other two lads on board", she says, "but he always felt like everyone's big brother."
Alan has three siblings, Poppy, 16, Jessica, 6, and two-year-old Percy.
"He had waited 18 years to have a little brother. He's just got one and it's devastating that he's not going to be here to see him grow," she added.
"Every day the other children ask if the policeman is bringing Alan home today. It's heart-breaking.
"Jessica keeps asking if I can try ringing his phone again. It makes you feel like a failure as a mother."
This is one of the reasons why Nathania and her wife Rebekah have joined with families of the other two missing men to set up a fundraising page on the internet site JustGiving.
Relatives of 39-year-old Ross Ballantine and 34-year-old Carl McGrath have formed close links with the Minard family to offer support, share information and co-ordinate fund-raising.
The families want to hire additional deep sea search expertise to help look for the Nicola Faith and her three crew, working alongside the official investigation currently being run by the Marine Accident Investigation Branch (MAIB).
In less than a week, the appeal had raised £27,000. The families say it's an impressive total, but they still need to raise more.
"Everything raised is a great comfort to us at the moment. There's so much love towards the boys. It shows how much people care and that they haven't forgotten," added Nathania.
"They deserve better than for the case to remain open for years, we can't do that.
"Alan had his whole future ahead of him. He was a natural engineer and kept our ancient vacuum cleaner going for years by constantly repairing it.
"We bought him a games console for Christmas one year and he took it to bits within six months, then forgot how to put it back together again!
"He's one of those people who will always have work. He'd got a marine engineering apprenticeship in Devon, but when work dried up because of the pandemic, he headed back to north Wales and landed a job on board the Nicola Faith.
"He's a grafter. Over the last year, he'd turned from a boy into a man and we were so proud of him.
"He got on really well with Carl on board the Nicola Faith. Carl appreciated Alan because he was a hard worker - they really hit it off. It's hard to believe Alan had only been on the crew two weeks."
Alan was not the only man new to the crew. Ross had come on board the when his work as a carpet fitter also slowed down because of the coronavirus pandemic.
His sister Lowri Taylor said: "He's a devoted dad. Working on a fishing boat isn't easy, but he loved it.
"The job meant he could see his two boys more often. He could stay local for them rather than having to work away during the week."
The mother of those two boys is one of the many people around the Conwy area helping the families begin their private search.
Zoey Walker runs Dollybirds Beauty Parlour in Llandudno and is co-ordinating a fundraising auction.
She said: "My boys feel we are doing something to help after a horrendous month of not knowing and such a devastating time for them."
Another local supporter is running laps of the Great Orme headland in Llandudno to raise funds. Others are organising raffles.
It reflects the warmth felt towards all three crewmen on the quayside in Conwy and in the wider community.
One boat owner mentions how he and Carl would lend each other engine spares. Others speak of the energy he brought to the local fishing industry and the time and effort he spent maintaining and upgrading the boat.
Nathania added: "We've been overwhelmed at the support we've had from our own community and from further afield.
"We're not going to give up, we need to know where they are, we need to know what happened.
"It's not just to answer our questions today but as the children get older, there'll be questions that they'll ask and I don't want years to go by without us knowing."
The expert who is advising the families about their private search is David Mearns, who successfully found the wreckage of the plane carrying footballer Emiliano Sala and pilot David Ibbotson when it crashed into the English Channel in 2019.
He is confident that the Nicola Faith can be located. The families say more sonar surveys will take place this weekend on behalf of the MAIB.
On land they continue to raise money and awareness, while pausing to reflect by the vigil candles and tributes that have been placed on Conwy quayside.
But for the moment, the answer to the little boy's question of whether the red boat has been found remains a painful "no".