Peter Whittingham's pub stairs fall death 'accidental'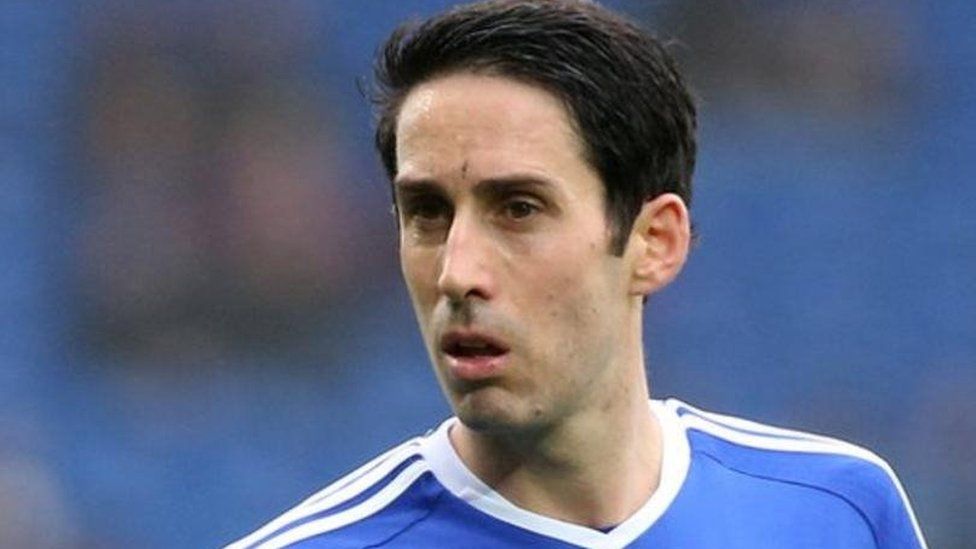 An ex-Cardiff City player hit his head and died after falling down stairs at a pub in a pretend fight with friends, an inquest heard.
Midfielder Peter Whittingham, 35, who played for the club from 2007 to 2017, suffered a traumatic head injury at the Park Hotel, Barry, on 7 March 2020.
He did not regain consciousness and died in hospital 11 days later.
Coroner Graeme Hughes recorded a verdict of accidental death at the inquest at Pontypridd Coroner's Court.
The hearing was told how Mr Whittingham had been drinking for hours while watching Wales v England in the Six Nations.
He was out with his brother-in-law and a friend when the incident happened just after 21:30 GMT.
Mr Whittingham's wife Amanda said he had not eaten since breakfast as he had been in a "rush" to watch the game when he left home at 15:00 GMT.
CCTV footage showed him in a pub corridor engaging in "horseplay" before appearing to lose balance and walking through a fire door off camera, where he fell down eight steps and hit his head.
Robert Williams, Mr Whittingham's brother-in-law, told Pontypridd Coroner's Court they had been drinking lager, bitter and tequila through the afternoon and evening along with friend Ryan Taylor, and the evening was a "blackout" in his memory.
He described finding the footballer lying at the bottom of the stairs with his face to the side, but when he tried to lift him, Mr Whittingham's body was limp.
Mr Taylor said he remembered people wanting to take pictures with Mr Whittingham in the corridor but also had no memory of play fighting or the fall.
"I walked over to him to offer my hand, thinking he would just take it and I would help him back up to his feet. When I looked more closely at Peter, I could see he wasn't moving and something was wrong," he told the court.
Mr Taylor said Mr Whittingham's eyes were "wide open and were almost completely white" having rolled to the back of his head.
He was taken to the University Hospital of Wales in Cardiff but his condition deteriorated and he died on 18 March.
Coroner Graeme Hughes, who recorded a conclusion of accidental death, said Mr Whittingham had "consumed a quantity of alcohol that has likely impacted on his demeanour and steadiness" before he fell.
He said: "During a period of horseplay with a friend and a relative he appeared to have lost his balance, travelled through or caused to open the fire door, fallen, and as he did so his head has come into contact with the steps.
"This has led to a traumatic head injury."
After leaving Cardiff in 2017, Mr Whittingham, originally from Nuneaton, Warwickshire, ended his career with Blackburn Rovers in 2018 before moving back to south Wales.
He was living in Dinas Powys, Vale of Glamorgan, with Amanda and his young son when he died.
Mrs Whittingham gave birth to their second son two months after his death.
Related Internet Links
The BBC is not responsible for the content of external sites.