Covid: Pandemic 'having crushing impact on young lives'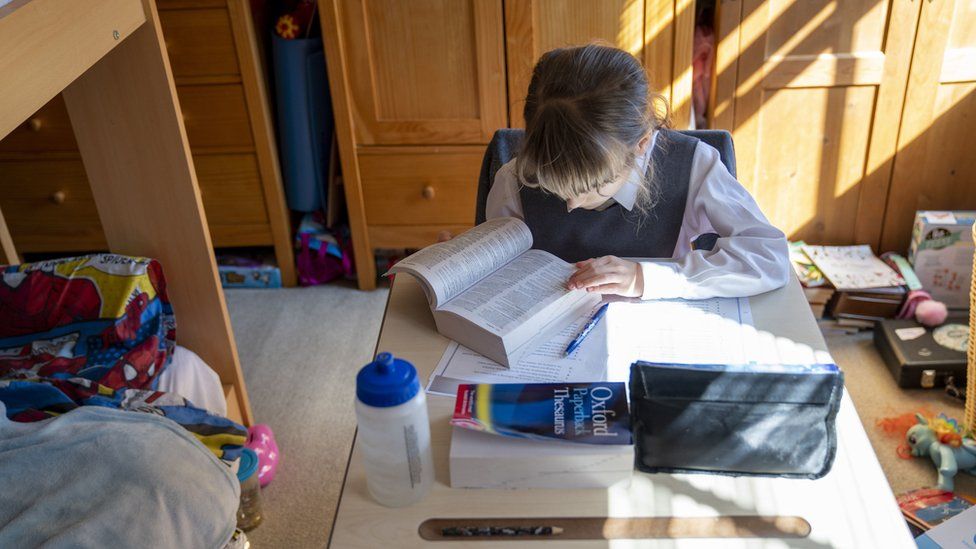 The pandemic is having a "crushing impact" on children and young people's lives, the Children's Commissioner for Wales has said.
It comes as a report into the impact of the current Covid lockdown revealed how 30% of 17 and 18-year-olds said they were worried "most of the time".
The views of 20,000 children and teenagers in Wales were represented in the report by Prof Sally Holland.
One teenager feels "more isolated, less motivated" than in previous lockdowns.
The new one found "markedly fewer" of the 12 to 18-year-olds who responded to the online survey saying they were happy "most of the time".
It said the rates of children saying they felt worried "most of the time" were "notably higher" during the current lockdown.
'Socialisation and support'
Prof Holland said: "It is obvious from these survey results that, despite the enormous efforts of our schools, colleges, youth workers, social services and health services, the pandemic is having a crushing impact on many young lives."
She added it was clear children and young people of all ages were "missing not only formal learning but also the socialisation and support that school and college has to offer".
In Wales, schools and colleges have been shut since Christmas when there were rising rates of Covid infections.
Eighteen-year-old Ellie Kidd, who is studying for a Level 3 BTEC in sport, said she had been finding this lockdown tougher than the first.
"I've definitely struggled with my mental health through this lockdown in particular," said Ellie, who lives in Flintshire.
"I just feel more isolated, less motivated. I can call my friends but it doesn't feel the same as having the social interaction. It's been quite difficult."
She said she was often in the house alone as her mother and step-father were both keyworkers.
She added: "I had a week after Christmas when I felt very low, I kept thinking, 'How are we going to get out of this?'. I know there are vaccines now but sometimes I just keep thinking, 'when is it going to end?'."
The report said children as young as three described missing friends, relatives and experiences and 40% of 17-year-olds reported they felt lonely 'most of the time'.
It also found children and young people of black, Asian and other ethnic minority ethnicities and disabled youngsters were more likely to feel lonely and less likely to say they feel safe.
However, the report also found many children and young people said they were enjoying spending time at home and were receiving good support from schools and youth workers.
Luca Zenati-Parsons, 15, said his schoolwork had been improving during lockdown.
"I get to do it in my own time and on my own - there's no-one being loud in class," said Luca, from Caerphilly, who usually goes to school in Pontypridd.
"I prefer to be in my own little zone."
Prof Holland said she hoped the results of the report would give a "clear road-map" for the Welsh Government on what needed to be prioritised for children and young people over the next weeks and months.
The report's findings have already been shared with the Welsh Government's Technical Advisory Cell (TAC) and she said it would also be sent to SAGE, the UK's Scientific Advisory Group for Emergencies.
She added the first priority for students returning to schools and colleges may need to be "providing time to talk about their experiences, opportunities to be with friends and to play and also the chance to reflect on and be proud of what they have achieved during the pandemic".
A Welsh Government spokesperson said the results of the survey from May had been used "extensively" to decision on policy ranging from education to recent alert levels.
They added: "The new set of findings will now also be considered as a key source of evidence when future decisions are made."