Covid: BAME communities urged to have coronavirus vaccine
By Nelli Bird
BBC News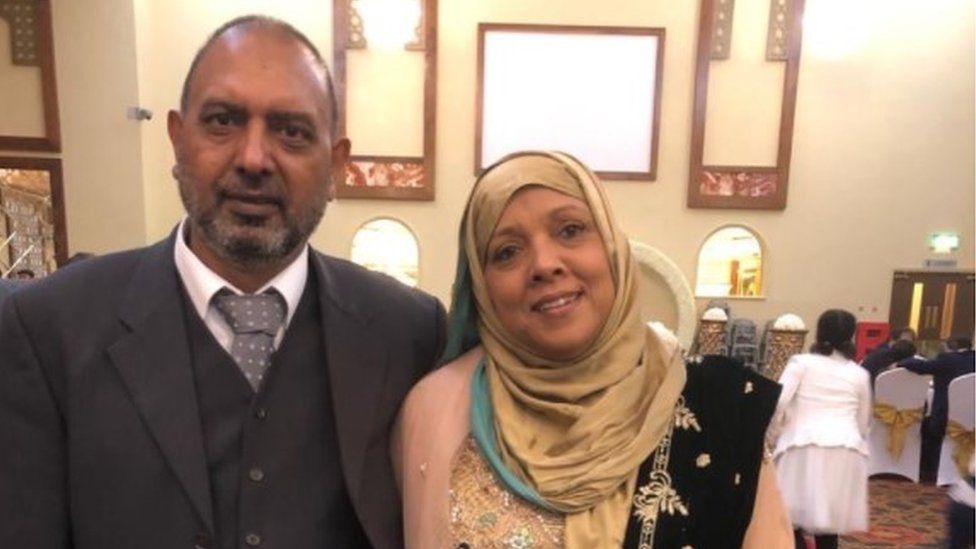 "I'd shout it from the street - please have your vaccinations, you don't know what we're going through."
The brothers died within hours of each other last April.
Concerns have been growing in recent weeks about an apparent hesitancy from some people in black, Asian, and minority ethnic (BAME) communities to have the Covid-19 vaccine.
And even though the virus has had such a devastating impact on Shamim's family, some relatives have been unsure about having it.
"My brother-in-law didn't want to have it done - he didn't want to let my mother-in-law have it done," she said.
"I had to calm him down and reassure him. People are scared. They are reading these reports and they are scared.
"People seeing us now - for me and my daughters it's a living hell everyday. We miss him every minute of the day."
"I think the problem is that whereas resources that combat this misinformation are available in English, they're not necessarily available in languages that some of these communities speak as a first language," explains Dr Bnar Talabani, a doctor specialising in kidney and transplant medicine at the University Hospital of Wales, Cardiff.
She is part of a group called Muslim Doctors Cymru, who are trying to dispel some of the myths circling on the internet.
They are carrying out a survey asking people for their views on the vaccine - and although only 220 people have replied so far, the results paint a picture reflected in other polling on the issue.
About 10% of people said they would not be taking the vaccine, with 16% unsure.
"These aren't anti-vaxxers, they are actually very, very open to dialogue," Dr Talabani said.
"One elderly gentleman I recently had a conversation with said to me 'well, does the vaccine change my DNA?' and I said 'Well, no, it cannot because it doesn't come into contact with your DNA'.
"And he said 'okay, well that was my only concern. I'm happy to have it now', and it was really that simple."
A similar conversation took place at the Cardiff Bay surgery in Grangetown, where Hassan Ahmed, 77, who moved to the UK from Yemen in 1977, was waiting to be vaccinated.
"I heard people say the injection is bad for us, but you're the doctor, I don't know," he said.
His GP, Dr Emaad Alauddin, chatted him through how the vaccine worked, reassuring him, and afterwards, Mr Ahmed described his happiness about receiving it.
Dr Talabani said a problem within communities is that people receive misinformation in their own language via social media.
"If English is not your first language, you receive lots of misinformation via WhatsApp and other social media platforms in languages that are your first language, but the accurate information that is needed to combat this you don't necessarily have access to in that language," she said.
Having that information accessible and readily available and actually using social media as a platform to spread it just as the misinformation is also being spread, so arming communities with accurate information in multiple languages will go a long way in helping address this."
She added it was important this information comes from a "grassroots" level as well as from the government, and to engage faith leaders.
"We are holding weekly webinars in different languages and people within different communities are actually engaging with us.
"We're having feedback that that dialogue, the possibility to ask questions about the vaccine in a language they're comfortable with, with people who are from their own community, is really helping them address those concerns."
At the end of January, analysis of patient data in England to the middle of the month found black people over the age of 80 were half as likely to have been vaccinated as those who were white.
Public Health Wales said its data showing ethnic breakdown of vaccine take-up is not available yet.
Chairman of Race Council Cymru Ray Singh believes it needs to be in the public domain now.
"If we had data, we would know how many black Asians have been vaccinated, say in area one and how many people live in that area, and then the communities leaders and others can start working on these with these people to persuade them," he said.
"This is a race against time, a question of life and death.
"The minister for vaccination for England admitted that there was disparity in England and I see no reason why we're not having the same, but we have no data."
Another idea to increase confidence in the vaccine is to try and use places like mosques as vaccination centres.
The Dar-Ul-Isra mosque in Cardiff is one of those which has told the local health board that it would be happy to be used.
"We feel that as a mosque we are in the best position to dispel the myths - explain to people that there is no issue with taking the vaccine from a theological point of view but also from a health perspective," said Naveed Rahman, an administrator for the mosque.
"I think people just coming to the mosque and knowing they are taking the vaccine in the mosque will be a big part of that."
Public Health Wales recognised "the importance of ensuring equitable access to and uptake" of vaccinations.
It said it was examining data and other information, including ethnicity, to see who in what groups had been vaccinated.
"It will be shared with colleagues working to implement the vaccination programme in local areas to help identify areas in the local community where uptake of the vaccine is not as high as we would like," a spokesman said.
"We encourage everyone to have the vaccine when they are offered it, whatever their background."
Health Minister Vaughan Gething quoted Office for National Statistics figures showing men from black African backgrounds and women from black Caribbean backgrounds had the highest death rates for their sex but added Covid was having a disproportionate impact on all black, Asian and minority ethnic communities.
He said: "We need to dispel misinformation and unite as a country to protect those we care about the most, from this deadly virus.
"I want to make it abundantly clear to all, the vaccine contains no pork products or traces of foetal matter and is safe for all ethnic minority and faith communities. "