Covid: Teaching delays 'another blow' for Wales uni students
By Will Fyfe
BBC News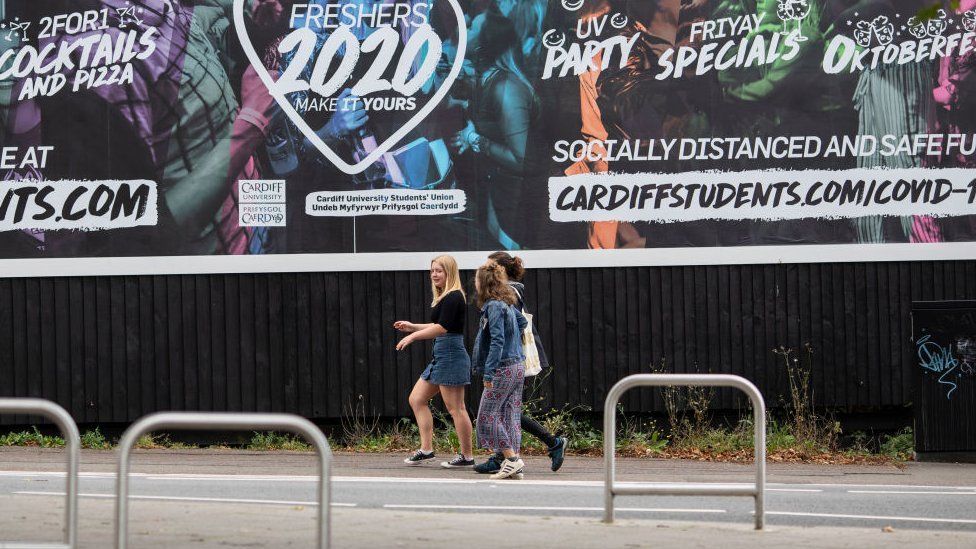 Delays to face-to-face teaching are "another blow" to university students in Wales who already feel "cut off from their studies", a union has said.
Students on most courses have been asked to stay at home until Easter, meaning they will complete at least a third of the current academic year remotely.
The National Union of Students (NUS) in Wales wants more help for them.
The Welsh Government said it had given £50m to help students in hardship.
NUS Wales president Becky Ricketts said it was vital students received the "mental health, academic and financial support" they needed to get through the next few months.
Abbie Baker, 19, a tourism management student at Swansea University, said she had been "very emotional" after hearing she would not be able to return to campus until the end of the current term.
"The stress of university being online and not knowing what's happening really gets to you, and then you just break," said the first-year student.
She said she had to move back home to Bridgend before Christmas but was still paying for a room in Swansea.
'Impacted my mental health'
"Although we couldn't socialise with other students, I still had a sense of freedom there," she said.
"I don't really have as many people that I'm close with in terms of friends here, so I feel quite alone and it's really impacted my mental health.
"I didn't think it would be as difficult as it has been in terms of communication and support."
Ms Baker said she felt having to learn online had been a big struggle for first year students, who recently made the jump up from A-levels.
"I'm not doing as well as I thought I would, because from my experience we haven't had the guidance," she said.
"Swansea was my first choice, my dream university, but now I just feel like maybe I shouldn't have gone in the first place.
"It's a struggle with the work being online and the stress of what's happening around me. I think it's just had an impact on how I'm learning and then impacted on the assignments and exams.
"It has taken a toll and although the university does provide services for people who are struggling, I just feel like I'm a bit of a burden to everyone."
Universities Wales and the Welsh Government have previously said they hope the decision to delay in-person teaching until at least Easter will offer students "certainty".
Shreshth Goel, an international student at Cardiff University, said the past few weeks studying online had already been "secluded" and "lonely."
He was not able to fly back to India over Christmas and will have spent four months living alone by the time his housemates potentially return at Easter.
"In general it's been really, really lonely," said the second year law student.
"Sometimes it gets to you - because there's a lot of other things going on like pressure on assignments - but there has been support too.
"Doing work online is no match for actual in-person teaching - but we do understand that it's no-one's fault."
He said despite the isolation, his biggest concern was how much value he was getting from his £17,000 a year.
"When you're coming from another country you're not only paying for that education but also for the experience," Mr Goel added.
Ms Ricketts said the pandemic had already had a "devastating impact" on students.
"The Welsh Government and institutions have put much-needed investment into mental health, academic and financial support services this year, but with many students now facing more time away from campus, it is vital that this support can reach everyone who needs it," she said.
"Students are understandably worried about having to learn online for several months without access to face-to-face support.
"Not every student has access to the technology, space or connectivity to learn effectively from home, and assessment methods must reflect this."
The Welsh Government said it hoped its additional funding would help universities to offer extra support to students, including "mental health and wellbeing support" and "access to digital and hardship funding."