Covid: Wales university students to stay home until after Easter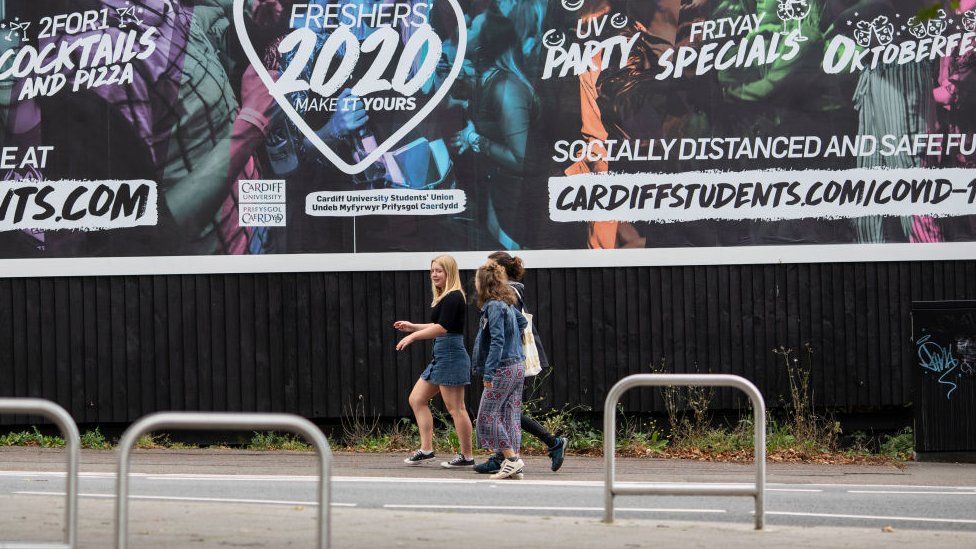 Students in Wales are set to continue having online lectures and seminars from home until after Easter.
Universities Wales said only a small number of health and practical courses had returned to face-to-face teaching after the Christmas break.
The organisation - which looks after universities' interests - said the decision had been made "to provide students with certainty".
The National Union of Students said the decision could have been made earlier.
Universities UK said universities would tell staff and students of any changes to plans - and will continue to follow Welsh Government guidance.
Swansea University has asked students not to return to campus until the end of the current term on 26 March, while Cardiff University confirmed the majority of its teaching would remain online until the same date.
NUS Wales president Becky Ricketts said: "This decision has been taken with safety in mind, but it could have been made earlier in the year to help students plan with more certainty.
"Rent rebates for students unable to access their term-time address must be extended until the end of term. This must apply to all students, including those in the private rented sector.
"It would be fundamentally unfair for any student to be paying rent and bills for housing they can't live in for four months."
A Universities Wales spokesman said: "It is important to note students on a range of courses have already returned to in-person teaching, including many courses with practical or placement requirements.
"We anticipate a small number of additional students will be returning to campuses before Easter where this is required for completion or to meet learning outcomes, including through access to facilities and resources."
"This is a difficult time for everyone. Student and staff well-being remains a key priority for universities in Wales and we would encourage any student experiencing difficulties or hardship to talk to their institution."
The Welsh Government said it hoped the announcement could offer students and staff "certainty" during "difficult times".
A spokesman added: "Universities continue to follow the latest Welsh Government guidance to deliver services safely whether it's for students returning to face-to-face learning or for those needing to access campus facilities."
Travel is currently limited to essential purposes in Wales, such as for work and caring responsibilities, and international travel is barred.
But, after a tough year with the pandemic, many people will be dreaming about a holiday in 2021.
While bookings for UK staycations are "coming in thick and fast", some people are gambling on a foreign trip in the hope restrictions will ease later this year.
Use this form to tell us about your plans.
In some cases your comments will be published, displaying your name and location as you provide it, unless you state otherwise. Your contact details will never be published. Please ensure you have read the terms and conditions.
If you are reading this page on the BBC News app, you will need to visit the mobile version of the BBC website to submit your question on this topic.
Related Internet Links
The BBC is not responsible for the content of external sites.