Covid: How many people have been vaccinated in Wales?
By Steve Duffy
BBC News
More than 24,170 children aged five to 11 have been given Covid vaccines in Wales, latest Public Health Wales figures show.
Wales was the first UK nation to offer children this age the jab and 9.5% of this age group had a dose by 4 May.
The south Wales valleys, Bridgend and Cardiff have the seen biggest uptake, while the lowest is in Neath Port Talbot and Swansea.
Nearly 7.2 million vaccine doses have been given out since December 2020.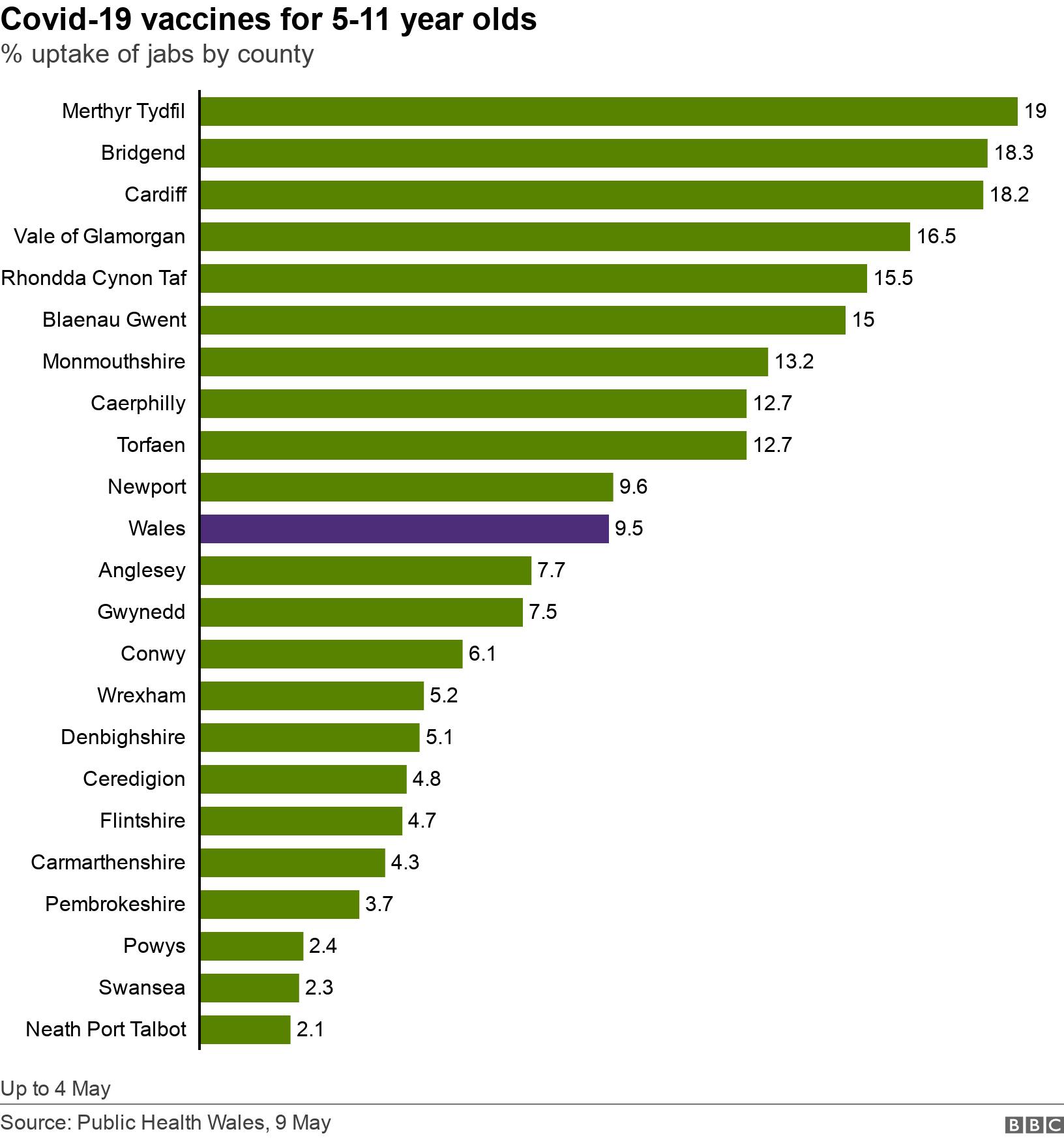 Vaccines have been offered to five to 11-year-olds since 15 March and most children will be offered two doses of the vaccine, 12 weeks apart.
The health minister asked parents to "begin a conversation" about whether they wanted to take up the offer and to read public health advice.
Merthyr Tydfil had reached the most by 4 May - 19% - and more than 18% had received it in Bridgend and Cardiff.
At the same time, spring boosters are being offered to the most vulnerable, including the oldest care home residents, with invitations being made by GPs and health boards.
Nearly three quarters of the 47,000 vaccines distributed in the past week were spring boosters, 10% were other boosters and just under 10% were first doses.
More than two-thirds of older care home residents have now received a spring booster and more than 61% of all over-75s.
At the height of the booster effort, 50,524 daily doses were given out on 21 December.
People can receive a booster three months after receiving their second vaccine, so it means 86% of those eligible for a booster vaccine have now been reached in Wales.
That figure on 8 May was also 85% in Scotland, 80% in England and 82% in Northern Ireland.
There have been an average of 703 boosters given out a day in the most recent week, although figures are now only published weekly in Wales.
The situation was recently complicated by those who catch Covid having to wait before they could receive a booster, with higher proportions of the 18 to 40 age group infected in the period after Christmas.
The total is 2,027,294 boosters and third doses given out as of 4 May.
These include 48.8% of 18 to 29-year-olds and 55.6% of those in their 30s.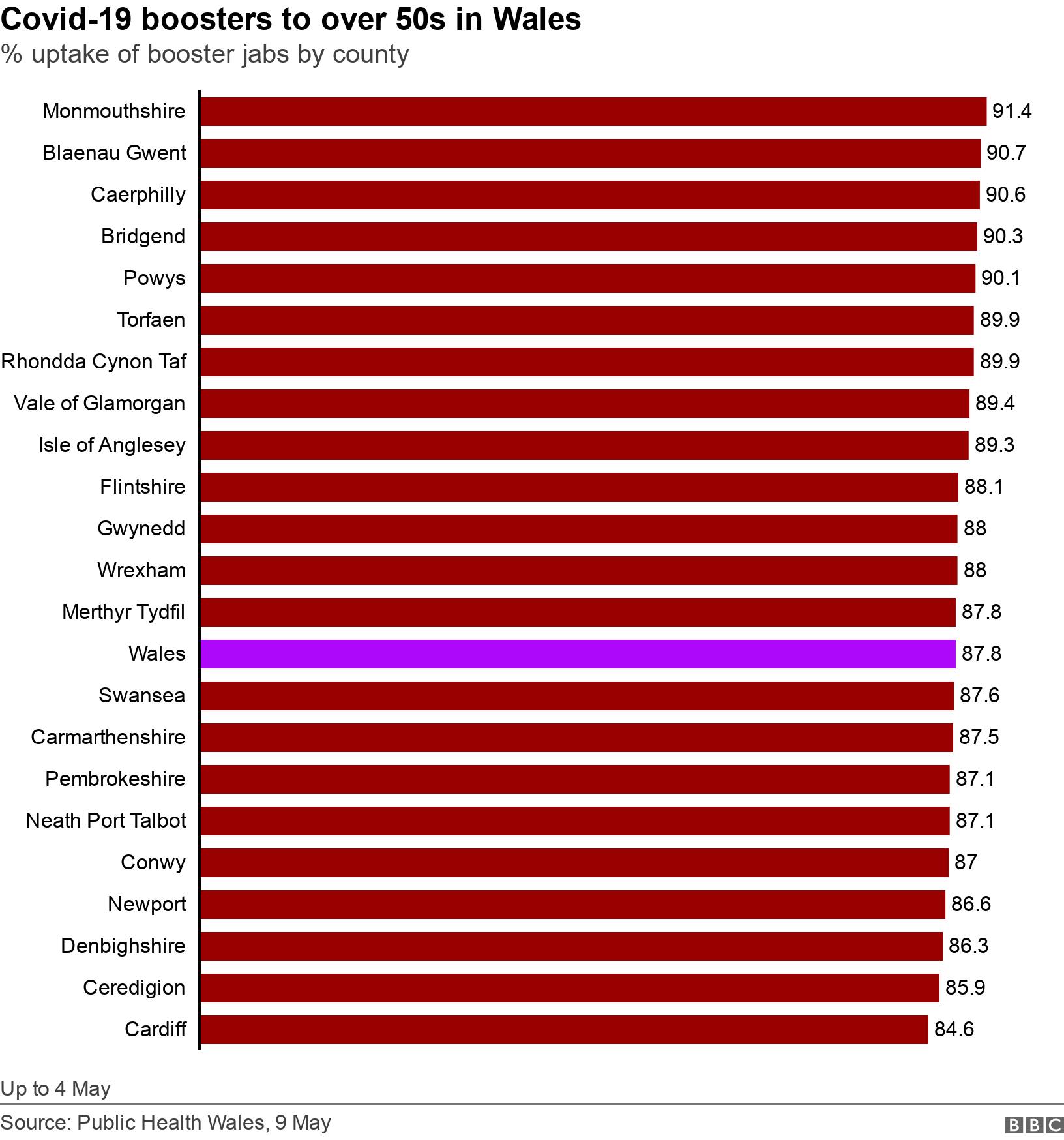 Booster jabs for over-18s and over-50s
By 4 May, 72.7% of adults had received their booster jab.
Monmouthshire (82.5%) had reached the biggest proportion and Cardiff (65.2%) the smallest.
Looking at the over-50s, Monmouthshire, Caerphilly, Blaenau Gwent, Bridgend and Powys had reached more than 90% and four other counties more than 89%. Cardiff (about 84%) had reached the fewest, but still represents a large proportion.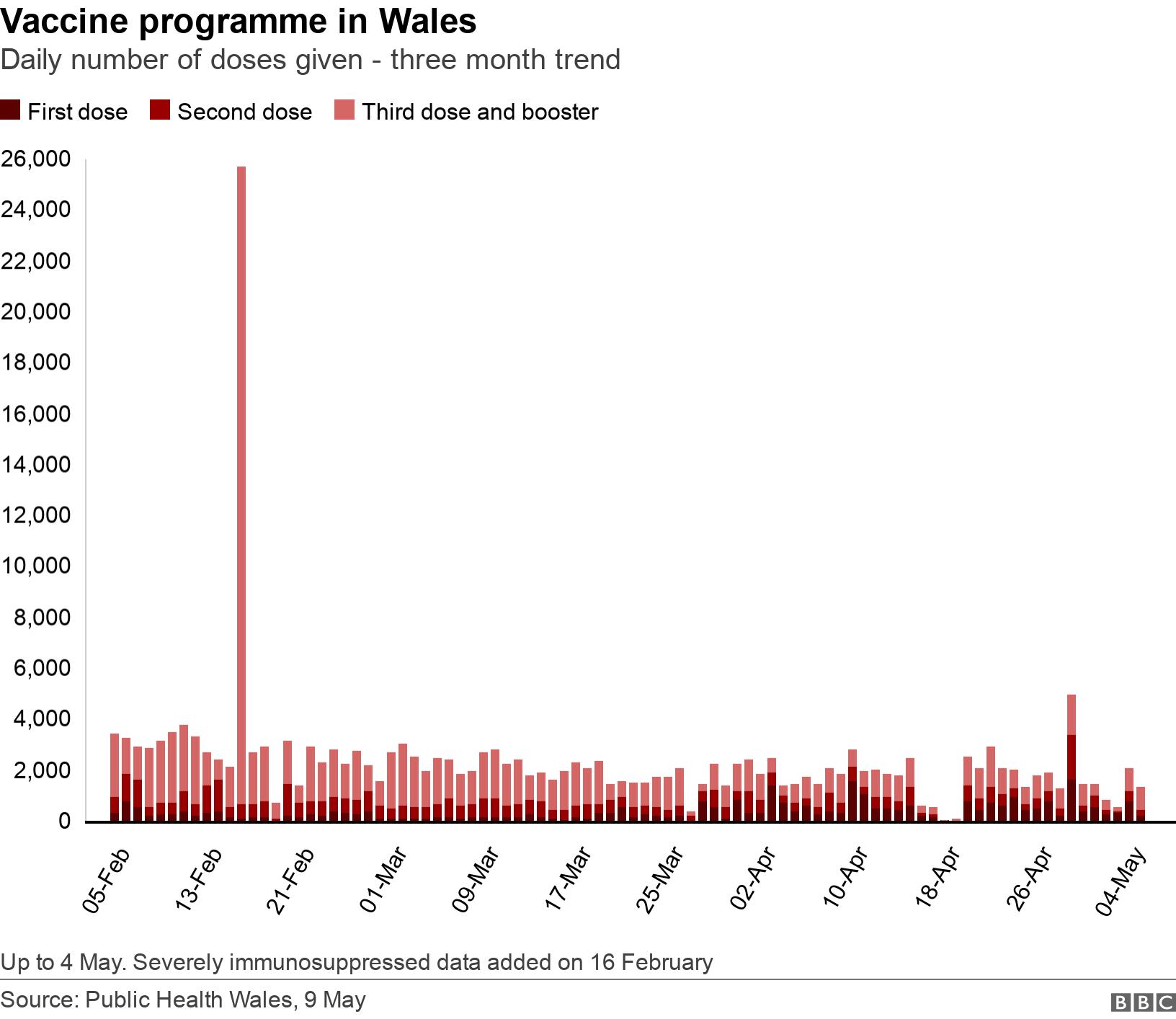 How many have received a first dose?
By 4 May, more than 2.5 million people in Wales had been given their first dose.
Wales (80.5%) is slightly behind Scotland (82.5%) with the proportion of its populations given a first jab.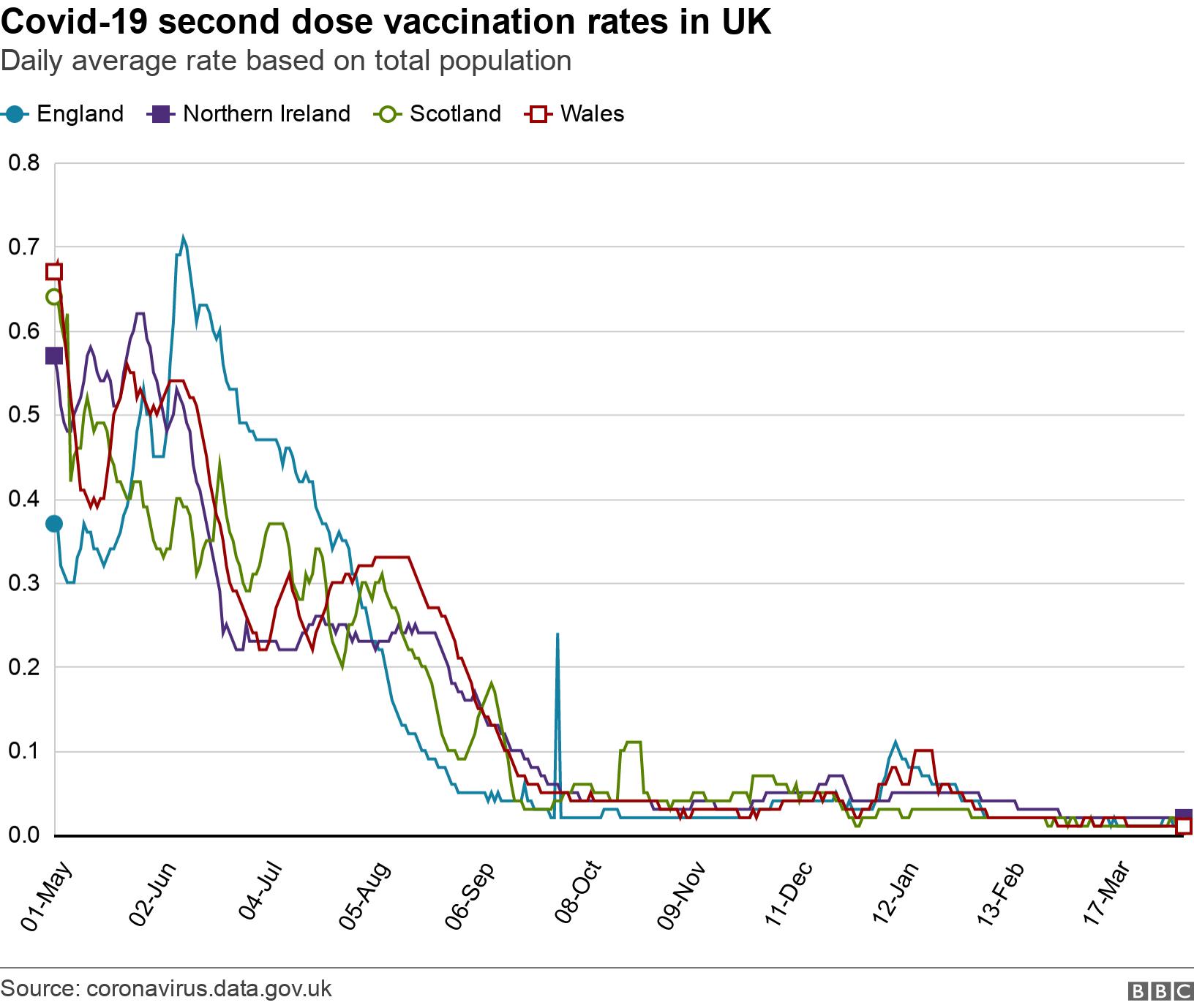 What is happening with second doses?
A total of 2,414,547 people have received a second jab, or 76.2% of the total population.
Wales and Scotland (76.9%) are close together on the proportions of second vaccinations.
By 8 May, England was on 74% and Northern Ireland trailing a little on 70.7%.
Nearly 63% of 16 and 17-year-olds in Wales have now received a second dose and more than 44% of 12 to 15-year-olds.
Wales ranks eighth in world for booster progress
For the proportion of its population with booster doses, Wales is ranked eigth in the world, compared with other nations with a population above one million.
When we look at figures within Wales, we can see Powys reached almost 79% of its total population with two doses and more than 70% with boosters.
Swansea Bay has reached the smallest proportion for all three doses of the vaccine (59.8%).
Cwm Taf Morgannwg, with the highest uptake in recent first doses for five to 11-year-olds, is close to catching up with Powys for the highest proportion of first doses per head.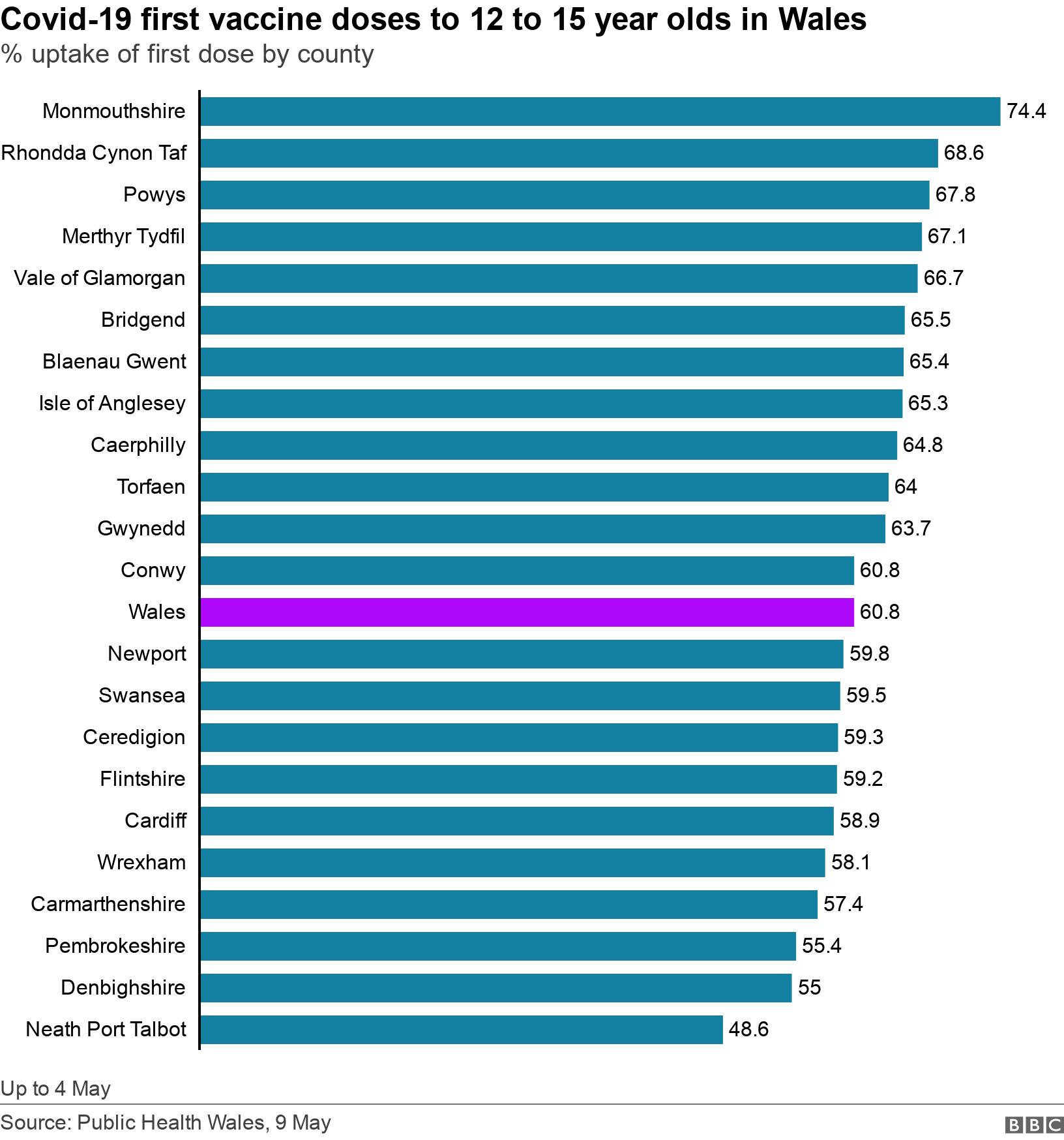 What about 12 to 15-year-olds?
A total of 60.8% of the 12 to 15 age group offered vaccines had taken a first dose in Wales by last Thursday.
But there is a big variation between counties. Up to 4 May, this ranged from 73.7% uptake in Monmouthshire and more than two-thirds in Powys, Merthyr Tydfil, Rhondda Cynon Taf (RCT) and Vale of Glamorgan, to about 48.4% of 12 to 15-year-olds in Neath Port Talbot.
Eight counties have seen more than half of the age group take up second doses, rising to 60% in Monmouthshire.
Inequality gaps widening for some
There were "significant inequality gaps" in the proportion of people taking up Covid booster vaccines in more deprived areas of Wales, and between sexes and ethnic groups, according to public health analysis earlier this year.
Just over a third of 18 to 29-year-olds living in the most deprived parts of Wales have taken up a booster so far, compared with more than half living in the least deprived parts of the country.
There are still almost 50,000 young people, aged 12 to 30, living in the most deprived areas who have not had a first dose of vaccine.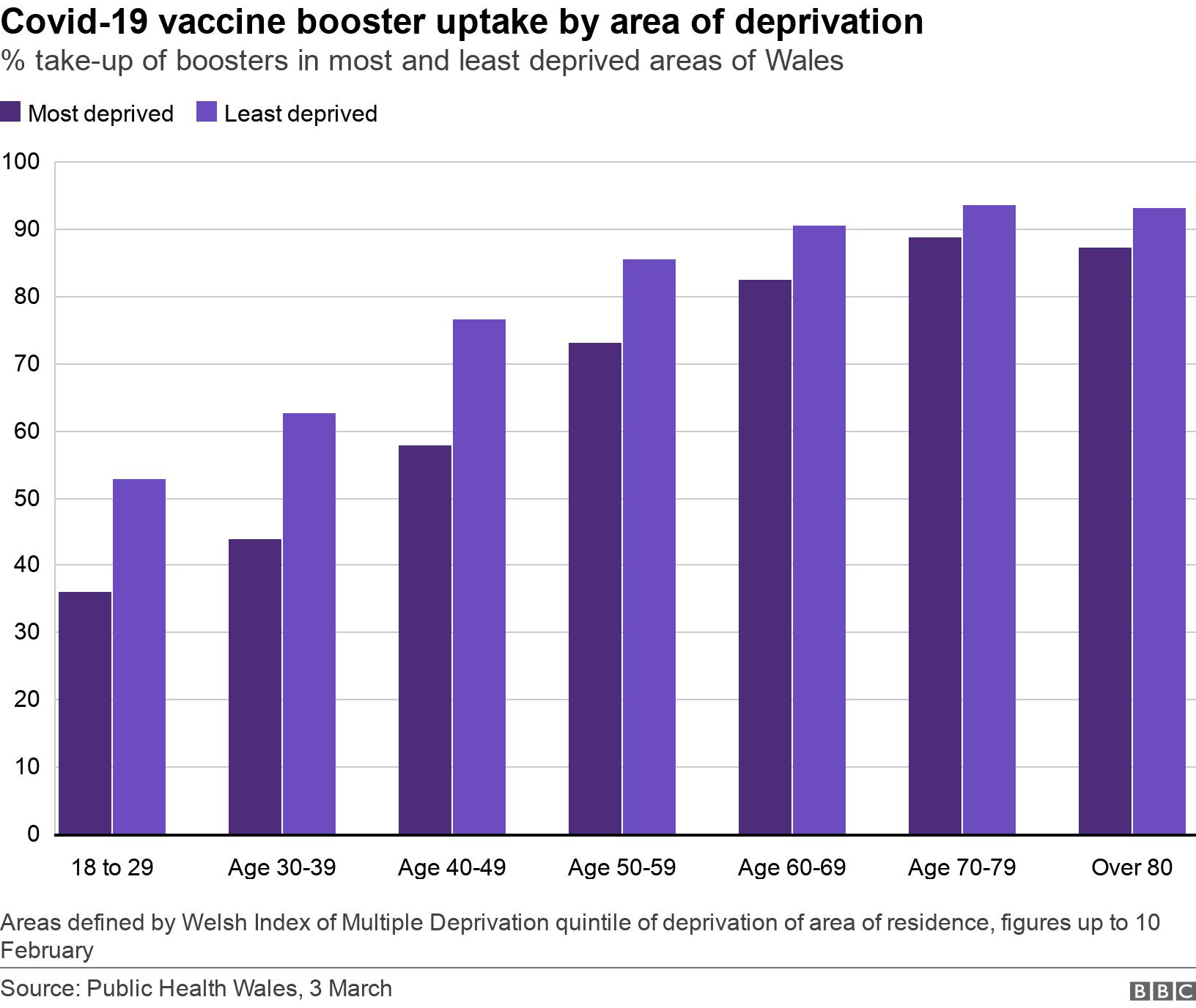 Figures up to February showed gaps in uptake for those in their 30s and 40s - with just over 44% of those in their 30s from the most deprived areas having a booster, against nearly 63% from the least deprived areas.
The Public Health Wales analysis also looks at booster uptake gaps among people from ethnic minorities, showing 20% of 18 to 29 year-olds from the black population had a booster, compared with 47% among the white population.
The gap continued with older groups, with nearly 61% of black people in their 50s having a booster, compared to 83% among white people of the same age.
The gap for two vaccine doses was widest (15.7%) for adults aged 30 to 39 when compared across combined black, Asian, mixed and other ethnic groups and the white population.