Penally asylum camp 'horrendous' cost to council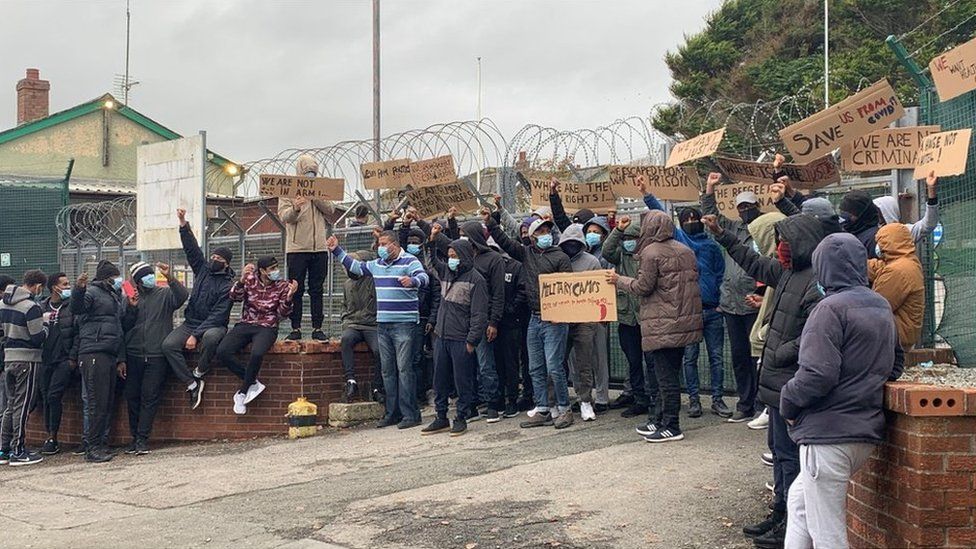 Housing asylum seekers at a military camp could leave a Welsh authority "nearly half a million pounds out of pocket", claims a councillor.
David Pugh said Pembrokeshire should be "bashing down the door" of the Home Office to recover costs related to the Penally camp.
Council officers said there had not yet been any agreement to reimburse its costs, estimated at £55,000 a month.
The Home Office said it did not reimburse any councils for such costs.
The Penally training camp near Tenby began to house up to 250 asylum seekers in September, including men from Iraq, Iran and Syria.
The camp has caused extra work for council staff and services, including highways, social services, public health and communications, according to the Local Democracy Reporting Service.
Despite a number of attempts, director of finance Jon Haswell said: "There's still no agreement by the Home Office to repay our costs."
Independent member Mr Pugh said if planning approval for the camp was renewed on March 21: "That's nearly half a million pound this council is out of pocket.
"That's horrendous - I don't think we should be knocking at the door, I think we should be bashing the door down and full cost recovery should be made."
Jonathan Preston, county councillor for Penally, agreed it was "shocking" and said the community council should also be compensated.
Members heard that the Dyfed-Powys police and crime commissioner was also seeking reimbursement for the costs of policing the site, which has attracted a series of protests.
These have included demonstrations by people opposed to having asylum seekers there, by others in support of the camp, and by asylum seekers themselves concerned about their living conditions.
In response to the question of council costs, the Home Office said it did not provide additional funding to local authorities anywhere in the UK in connection with costs incurred through the provision of accommodation for asylum seekers.
Chris Philp, minister for immigration compliance, said: "The Government has a statutory obligation to support asylum seekers who would otherwise be destitute, including through the provision of accommodation, whilst their claims are being considered.
"Penally is a self-contained site and asylum seekers' basic needs are provided and paid for by the Home Office.
"We continue to work closely in partnership with the police, local authority and other stakeholders, with a clear focus on the safety and wellbeing of both those accommodated at the site and local residents.
"We have already agreed to provide £2.5m of special grant funding to Dyfed-Powys Police up to September 2021."
Related Internet Links
The BBC is not responsible for the content of external sites.