Covid: NHS Wales hospital waiting lists eight times pre-pandemic levels
The waiting list for planned hospital treatment in Wales has grown by more than 73,500 since the coronavirus pandemic began, new figures show.
The number of people waiting more than nine months is more than eight times higher than at the start of 2020.
Figures show 231,722 people waiting more than 36 weeks for treatment to start - nearly 44% of all on the list.
But NHS Wales has been trying to carry on with non-emergency treatments, although the second wave has led to routine surgery being postponed in some hospitals due to pressures, such as Wrexham Maelor and in one health board in south Wales.
The Royal College of Surgeons said the overall number of people waiting for treatment in Wales is the highest number on record - more than half a million patients.
How many people are now waiting?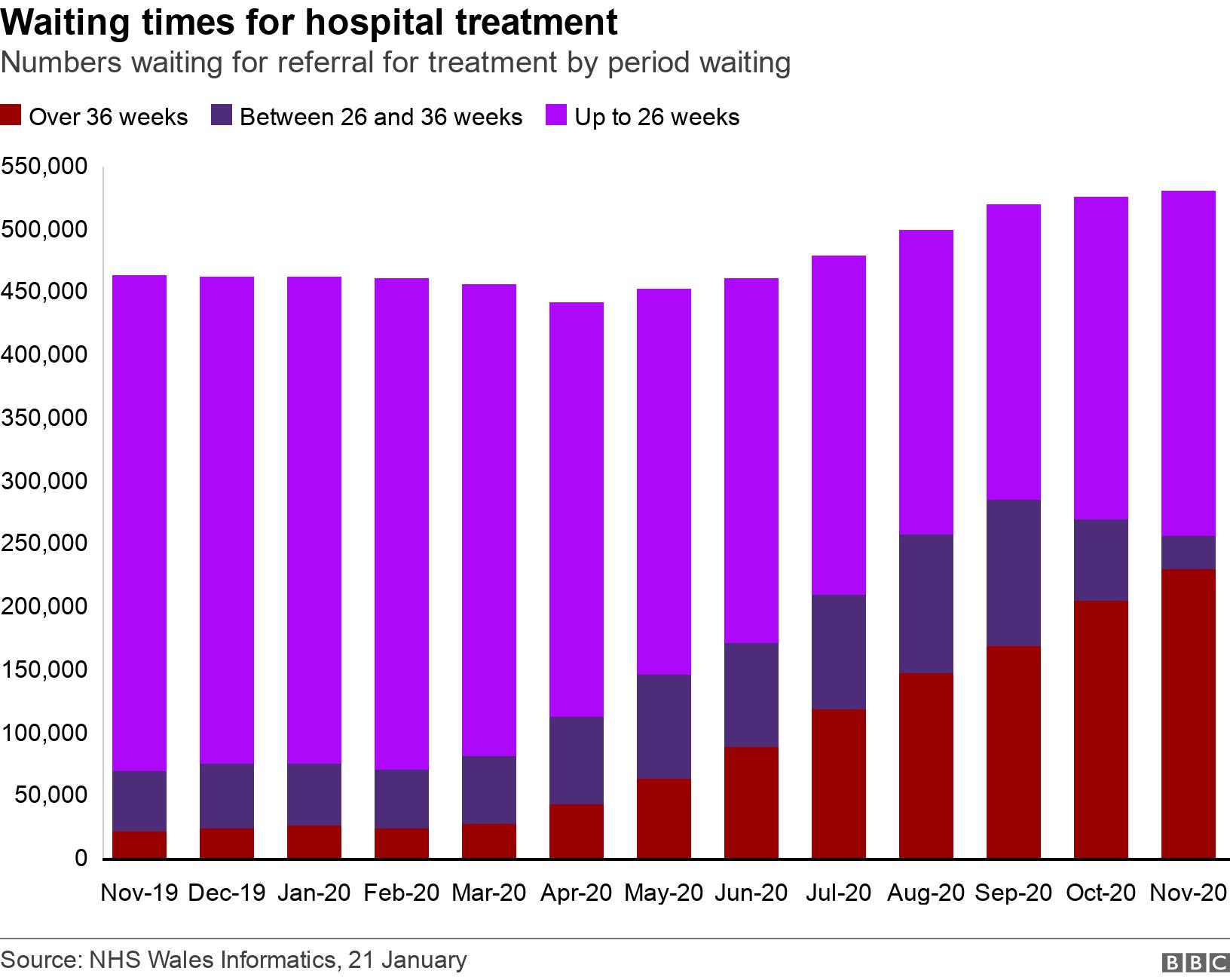 So we can now see that by November:
Numbers of patients waiting more than 36 weeks - nine months - to start treatment in hospital have grown from 27,314 in January 2020 to 231,722 (an increase of 748%)
The number of patients facing the longest waits has grown by nearly 26,000 in a month
The longest waits included 52,259 people waiting for orthopaedic or trauma treatment - a near 500% increase since January 2020 - and 273 waiting for cardiothoracic surgery, nearly six times as many.
Welsh Government targets state 95% of patients should be treated within six months and nobody should wait longer than six months.
New measures for A&E performance
Time to triage: This is the average time someone has to wait for an initial assessment - and performance by triage category (how urgent your condition appears to be) is broken down into three categories - immediate, very urgent and urgent. Those very urgent or urgent had 16 and 18 minute median waits. This is up by one and two minutes respectively on two months ago.
Time to clinician: The average time a patient waits for a more thorough assessment by a clinician - 59.7% were said to be seen within a "valid time"
Outcome: Information on where people end up after being assessed and treated at the emergency department. It shows among other outcomes that 26.5% were admitted, 42.6% needed no follow-up, while 11.2% were referred to a GP
No targets have been set in relation to these measures and the Welsh Government said they were set with input from front-line emergency care staff.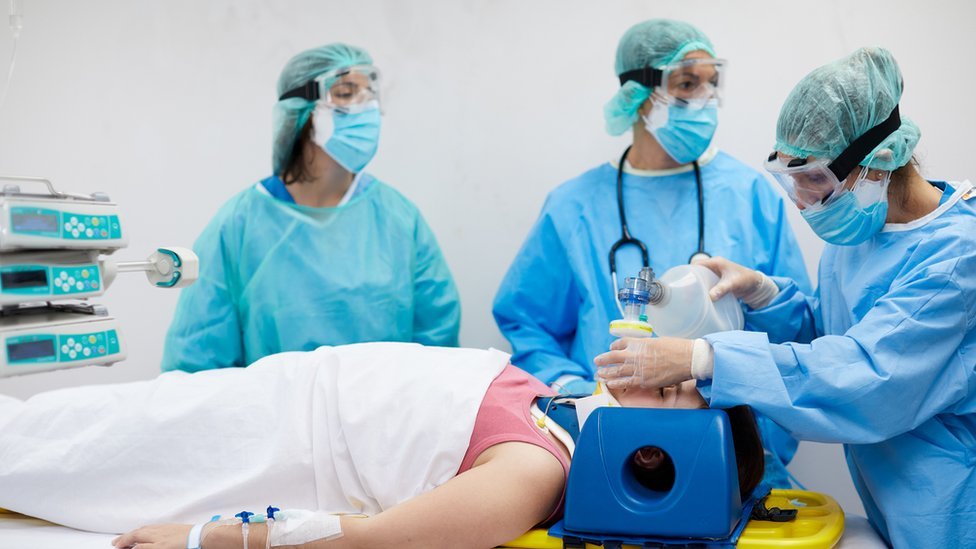 Getty
Emergency departments in Wales
New experimental measures of performance
59,050 patients seen across A&E units

17minutes average wait, time to triage

75minutes average wait, time to see clinician

42.6%no follow-up required

26.5%patient admitted to hospital
Source: NHS Wales, December 2020
The current target is 95% of patients should spend no longer than four hours in A&E, but this has never been met since it was introduced in 2010.
The waiting times for A&E in December showed 70% of patients were seen, transferred or discharged within four hours.
There were 6,386 patients who waited more than 12 hours, even though the targets state nobody should have to wait that long. This is 1,593 more patients than the month before.
There were an average of 2,926 referrals for first outpatient appointments a day in November, 20.6% down on the year before.
11,717 cancer patients started on the treatment pathway in November - 9.3% fewer than the year before but NHS Wales said numbers were at a "broadly similar level" to pre-Covid numbers
63.5% of newly-diagnosed cancer patients began treatment within 62 days from the point of suspicion on the single cancer pathway. This is 3.8% higher than a year ago.
On the urgent cancer pathway, 70.2% of patients started definitive treatment within the target time of 62 days. This is below the target of 95% and a fall on last month.
For the ambulance service, 53.7% of emergency responses to immediately life threatening (red) calls arrived within eight minutes. This is the fifth month in a row that the 65% target has not been reached. Covid protocols, including extra PPE impacts on the speed at which they can respond to a call.
The Royal College of Surgeons called the figure "staggering" and "devastating" and called on Wales' seven health boards to start planning "for the recovery of surgery in Wales".
"There are more than half a million people on the waiting list overall," said Mr Richard Johnson of the college.
"For many patients, a corrective operation is the best way to relieve debilitating pain and get people back up on their feet, back to work and enjoying life again.
"Health Boards must start planning now for the recovery of surgery in Wales. We are calling on Welsh Government to urgently implement a clear strategy to eliminate the backlog, supported by sustained investment."