Covid: Wales' teachers to decide students end-of-year grades
By Bethan Lewis
BBC Wales education and family correspondent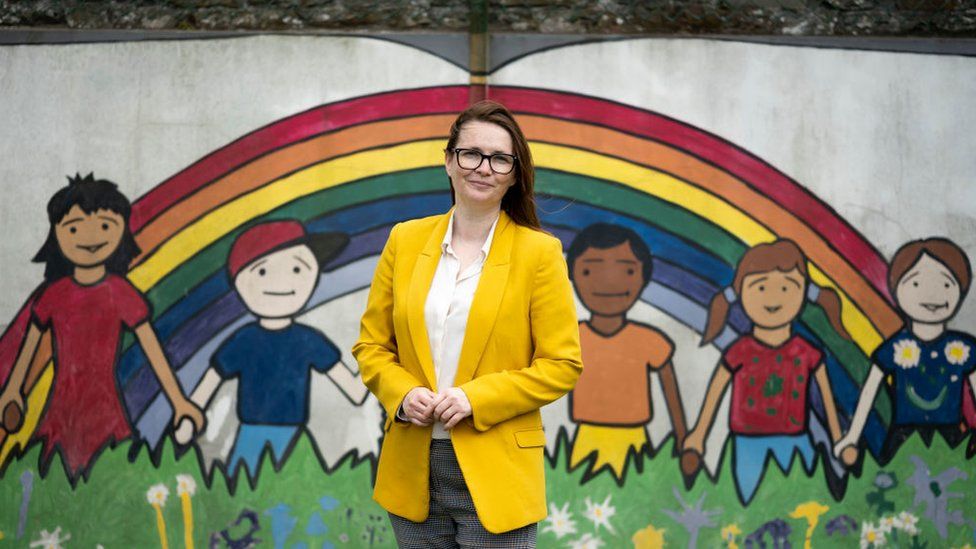 Teachers are set to decide GCSE, AS and A-level grades in Wales after a system replacing end-of-year exams was axed.
Education Minister Kirsty Williams said the pandemic had left her "no choice" in scrapping the classroom assessments.
Grades determined by schools and colleges based on the work covered would be "simple and clear", she said.
Advice from the Design and Delivery Group of school and college leaders said grades should be based on "evidence of learning".
The approach is similar to the so-called 'Centre Assessed Grades' given to students in the summer of 2020 when the Covid-19 crisis affected end-of-year assessments.
The new measures include:
Schools and colleges will be able to use a range of evidence to determine the grades to be awarded to their learners, including coursework and mocks. The WJEC exam board will also offer a set of adapted past papers to enable schools to carry on assessing their pupils
Schools and colleges can access an assessment framework set by Qualifications Wales to help set grades and their plans will be quality assured by WJEC
Deadlines for coursework or "non-exam assessment" are being removed and will not be moderated by WJEC
WJEC will publish guidance and oversee schools and colleges' internal quality assurance processes and will have a role in quality assuring their implementation. Teachers and lecturers will be offered training so they are applied "consistently, equitably, and fairly"
The grades are then submitted to the WJEC who will not change them. Appeals about grades will go to a school or college
Learners in Year 12 will also be awarded a "Centre Determined" grade but it won't contribute to the final A level. It won't apply to Year 10 unit assessments, but will apply if they are finishing a qualification
Ms Williams said in November that end-of-year exams would be cancelled because the varying impact of Covid-19 on different schools and pupils meant it was not possible to ensure a level playing field.
A new system based on a mix of assessments was put in place, drawn up by an exams advisory group made up of school and college leaders.
However, when it was announced schools and colleges would stay closed for most pupils until at least 29 January, and probably until after February half-term, the advisory group was asked to look again at how assessments should be carried out.
Ms Williams said: "The worsening situation with the pandemic has meant we have no choice but to revisit our approach to ensure wellbeing and public confidence in our qualifications system.
"The proposals we are announcing today puts trust in teachers' and lecturers' knowledge of their learners' work, as well as their commitment to prioritise teaching and learning in the time available to support learners' progression."
'Confidence in their grades'
She said they were working with universities to see how they can "provide a bridge into courses".
"Teaching the core content and aspects of each course remains my absolute priority for learners in exam years, so they are supported to progress with certainty into their next steps, with confidence in their grades", she added.
WJEC chief executive Ian Morgan, said that after an "exceptional year" there needs to be a different approach to assessment in 2021.
"Our teams will work at pace to develop a package of guidance for our teachers, including adapted past papers, mark schemes, and a range of support materials. We will also work with the Design and Delivery Advisory Group to develop a quality assurance process to support schools and college," he said.
In England, Education Secretary Gavin Williamson said grades would be decided by schools and colleges but pupils could be asked to sit mini-exams to help teachers with their assessments.
Carys, an A-level student from Ysgol Bro Edern in Cardiff, said before the announcement she wished students had been given a clearer picture about what they would be facing.
"It has been very confusing for us," she said.
"I feel like we're all asking the teachers what's happening, what's going on, and they're just as much as in the dark as we are."
Carys said she and her friends had struggled to see how the external assessments would be different to their cancelled exams.
"It is causing a large concern to us all and we're not quite sure what we're aiming towards," she said.
"I just want all our hard work to be credited."
'We will always be classed as the coronavirus year'
Betsy, a GCSE pupil also at Ysgol Bro Edern, said she felt the fairest way to grade pupils this year was to let teachers decide on grades.
"It has been very challenging," she said.
"I know many pupils who have been off school for weeks, or months even."
"I feel like the most fair way to do this is to just collect loads of coursework and trust the teachers to give us predicted grades," she said.
"They know the effort we've put in through the lockdown and through the online learning.
"I know that we will always be classed as the coronavirus year that didn't do exams.
"Universities hopefully will take that into consideration."
The NASUWT union, which represents some teachers in Wales, said "the devil will be in the detail" and full consultation with teachers is needed as there were concerns over fairness and staff workloads.
"How is this going to be achieved and what are the workload implications going to be on already hard pressed teachers?" said Neil Butler of the NASUWT.
UCAC, another teaching union, said it was "the only realistic solution under the current circumstances".
But their general secretary Dilwyn Roberts-Young added he would like to see external standardisation between schools.
The school leaders' union NAHT Cymru said they were pleased to get clarity - but are "concerned about the proposed processes for appeals.
"The suggestion that initial appeals are made directly to the school or college is misguided in principle, and logistically unworkable," said director Laura Doel.
Executive members of the National Education Union Cymru said they were pleased to be moving to a system "with more trust in teachers and lecturers" and were keen there was "no repeat of the position we all found ourselves in last summer".
The director of the Association of School and College Leaders Cymru, Eithne Hughes, said it was a "pragmatic solution" but more detail is needed regarding quality control.
The announcement does not include vocational and technical qualifications, which are being considered separately.
Qualifications Wales said it would work with the awarding bodies offering Wales-only vocational qualifications "to reflect these arrangements in those qualifications".
It added it would "continue to work with our fellow regulators to determine the arrangements for vocational and technical qualifications offered across the UK. Ofqual are currently consulting on proposals".