Census 2021: England and Wales gender question 'a good first step'
By Nicola Bryan
BBC News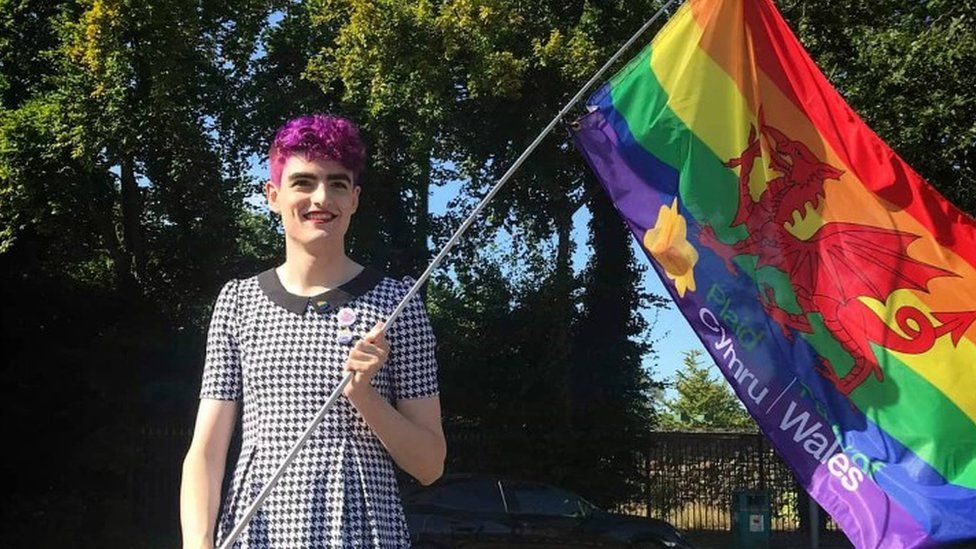 Inclusion of a question on gender for the first time in the UK census has been welcomed as a "good first step" by some in the transgender community.
The voluntary question in the 2021 survey reads: "Is the gender you identify with the same as your sex registered at birth?"
People over 16 can tick yes or no and specify their gender identity.
The Office for National Statistics, which will run the census on 21 March, said the details were clearly needed.
Owen Hurcum, 23, is the mayor-elect of Bangor, and due to take over the position in May.
"I think it is great that we can finally put our real genders on the census," they said.
"I do see this as a token gesture from the government [but], it's at least a single step in the right direction and I for one look forward to putting my real gender on the census."
Owen said more change was needed: "As nice and as validating as that will feel for us to do, it really is only the tip of the iceberg for what the government can do.
"We need to be able to put genders other than M/F on our passports and they need to improve the access to gender identity clinics as well as moving towards legal gender self ID.
"Moreover, they need to reword the 2010 Equalities Act to unambiguously include non-binary identities as protected characteristics."
They also want younger respondents to be able to answer the question: "People begin to know their gender from way below the age of 16, so the fact this option won't be available and excludes trans and non-binary children is inherently discriminatory."
Shash Appan, 24, is a trans activist from Cardiff and said she would fill in the form to say "trans woman".
She also backs the idea of under-16s being able to answer the question.
"I definitely think it should be available to under-16s, because people do transition under that age," she said.
An ONS spokesman said the question was only being asked of people aged 16 and over because "we anticipate gender identity data collected from persons below this age is likely to be of low quality".
He said this was partly due to the likelihood of the information being supplied by a parent or guardian.
He said the "key data need" for gender identity was for information on those aged 16 and over.
Ms Appan welcomed the addition of the question: "It's a good first step forward, definitely and it's much-needed.
"It is very important because at the moment we don't have any kind of definitive stats in any way.
"It is especially important when it comes to things like NHS funding."
She said the length of time trans people were kept waiting to be seen at NHS gender clinics was "not humane."
"At the moment non-binary people don't have legal recognition in law, which it makes it difficult for them to navigate society, because when your gender identity doesn't match your ID or when you're mis-gendered it can make interactions with our mostly cis, heteronormative society difficult to say the least," she said.
"Having an idea of how many trans people are in the UK will give an idea for people who do control funding and hopefully they'll allocate more."
She said she disclosed her sexuality on the previous census: "One thing I would worry about is people answering the questions in a spiteful way, transphobic tropes like 'I identify, like an attack helicopter' or other things like that.
"When and if that does happen, are they going to filter it out? While, if they are filtering out, are they actually going to have a trans person filter out, or someone who understands?"
An ONS spokesman said it would use an automatic system to process answers to many of the census questions where one can write in an answer, adding: "These tools will then be refined once census data is received, to ensure that this data is being appropriately coded."
He said the ONS had undertaken extensive research to ensure only genuine identities were recorded.
The voluntary question on gender has been included in this year's census for the first time, along with new guidance on how the mandatory question on "what is your sex?" should be answered.
The ONS said respondents should use the sex recorded on one of their official documents like birth certificate or gender recognition certificate.
This has drawn criticism from some women's groups who fear the data gathered from this question could be compromised.
Fair Play For Women, which posted on social media: "An undefined number of people will be allowed to put the wrong answer to the sex question... This has alarmed scientists who need accurate data on sex."
However the organisation said the inclusion of the gender question in the census was "a move welcomed by everyone".
Stonewall, which campaigns for the equality of lesbian, gay, bisexual and trans people across Britain, said there was not currently an accurate figure for how big the trans community was because there has been no research done that covers enough people to be statistically significant.
Stonewall Cymru's campaigns, policy and research manager Iestyn Wyn said it was something the organisation campaigned for over many years.
"Previous statistics about LGBT+ people have been little more than estimates and the needs and experiences of our community have been hidden," he said.
"Census data on age, ethnicity and a range of other characteristics have been key to showing inequality and the need for support, and the same will be true for tackling barriers that LGBT+ people face."
The ONS said: "Three years of evidence gathering by the ONS to inform the 2021 census showed that there is a clear need for this information at both a national and local level.
"Without robust data on the size of the LGBT population at a national and local level, decision-makers are operating in a vacuum, unaware of the extent and nature of disadvantage which LGBT people may be experiencing in terms of health, educational outcomes, employment and housing, and unable to design and monitor the effectiveness of policies to address this."
What is the census and how does it work?
The census is a count of all people and households in Wales and England, which takes place every 10 years.
Scotland's census, which is run separately by National Records of Scotland, has been postponed by a year to March 2022 because of coronavirus.
The census is the only exercise that provides a detailed snapshot of the whole population and is unique because everyone in the country answers the same questions about the same day.
People are asked about who was in their home overnight, as well as details of jobs, education and ethnic background.
The findings mean central and local government can use resources effectively for things such as housing, education, health and transport.
The Census Act 1920 makes it compulsory for everyone in England and Wales to take part in the census.
The 2021 census for England and Wales will be predominantly online for the first time.