Covid: Nurseries 'teetering on the edge' during pandemic
By Chris Wood
BBC News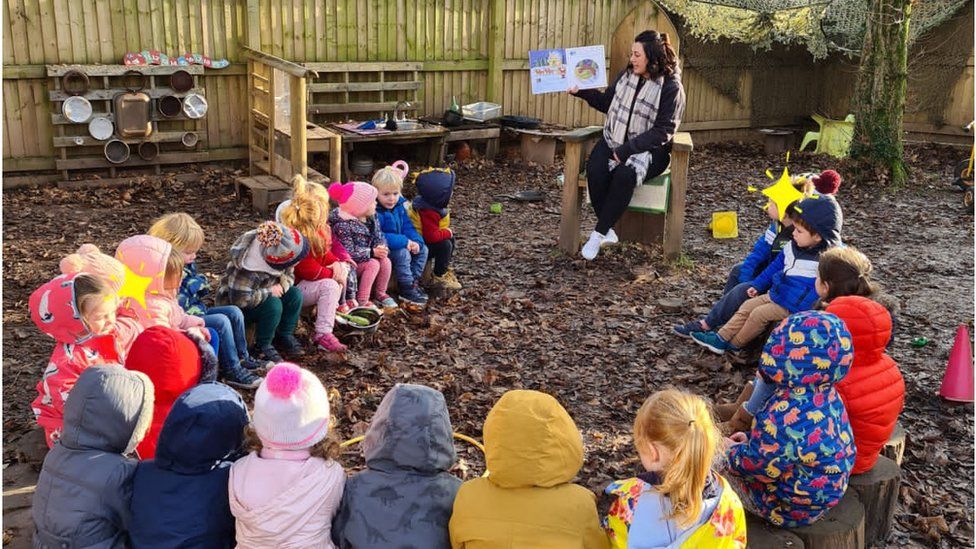 Nurseries are "teetering on the edge" and will "find it hard to survive with next-to-no funding" as children are kept home in lockdown, an owner said.
Little Stars near Pontypool has seen numbers drop by 35% - and Emma Matthews says nurseries are "running on empty".
Unlike schools, they have remained open and an industry association wants support so they are around to "provide places for children in the future".
A Welsh Government spokeswoman said funding was available through councils.
Describing childcare workers as "front-line", the National Day Nurseries Association (NDNA) Cymru also called for anxious staff to be made a priority for the Covid vaccine as they work with little protective equipment.
"We feel we have poured our heart into serving families and want acknowledgement for the early years and the vital part we play in the community," Ms Matthews said.
However, many parents have decided not to send children - some because they are adhering to stay-at-home rules, are self-isolating, have lost their jobs and are struggling to pay bills, or are on furlough.
"The reasons are varied and valid why parents decide to pull children out," Ms Matthews added.
"The situation isn't great and some say 'we will wait and see next week'. It's very difficult to formulate a plan then or to furlough. We are teetering on the edge."
Before coronavirus, the nursery looked after 65 children each day - but last week, 47 attended, made up of babies, toddlers and pre-schoolers.
There were also 11 babies due to start in January - but only one is attending because of reasons such as new mothers extending their maternity leave.
Ms Matthews believes facilities should be open for children of keyworkers only - allowing nurseries to access support for those not attending.
A baby, a toddler and a staff member from Little Stars had coronavirus - and employees are worried for themselves and their families.
They are unable to wear personal protective equipment because of their close contact with children, and describing workers as "front-line" who "keep the economy going", Ms Matthews said they should be in the priority group for the vaccine and weekly testing.
"Social distancing is the challenge," she added.
"Face, space and hands... we can only do hands. The others are impossible."
The facility received a grant of £10,000 at the start of the pandemic and a rate relief grant of £1,000, but Ms Matthews wants more support.
"It's about valuing the service," she said. "It wasn't a very stable industry pre-Covid. But it's made it very fragile now."
The Welsh Government has been urged to give more help, allowing nurseries to survive and "provide places for children in the future" by NDNA Cymru.
It also said early years staff "must be a priority for the vaccine to enable them to continue providing support for our youngest children and their families".
"We all know it's impossible to social distance from toddlers and babies who need close care from nappy changing to the contact and affection that supports their development and learning," added chief executive Purnima Tanuku.
"Childcare providers have worked very hard to ensure settings are safe, with low numbers of children on site," she added.
The spokeswoman said funding is provided to councils, enabling them to help childcare settings experiencing financial difficulties and the Childcare Offer for Wales continues to be in place for all eligible children.
"We are following the advice from the Joint Committee on Vaccination and Immunisation about the people who should be vaccinated first - all those in the priority groups will be immunised as safely and as quickly as possible," she added.
Children's commissioner Sally Holland said she"empathises with the concerns of staff" and thanked them for their work "during an extremely difficult period".
"Nurseries play a really important part in young children's wellbeing and development," she said.
"Any services that can remain open for children is to be welcomed due to the importance for their health and wellbeing."
Related Internet Links
The BBC is not responsible for the content of external sites.