Covid-19 deaths pass 5,000 mark in Wales
There have now been more than 5,100 deaths in Wales involving Covid-19 since the pandemic began.
The latest weekly figures from the Office for National Statistics (ONS) show 310 deaths in the week ending 1 January, which is 32 more than the week before.
This is nearly 42.6% of all deaths.
Cwm Taf Morgannwg saw the highest numbers of weekly deaths in Wales, the most since the end of April at the peak of the first wave of the pandemic.
There were 76 deaths in the area - including 66 in hospitals and six in care homes.
Looking at council areas, Rhondda Cynon Taf had the second highest number of hospital deaths across England and Wales, with 34. The London borough of Newham had 35.
The ONS again urged caution when interpreting this week's figures, due to the Christmas and new year holidays, which will affect the number of registrations.
The total number of Covid deaths in Wales, up to and registered by 1 January, was 4,963.
But when deaths registered over the following few days are included, there was a total of 5,169.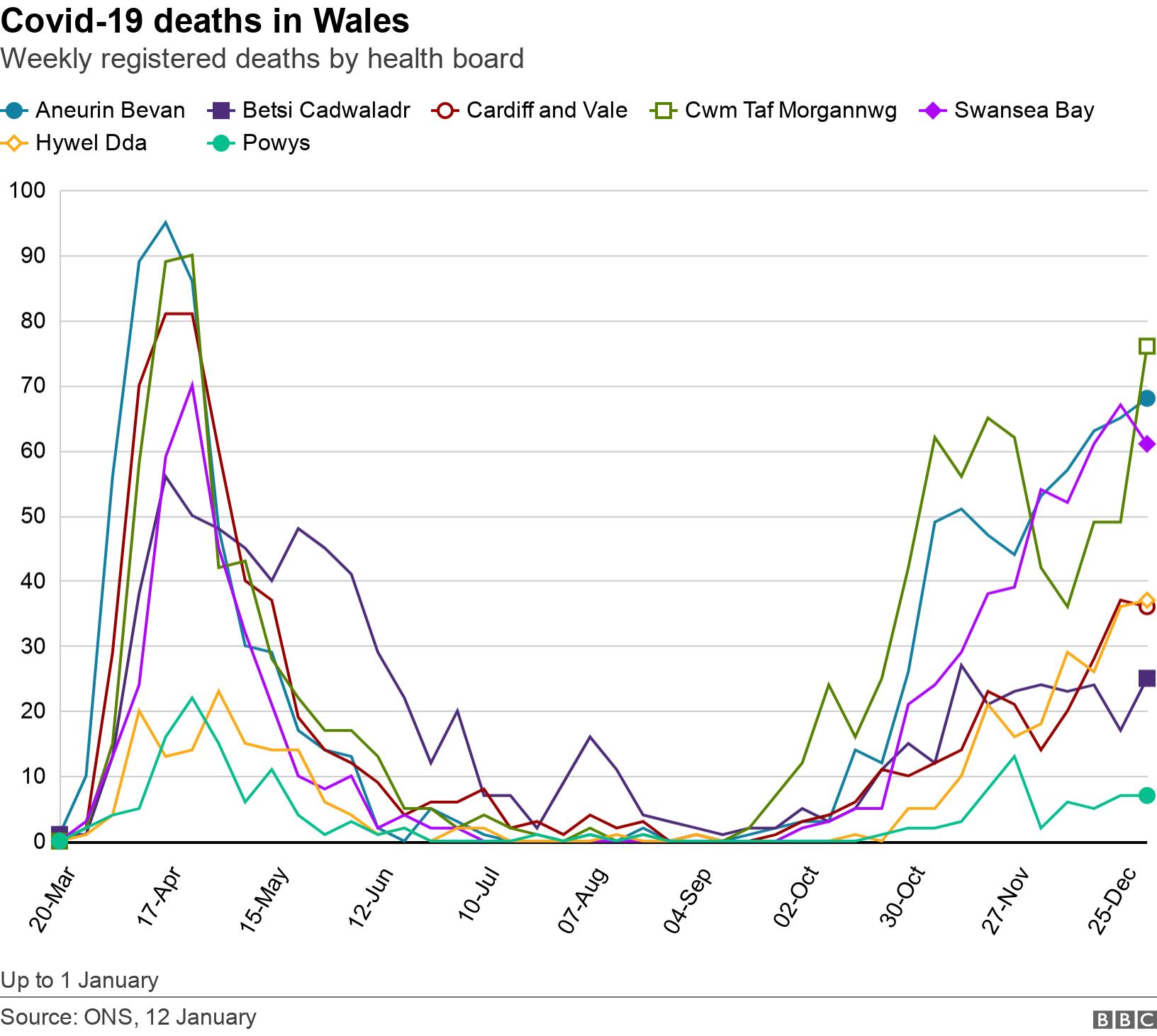 The Aneurin Bevan health board, with 68 deaths registered involving Covid, also had its highest number in a single week since the end of April.
Hywel Dda health board reported 37 deaths - its highest weekly figure since the pandemic began. Of these, 18 were patients in hospital from Carmarthenshire and 10 were hospital patients from Pembrokeshire.
Swansea Bay health board had 61 deaths in this week. The Swansea council area itself had the seventh highest number of hospital deaths across England and Wales.
There were 36 deaths in Cardiff and Vale, 25 deaths in Betsi Cadwaladr in north Wales - 10 of which were hospital deaths in Wrexham - and seven in Powys.
All counties recorded at least one death involving Covid-19.
Rhondda Cynon Taf, with 685 deaths, has the largest number of Covid-19 deaths in Wales up to the latest week, followed by Cardiff with 578.
When looking at crude death rates - based on the number of deaths compared to local populations - Wales has three of the five worst across England and Wales.
Rhondda Cynon Taf has 283 deaths per 100,000 in total so far in the pandemic.
Merthyr Tydfil is second with 253.6 and Blaenau Gwent is ranked fourth.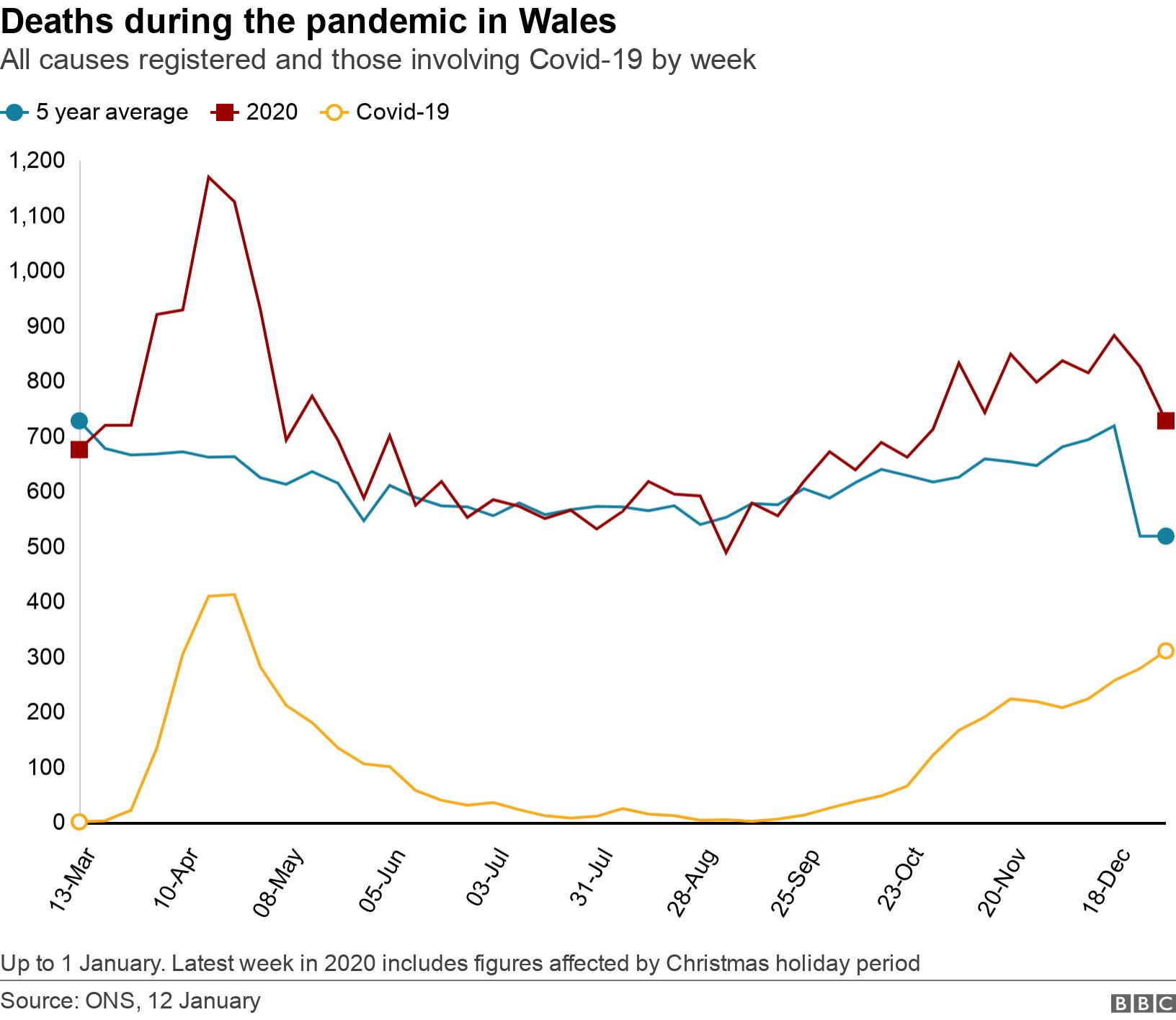 So-called excess deaths, which compare all registered deaths with previous years, continue to be above the five-year average.
Looking at the number of deaths we would normally expect to see at this point in the year is seen as a useful measure of how the pandemic is progressing.
In Wales, the number of deaths fell from 825 to 727 in the latest week, but this was still 209 deaths (40.3%) higher than the five-year average for that week. This is the second highest proportion after London.
The ONS figures report where doctors mention Covid-19 on death certificates, including confirmed and suspected cases.
They include deaths occurring in all places, not only hospitals and care homes but also people's own homes.
It has been estimated that Covid is the underlying cause in around 90% of these deaths and not just a contributory factor.