Covid: Around half of intensive care patients in Wales are dying
By Huw Thomas
BBC News
Around half of patients admitted to Welsh intensive care units during the second wave of the pandemic have died, a study has found.
The Intensive Care National Audit and Research Centre (ICNARC) found men aged in their 60s were more likely to need intensive care.
It also found those from Asian backgrounds and deprived areas were disproportionately affected.
But a leading doctor said, overall, people were more likely to survive now.
Intensive care consultant Matt Morgan said new treatments meant only the sickest patients were reaching intensive care, where outcomes were poorer.
ICNARC collected information on 431 Welsh patients who were critically ill with coronavirus from 1 September to 31 December 2020 as part of a UK-wide audit of intensive care patients.
Of the patients who were admitted, 68% were men and 32% women. The average age of a patient was 59.5 years.
While the vast majority of patients were white (91.6%), the number of patients of Asian ethnicity was more than double the proportion of the Asian population, with 6.3% of patients recorded as being Asian, compared to an average of 2.4% in their local population.
The audit of patients found that, excluding those still being treated at the unit, half had died while half had been discharged.
Although the numbers of patients surveyed is relatively low for statistical purposes, Dr Morgan said the survival rate reflected the situation in hospitals.
"We are putting fewer people, who are in the first stage of their illness, on to life support machines. And that is because we have treatments now that we know can help," he said.
"Overall, you are more likely now to survive Covid than ever before, and that is in every age group - sometimes by as much as 10% more.
"What we do know is that overall, out of every ten people who come to intensive care with Covid about six of them will survive and will leave the intensive care unit. Which means sadly four of them won't, four of them will die.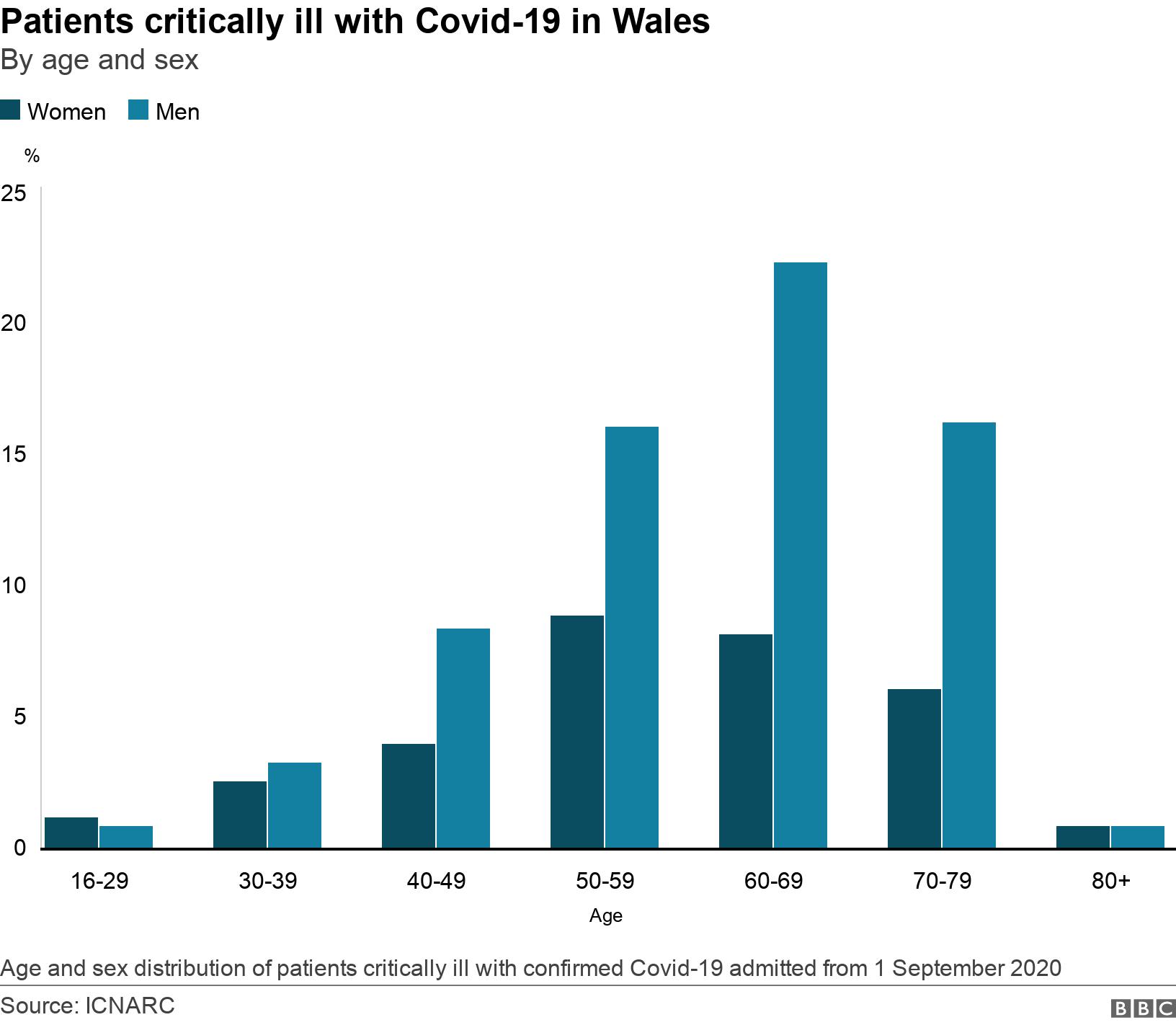 "That's similar overall to the first wave but that data is based on some patients who are still in the intensive care unit. So that may change and it's more likely to get worse rather than better."
"We also know patients who are on life support machines in the intensive care unit will do worse than those who come to the intensive care unit and are not on life support machines.
"For those people, it's probably five out of 10 people who will survive and five who will sadly die and that may be worse when we have the data on those who are still there.
"And there's a big effect of age. So for those over the age of 70 it may be as little as four people out of 10 who survive, maybe less. And for those over the age of 80 it may be as low as one or two people out of ten who survive.
The figures from ICNARC also highlight how people from poorer backgrounds were more likely to need treatment in intensive care.
Using a deprivation score from 1 to 5, more than half of patients scored 4 or 5, representing the most deprived postcodes in Wales.
Dr Morgan said: "Sadly, disease is an illness of deprivation.
"And so that's why we feel it, particularly in Wales where the industrial scars of our past are still very much there - and our health is there."