Covid: Wales 'must act now' insists health minister
Wales "could not suppress coronavirus" after its firebreak lockdown and must act now, Health Minister Vaughan Gething has insisted.
It comes as new national restrictions come into force in Wales later to try and curb the spread of Covid-19.
New rules include a ban on pubs, restaurants and cafes serving alcohol on the premises.
The Welsh Government faced a backlash for the new rules from business owners and other political parties.
The Conservative leader in the Senedd, Paul Davies, said the national approach was unfair on areas with low Covid rates.
But speaking on Friday, Mr Gething said without action, more people would die.
"This is really about the fact we couldn't suppress coronavirus after the firebreak, and we then have a responsibility as a government," Mr Gething told BBC Breakfast.
"We either act, and act in way we know causes harm, or we don't act in this way and we accept much greater harm and much great loss of life that could be avoided."
The case rate is currently 237.9 case per 100,000 in Wales, higher than before the firebreak.
Meanwhile, the latest infection survey from the Office for National Statistics (ONS) suggests infections have stopped falling in Wales.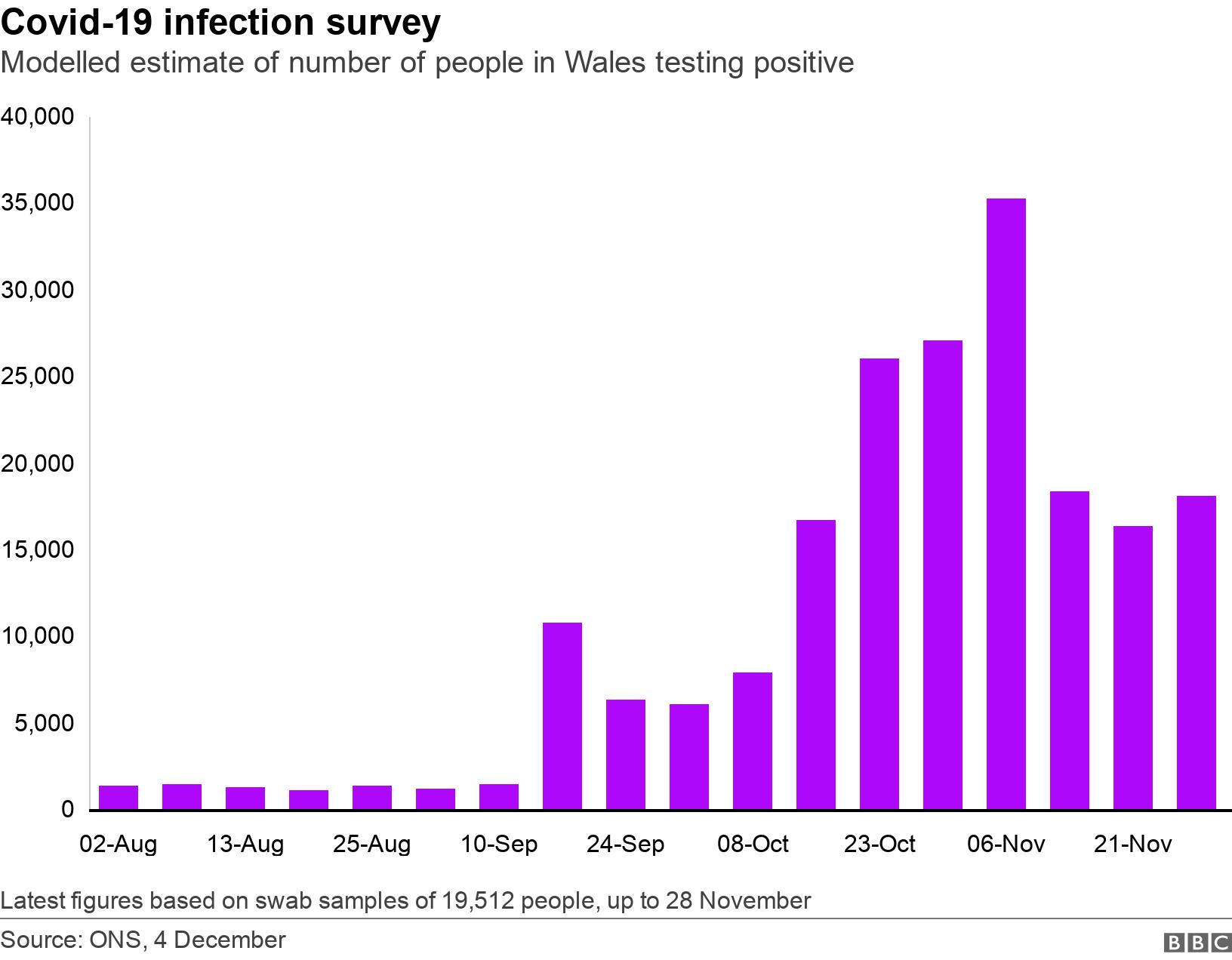 From the results, it can estimate that 18,100 people in Wales had Covid-19 in the week to 28 November, 1,700 more than the week before.
This is one in 170 people or 0.60% of the population.
The ONS said "our modelling suggests, in the most recent week, the percentage of those testing positive is no longer decreasing in Wales".
Mr Gething added: "I don't enjoy these measures having to be introduced, but if we don't we can be confident - terribly confident, I'm afraid - that cases would rise and more of our people would not be here."
What are the new rules in Wales?
People will now be able to travel between Wales and England's tier one and two areas again, after a ban on non-essential travel was put in place following the firebreak lockdown ending on 9 November. Travel into tier three zones is still prohibited
Licensed pubs, cafes and restaurants will have to stop serving alcohol. Those with an off-licence can sell alcoholic drinks to take away. They will have to close at 18:00 every day until further notice but can operate a takeaway service for food and drink after 18:00
However, the rule allowing four people from four different households to meet indoors in pubs and restaurants will stay in place
Only people you have formed an extended household (or bubble) with can come into your home, except in very limited circumstances, such as tradespeople having to undertake work
Cinemas, bowling alleys, bingo halls, soft-play areas, casinos, museums, galleries and heritage sites, and other indoor entertainment venues will be forced to shut - outdoor visitor attractions will not be affected
International travel will be permitted again but the government advises against it unless "essential". People will also be subject to existing 14-day quarantine rules on return, depending on where you've been.
The Welsh Government said it would provide an extra £340m to support businesses affected by the tougher restrictions
'We were promised everything would open up for Christmas'
Simon Pickard, owner of Silver Mountain Experience in Aberystwyth, Ceredigion, said the situation was "ongoing and difficult", having closed a large number of the activities they offer, including the over and underground tours, and would now have to move their Christmas event outside
He said he was still unsure what the restrictions would be on 17 December and had incurred costs for outdoor equipment at a time when income was low.
"We lost all our business in the October half-term from the firebreak lockdown, which was a real first blow. We were promised everything would open up for Christmas and now we're in the same situation."
He called the rules disproportionate and said they were not reflective of the situation in Wales.
"We understand the health issues as everyone does but we feel that the restrictions have not been targeted to the right areas and not based on any real science. It has felt like a knee-jerk reaction."
Find out how the pandemic has affected your area and how it compares with the national average:
The postcode search has been updated to replace data for health boards in Scotland with data for local councils. In England, data for county councils has been replaced with data for district councils. Figures for boroughs and unitary authorities remain unchanged.