OnlyFans: Digital footprint concern raised over images
By Alys Davies
BBC News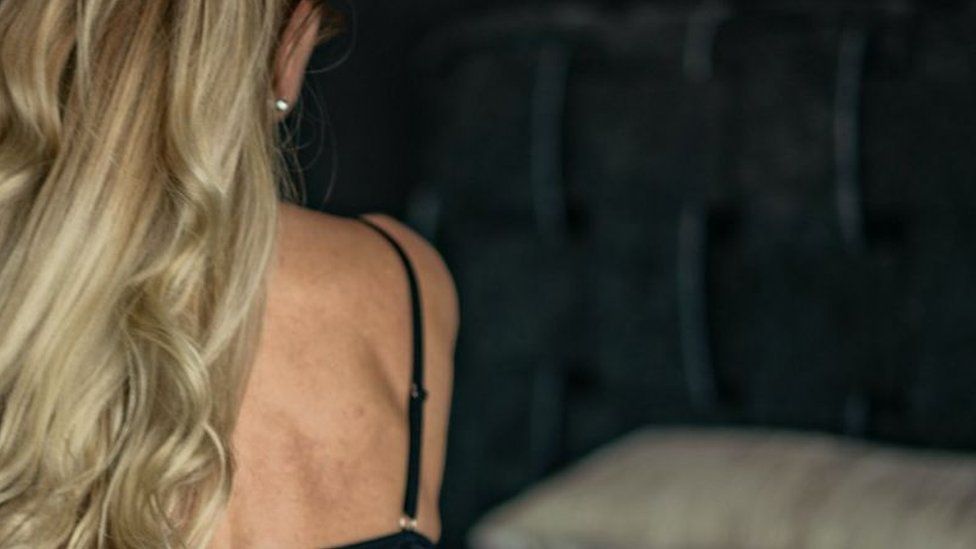 A rise in people posting explicit material of themselves online has prompted a warning for them to consider their "digital footprint."
People using subscription-based sites has risen with one such site claiming a 10-fold increase in users in 13 months.
OnlyFans allows content creators to promote interests like lifestyle and fitness for a cut of the subscription.
Explicit content can also be uploaded and such websites have been urged to warn creators of "safety issues".
Both content creators and subscribers on such sites have grown during the coronavirus lockdown as the pandemic has caused unemployment to rise - which has led people to look for alternative ways to earn money.
For Cariad (not her real name), over the last few months, it has been her main source of income during lockdown after she was put on furlough.
But there are concerns people posting explicit material are unprepared for the possible consequences of what they post and the impact of their "digital footprint" in regards to future job opportunities.
"A lot of people don't think about their digital footprint when they start sharing content on sites," said Prof Teela Sanders, a leading expert in the UK's online sex economy.
"And don't really think through the fact that it's very hard to delete it.
"I think websites where there is any sexual content created have a social responsibility to their producers and customers to make people aware of safety issues - and be responsive when producers have concerns or questions relating to their or others' safety."
Cariad said she increased the number of pictures she was posted during lockdown when she was furloughed from both of her jobs.
"I had so much spare time, so I really put all my time into it. Screen time on my phone was about 16-17 hours a day," she said.
Despite saying her income quadrupled during lockdown as a result, Cariad is worried her content could be stolen from the website and reproduced elsewhere.
She is also concerned her other employers find out about her sex work - as one of her jobs is in education.
"If someone did find out, I'd understand why they wouldn't want someone working in education," she said.
"If you're going to be a teacher then that's a complete no. But if you keep them separate, it's quite unfair that you wouldn't be able to get a job in that area."
Subscription-based platforms - like OnlyFans and Patreon - have seen a jump in the number of sign-ups since lockdown.
OnlyFans is among the UK's most popular sites and is where American rapper Cardi B posts about her lifestyle, former England rugby captain Chris Robshaw posts fitness routines and US drag artist Ru-Paul does shows.
The site claims users have risen from 7.5 million in November 2019 to 85 million - with 750,000 so-called content creators.
Followers pay a monthly subscription fee to access creators' photos, videos or live streams, with the firm taking 20% commission. It is not solely for people who sell nude images, but some do.
Like Rachel - in her 30s and from south Wales - who left her full-time job as a data analyst during the pandemic for a better work-life balance.
She decided to post explicit images on OnlyFans to help pay off debt and has earned more than £2,800 in four weeks since launching her page.
"I've been haphazard financially previously and I wanted to wipe the slate," she said.
"I originally wanted to start it as I'd left a job, gone freelance - which was daunting - and came to a point where I really wanted to absolve myself of financial debt," Rachel said.
Rachel admits she "wrestled with the internal emotions of the vulnerability of publicly promoting" herself.
"I think the main risk to me was in going public, you're opening it to people you may know in real life and not everyone is going to agree," she said.
"You have to be strong enough to know that you more than likely will come across criticism, it's not as easy to brush off for everyone, nor is it easy to defend yourself. You shouldn't have to, but you may find yourself doing so."
Cariad said the increase in the number of people using the platform had led to more competition, meaning "you definitely have to do more" - and said relying on income from the site was precarious.
"It's still a risk to put all your eggs in one basket, we're all relying on a website that could change at any time, and you never know - within a week your income could be fully gone," she added.
But Prof Sanders, Professor of Criminology at the University of Leicester, warned there is a "misconception" about the "type of money you can earn and stability around online sex work".
"Whilst job satisfaction is generally really high, the precarious nature of the job is really important," she said.
What also worried Cariad was her content could be stolen and reproduced elsewhere.
OnlyFans said it was "a violation of our terms of service to copy, duplicate or record user content, and DMCA (Digital Millennium Copyright Act) law protects creator content being published without proper permissions.
"We see content protection as a key priority," the website said.
Prof Sanders said there was little data available on subscription-based websites and their relation to sex work. However, she suggested the lower commission rates and current lack of regulation on such websites could be a reason for its current popularity.
"The online spaces where sex is being sold is constantly evolving," she added.
"More recently OnlyFans has become apparent, it was quite small, and now obviously there's been a change and Covid's had something to do with that."
She said there is an "element of, yes, you can make loads of money" but said the "amount of hours you've got to put in" can lead to "intrusion into your life".