Covid: 11,000 positive tests delayed in Welsh figures
A delay in reporting an extra 11,000 positive Covid tests in Wales has led to a big jump in case rates.
Public Health Wales (PHW) said planned IT maintenance meant there was a "significant under-reporting" but anyone who tested positive had been contacted in the usual way.
The delayed results came from Lighthouse Laboratories, which process about 70% of Wales' tests.
The Welsh Conservatives said the news was "staggering".
The 11,000 extra positive tests were taken between 9 and 15 December. PHW said the "vast majority" have been added to its dashboard, which records the figures, on Thursday.
The figures show an additional 4,221 cases have been added to the total for the week ending 11 December, an adjustment to what was reported on Wednesday.
A total of 11,250 - including the usual daily cases - have been added, meaning the latest weekly case rates have increased as a result.
Wales, already at its highest case rate so far, saw a jump to 530.2 cases per 100,000 for the most recent seven days, to 12 December.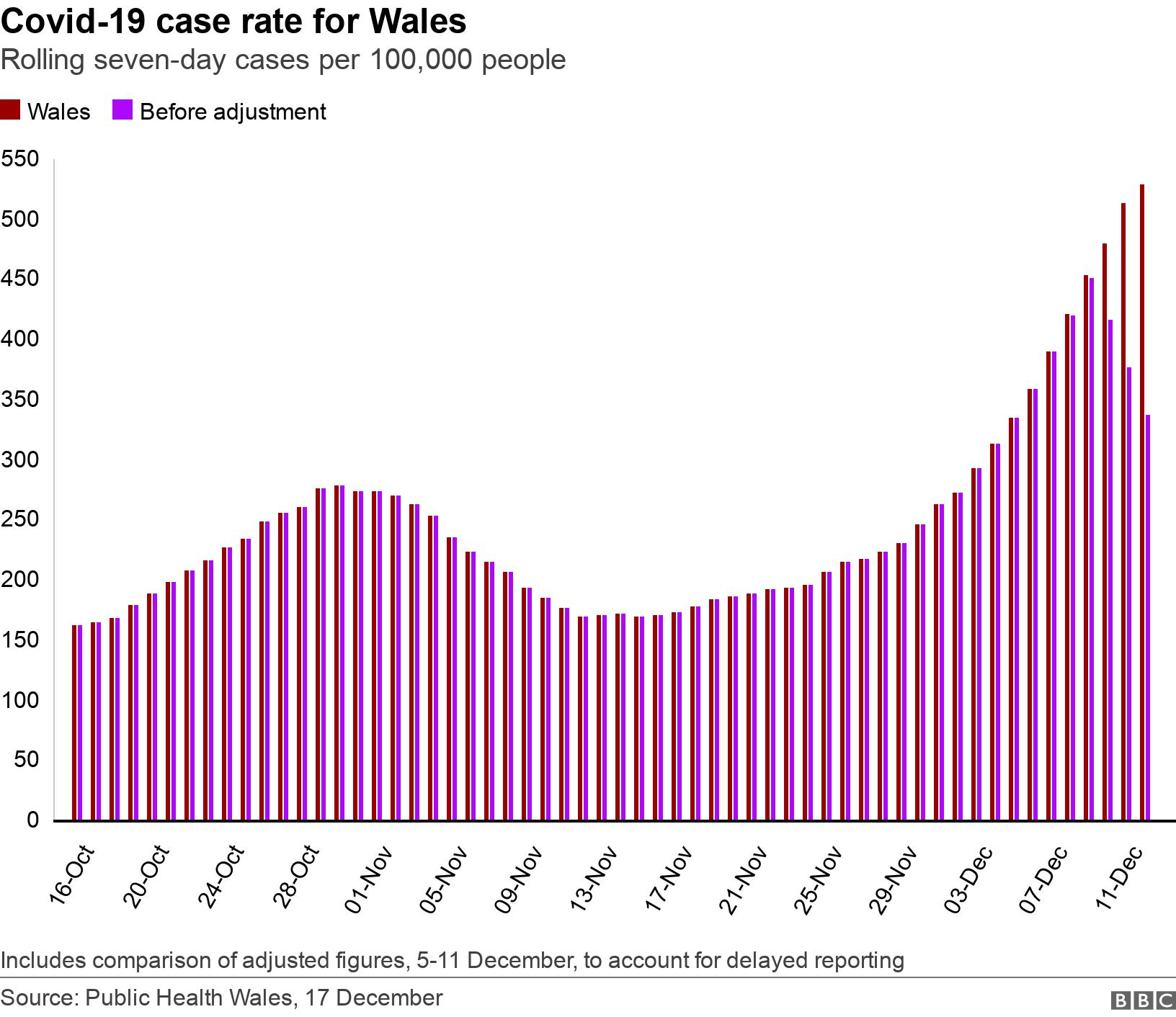 The case rate stood at 377.8 on Wednesday, although PHW warned this was an underestimation of what we should expect.
The new figures showed the case rate for Merthyr Tydfil - already the highest in the UK - is now 1,032.7 cases per 100,000 - with 623 positive tests in the past seven days.
Eight council areas in Wales are in the 10 hardest-hit areas in the UK for case rates in latest comparison.
There are 14 out of 22 council areas which have their highest case rates so far - including Denbighshire, Flintshire and Wrexham.
Three others would have reported their highest figures on Wednesday, had all the figures been available.
PHW said its previous data collection system was "on its last legs".
"The system would collapse very frequently and it was proving to be unsustainable to run with its existing system," said PHW incident director Dr Giri Shankar.
The planned maintenance of the NHS Welsh Laboratory Information Management System (WLMS) "has not affected individuals receiving their results", PHW insisted.
First Minister Mark Drakeford told BBC Radio Wales: "The story is not about missing data or computer problems, it's about the seriousness of the situation.
"You were told in advance that this was going to happen. The data was never missing it was always there, waiting to be uploaded into the system."
Plaid Cymru health spokesman Rhun ap Iorwerth said: "With positive cases in Wales rising to record levels it is crucial that the reporting of data is both timely and robust.
"The public need a complete and current picture of the situation to realise the gravity of what we are facing.
"We need urgent reassurance that the failings have been addressed."
The BBC is not responsible for the content of external sites.