Covid: Newport care nurse returned to work but nearly died
By Chris Wood
BBC News
"I've been called a pandemic actor. I reply: 'I must be a good one as I let a doctor cut a hole in my throat'."
Jamie Branagan, 52, returned to care home nursing when the coronavirus pandemic broke out - but it was a decision that nearly cost him his life.
Mr Branagan spent a month in a coma and suffered a cardiac arrest, kidney failure and collapsed lung, after contracting Covid-19 himself.
He said he will never work again and wants to prevent more people dying.
"I've been trawling the internet looking for Covid deniers, trying to educate them. They are so indoctrinated. They see videos and think they are experts," said Mr Branagan, from Newport.
"It's a killer. A very good friend lost their father recently. People need to wake up."
A leaflet containing coronavirus "conspiracy theories" and downplaying the pandemic as a hoax, was posted through Pembrokeshire letterboxes recently, leading Dyfed-Powys Police to issue a warning.
Mr Branagan backed calls to bring those spreading misinformation to account, describing how his life as a fit and healthy man who played football until recently was changed forever.
He was born in London and had only ever wanted to work in the care sector, with some of his earliest memories those of driving around with his mother as she worked as a district nurse in Belfast and then Suffolk.
In 1999, Mr Branagan qualified as a mental health nurse, before moving up to a clinical lead role, which brought him to Newport in 2012 overseeing care homes.
This took him away from day-to-day care, and he was able to set up his own "niche business", trouble shooting, helping those in crisis to become compliant with rules and regulations.
But when a coronavirus pandemic looked imminent at the start of the year, he made the decision to go back into agency nursing to help out, adding: "That's when my life changed.
"They (care homes) were like an elephant's graveyard. Vulnerable people who had tested positive were sent to die."
"I get people want to return home to die in dignity, but to introduce such an infectious virus [to a care home], you are lighting the blue touch paper," he said.
"During the first wave, we didn't have the knowledge we have now... it was a tinderbox situation and it was always going to go."
Mr Branagan said he does not blame authorities who were trying to cope with a situation that was quickly spiralling out of control, but does believe care homes were "poorly supported" at the start of the pandemic.
He described the spread of coronavirus as a question of "when not if", with vulnerable people - some with dementia - relying on face-to-face interaction, some wandering into other people's rooms and inadequate personal protective equipment.
"What can you do? You're on shift and people rely on you," he said.
"There was a lady who was dying, so I bent the rules so she could speak to her family one last time.
"This situation was not unique, but the son was able to say goodbye to his mum. She had no mask on and you're facilitating a FaceTime call."
It was on 19 April Mr Branagan woke up three hours before a shift with pins and needles down the right side of his body and a headache, prompting him to self-isolate.
His partner Angharad, had also contracted coronavirus, but only experienced mild symptoms.
Mr Branagan, however, was taken to Newport's Royal Gwent Hospital, and on 30 April was placed in a coma while in respiratory arrest.
He woke up on 2 June, and spent 34 of 45 days ventilated in intensive care. He suffered a cardiac arrest, contracted two types of pneumonia, had acute kidney failure, sepsis, a collapsed lung and blood clots, and lost five stone.
His memories are based only on what his partner has told him, but said: "I remember having vivid dreams, not very pleasant ones, they have stuck in my mind constantly.
"I then had to learn to walk, talk and eat again."
Muscles in his fingers had wasted away to such an extent he could not hold a cup.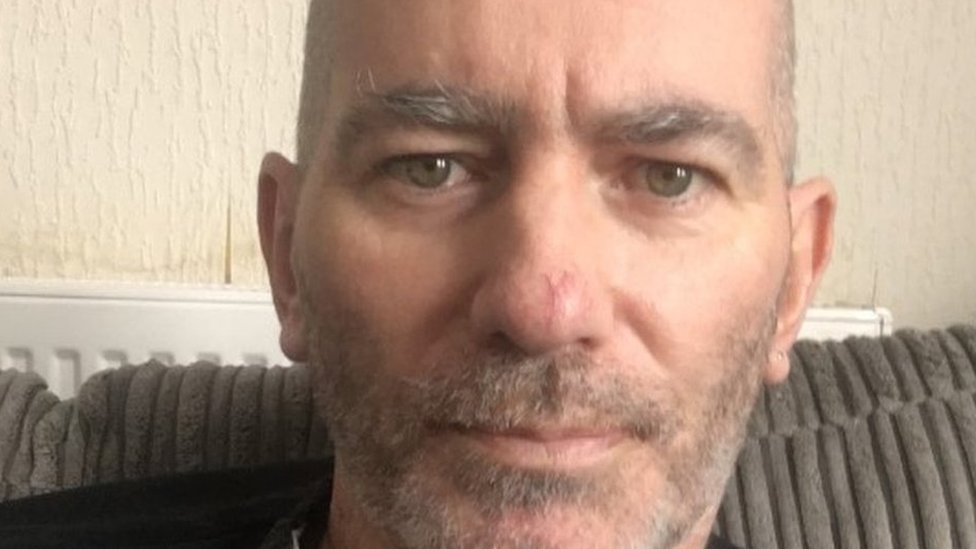 Jamie Branagan
It's like the uninvited guest at a party. Smashes through your front door, drinks all your beer, wrecks your house, snogs your girlfriend - then leaves
But while he needed glasses to drive before contracting coronavirus, Mr Branagan described his sight now being "crystal clear", as muscles had relaxed so much his eyes had fallen back into place.
He returned home on 9 June, and described the months since as "a long struggle" - coping with cysts on his lungs, suffering from fatigue and breathlessness.
Mr Branagan does not believe he will work again as he operates at 20% of his capacity.
"It's like the uninvited guest at a party. Smashes through your front door, drinks all your beer, wrecks your house, snogs your girlfriend then leaves," he said of the virus.
'Minimise the risk'
Mr Branagan praised intensive care unit staff that treated him. He called Dr David Hepburn "an absolute legend", adding: "He's the reason I'm here today."
Dr Hepburn was one of the first doctors to get ill from coronavirus in early March and has been outspoken, highlighting the risks to healthcare workers.
He described intensive care as being "like a scene from a science fiction film" and said everyone who has worked in hospitals during the pandemic will be changed.
The Welsh Government said: "We understand this would have been a stressful and scary time, and a difficult one for this gentleman and his family. We are pleased he has recovered.
"Keeping care home residents and staff safe has always been a priority for the Welsh Government. We have put in place a wide range of support for care homes, including free PPE, additional funding and advice and guidance about infection control.
"Our programme of testing for care homes remains in place and no one can be discharged to a care home without testing negative for Covid-19. We will continue to work with all partners to minimise the risk of Covid-19 in care home residents and staff."