Covid deaths show highest weekly total since May in Wales
Deaths involving Covid-19 have risen again in Wales to the highest weekly total since early May.
This is 24 more than the previous week and account for a quarter of all deaths in Wales.
Meanwhile, 19 more deaths have been reported linked to hospital infections at Cwm Taf Morgannwg health board.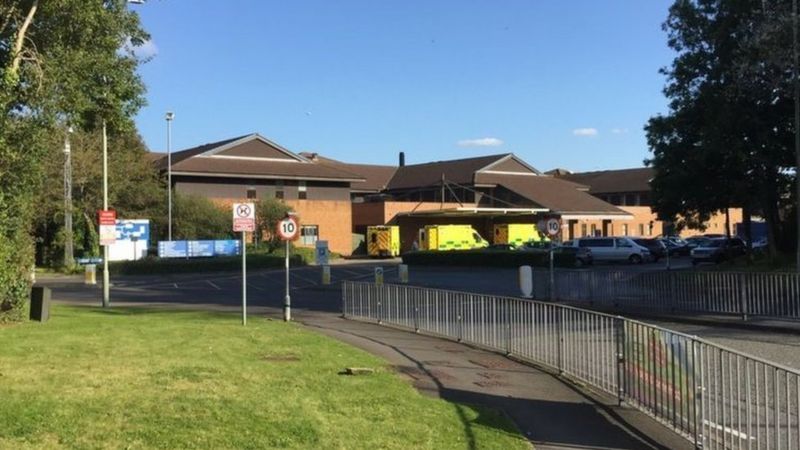 BBC
Covid-19 hospital infections
Deaths reported up to 23 November
66Royal Glamorgan Hospital, Llantrisant

38Prince Charles Hospital, Merthyr Tydfil

67Princess of Wales Hospital, Bridgend

6Maesteg Hospital
Source: Cwm Taf Morgannwg health board
There have been 10 more deaths at the Princess of Wales hospital, Bridgend, five at the Royal Glamorgan hospital and four deaths at Prince Charles Hospital in the last week.
It takes the total deaths to 177. That includes six deaths at Maesteg hospital reported a few weeks ago.
The number of cases linked to the outbreaks has slowed down, rising from 597 to 628.
The ONS figures show deaths in care homes involving the virus have also risen to their highest total - 36 - for five months.
The proportion of Covid deaths compared to all deaths is higher in Wales than in England in this latest week.
There were 56 deaths registered across the Cwm Taf Morgannwg health board area, which covers Rhondda Cynon Taf, Bridgend and Merthyr. Of those, 44 were in hospital.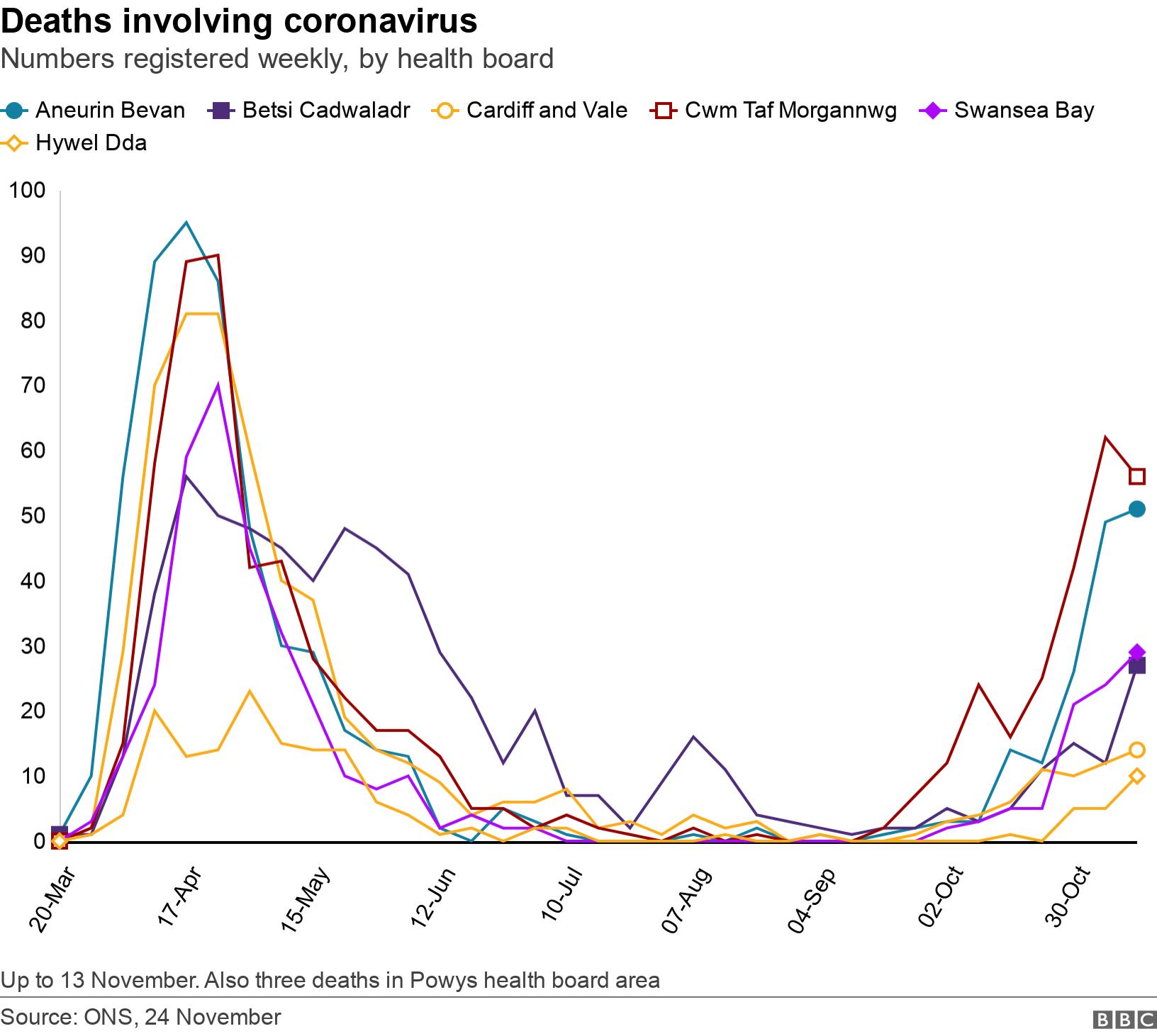 There were also 51 deaths in the Aneurin Bevan health board area, across all settings, 29 deaths in Swansea Bay, 27 in Betsi Cadwaladr and 14 in Cardiff and Vale.
There were 10 deaths in Hywel Dda and three hospital deaths involving Powys residents.
Rhondda Cynon Taf (RCT) with 465 deaths and Cardiff (442) have seen the most deaths in Wales so far in the pandemic.
RCT has 193.6 deaths per 100,000 people - now the second highest rate across all local authorities in England and Wales.
There were 36 deaths in care homes involving Covid-19 - the highest number since 22 May.
The total number of Covid deaths in Wales registered by 13 November was 3,240.
When deaths registered over the following few days are also counted, there is a total of 3,329 deaths occurring up to 13 November.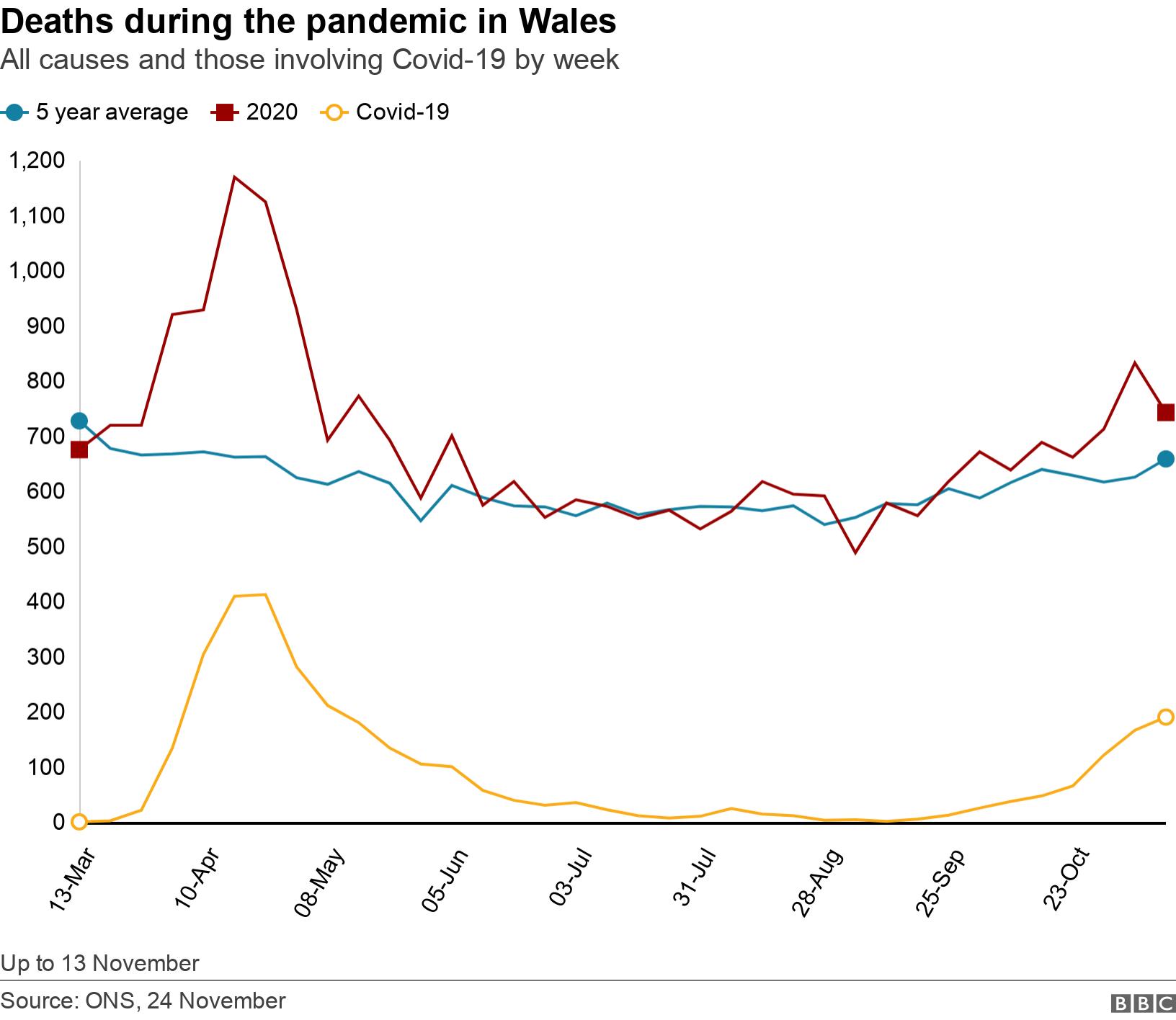 So-called 'excess deaths', which compare all registered deaths with previous years, are above the five-year average.
Comparing current figures with the number of deaths normally seen at this point in the year is regarded as a useful measure of how the pandemic is progressing.
In Wales, the number of deaths fell to 742 in the latest week, but this was still 84 deaths (12.8%) higher than the five-year average.
In the latest week, England had 2,274 deaths involving Covid, followed by Scotland (278), Wales (190) and Northern Ireland (96).