Covid mass testing rolled out to Merthyr Tydfil
All people working and living in Merthyr Tydfil will be offered a Covid test from Saturday.
The county is the first in Wales to take part in the UK's mass testing scheme, with the help of 165 military personnel.
It is hoped people without symptoms who may be infected can be found so they can self-isolate.
The area had the highest case rate in UK at the start of November and remains among the worst hit areas in Wales.
The first testing site will open at Merthyr Tydfil Leisure Centre on Saturday, with other sites due to open later this month.
Health Minister Vaughan Gething said Merthyr Tydfil "will provide further vital information to help inform future rollout of mass testing in Wales".
Welsh Conservative health spokesman Andrew RT Davies said he hoped it will "reduce the pressure being seen in the Cwm Taf Health Board area, which has been particularly hard hit with hospital-acquired infections and deaths".
But Plaid Cymru called for places such as Merthyr Tydfil to be designated "Covid special support areas" with self-isolation payments topped up to £800.
How will it work?
Everyone aged 11 or over can get a test.
There is no booking system, and people can just turn up at a testing centre.
If an individual tests positive, they will be asked to go home immediately to self-isolate, and will be asked to take a traditional test.
The plan is for some sites to stay open until 23 December.
Mr Gething said armed forces personnel, some of whom have been in Merthyr Tydfil since last week, will provide "logistical support".
He added the scheme would "give us an even greater understanding of prevalence within the community and how many people have Covid".
"We have chosen Merthyr as it has a high prevalence and this mass testing will also help to slow down the spread of the virus in the area."
Welsh Secretary Simon Hart tweeted that he had approved a military request for support.
"We're working hand in hand with Merthyr Tydfil council and Welsh Government to defeat this virus," the Conservative UK government minister said.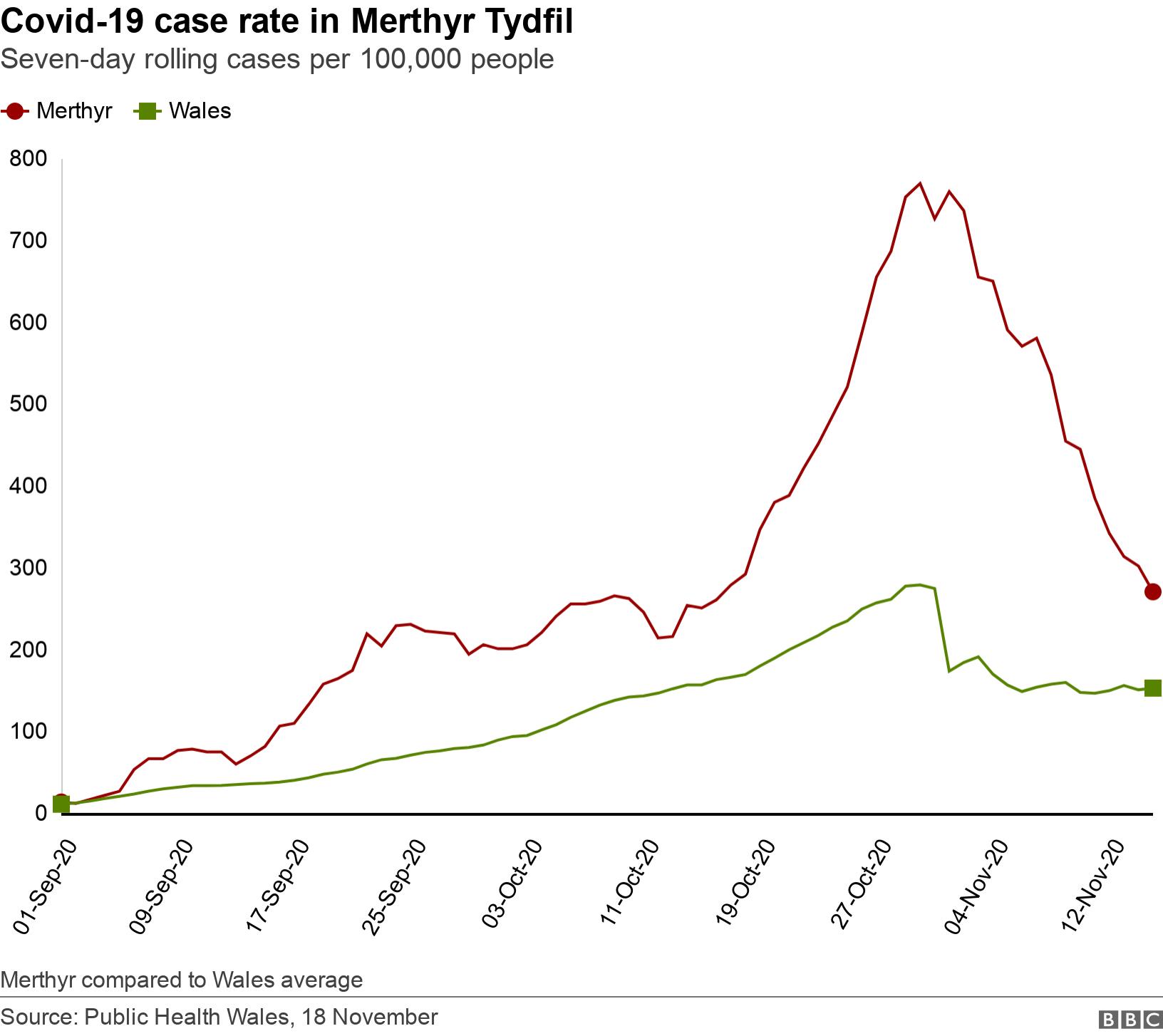 There had been 458 cases in Merthyr Tydfil in the week up to 1 November and the case rate rose as high as 759 cases per 100,000.
The proportion of positive results from tests taken was also high - accounting for nearly a third of people tested.
Those case rates have since come down and Merthyr Tydfil has been overtaken by Blaenau Gwent and Neath Port Talbot.
Up to 14 November the case rate was 286.8 per 100,000, with 173 cases across the county but is still above the Wales average.
Gurnos, which has had 44 cases in the last week, is still in the highest districts of Wales.
Will people in Merthyr get tested?
Tannia from Merthyr, whose mother recently had Covid, said she believed mass testing was a "waste of resources".
"I think unless you have got symptoms, I don't see the point in wasting tests," she said.
Her friend Leah agreed, adding: "I think you should have symptoms to do a test".
However, James Regan said: "We need mass testing and we need to do something more than what we are doing already. People need to do better and try harder to help."
Mr Regan, who had coronavirus and experiences "long Covid" symptoms, said family friends had died from the virus.
"The deaths are a lot more local now, and it is hitting home a bit harder. You just don't expect anyone to pass from it."
NHS Wales chief executive Andrew Goodall said Merthyr Tydfil was an "obvious choice" for mass testing, given the recent high level of coronavirus infections in the area.
He said the Welsh Government was "appealing to the population" in the county "to support us in this initiative to undertake that more repeated testing, whether they have symptoms or not".
The prospect of uncovering asymptomatic cases during mass testing could be a "deterrent" to some people coming forward, the Senedd's health committee heard on Wednesday.
Devi Sridhar, who is professor and chairman of global public health at the University of Edinburgh, said self-isolation was "vital" but it could also put some people off taking part.
"Isolation is just as vital, there is no point testing if you don't actually isolate people who are positive. Otherwise it is a waste of time to test," she said.
She was asked about mass testing generally and was not responding specifically to the announcement about Merthyr Tydfil.
'Confident in the people of Merthyr Tydfil'
Merthyr Tydfil council leader Kevin O'Neill said he believed residents would take part: "I'm confident in the people of Merthyr Tydfil."
He said there would eventually be 14 testing sites - there is only one to start with - and acknowledged the logistics were "difficult", but said people would not be discouraged from turning up.
"So if they're going to turn up, they're going to turn up," he added.