Covid: Rough sleepers back on Welsh streets after first lockdown
By Paul Pigott
BBC News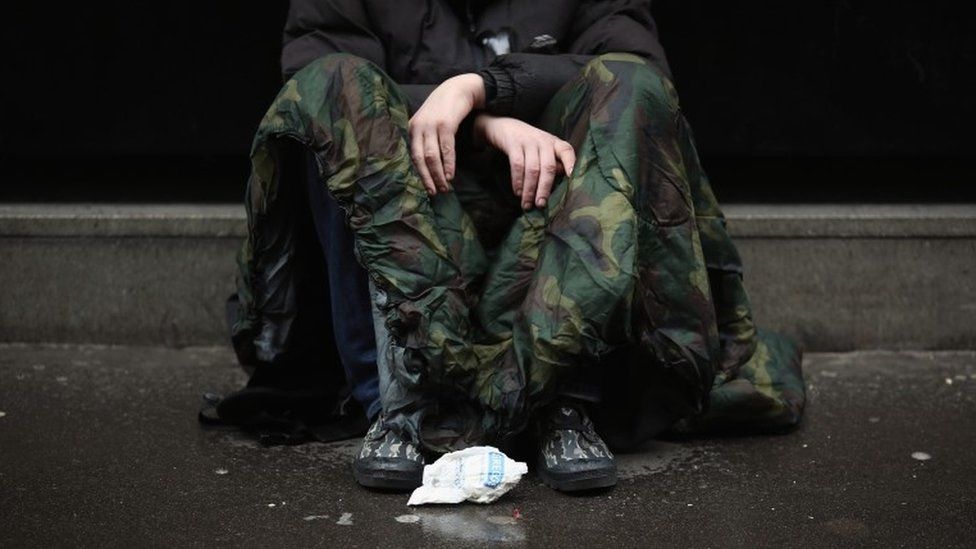 Nearly a quarter of the number of rough sleepers given temporary housing during Wales' first lockdown are living on the streets again, figures show.
In April, all the estimated 407 rough sleepers were given a place to stay but Welsh Government figures indicated 101 people were sleeping rough in August.
Charity Shelter Cymru said it was "desperately disappointing".
The Welsh Government said it was providing funding and no-one should be homeless during the pandemic.
One man who has returned to sleeping in a tent said he felt "chucked to one side" by his local council.
The 28-year-old from Bridgend, who did not want to be named, said he became homeless at the start of lockdown following a relationship breakdown.
His epilepsy puts him in a high-risk category for rough sleepers.
'I feel like a waste of space'
But he said he was "bounced" around three different placements before being kicked out over a fight with a fellow resident and then had to live in a tent, some nights burning his clothes to stay warm.
"I can stay in a hotel for a little bit or have a little bit of food and then back in the tent," he said.
"[My epilepsy] is worse since all this stress, I've had more fits, more seizures than ever and I've been in and out of the hospital.
"How many other people are out there with other medical conditions and they're not having the help?
"They just look at us and think 'oh he's homeless we'll chuck him to the side, just like a waste of space'. That's what I feel like, a waste of space just because I'm homeless."
Bridgend County Borough Council said throughout the lockdown everyone requesting help has been given it, but it would not tolerate violent behaviour towards staff or residents.
"We do not simply throw people out, and will always seek to work with them to help them overcome any problems or obstacles that may be preventing them from finding and keeping full-time accommodation," it said.
Shelter Cymru, which is working with the man, said he was defending himself from a fellow resident who tried to attack him with a pair of scissors.
Jennie Bibbings from the charity said: "It's the pressure on temporary accommodation that is leading some councils to have incredibly strict policies.
"For example, not tolerating any argument with other residents and eviction for very low levels of arrears - these are the things that are leading people to the streets at the moment."
The man said it was his first time living in a homeless shelter and he struggled being surrounded by people who were recently in prison or who had drug and mental health problems.
How many homeless people are there in Wales?
Welsh Government figures for August showed 974 homeless people were placed in emergency accommodation in August, including 476 placements in long-term accommodation.
But more than 3,566 people were in temporary accommodation and 101 were sleeping rough.
That compares with April when temporary placements were found for all 407 of the people known to be sleeping rough in Wales.
The government said its investment this year was "the first big stride" toward ending homelessness in Wales.
Housing Minister Julie James said: "There's no easy solution to this. I've been clear all the way through we have not solved this problem, but we're on the right road to making sure people are housed and not sustained on the streets."
Lindsay Cordery-Bruce, from charity the Wallich, said the government and councils did an "incredible job" at the start of the pandemic but many were again turning homeless people away from help because of a lack of space.
"We didn't solve poverty, we didn't end homelessness, we haven't solved substance misuse or mental health crises."
Ms Bibbings said back in April it felt like the "impossible had happened" to get everyone off the streets.
"It is so desperately disappointing because we hoped those days might be behind us," she said.
It comes despite the Welsh Government's £50m plan in August to eliminate homelessness.
Most councils have now applied for funding to add more housing spaces or hire support staff.
A Welsh Government spokesperson said: "We are working with all partners to ensure that as a sector we are able to continue to meet the needs of anyone who needs a safe place to live and that we take the opportunity to help people into long-term stable housing."
Related Internet Links
The BBC is not responsible for the content of external sites.