Covid: Royal Glamorgan Hospital staff 'broken' by pandemic deaths
By Owain Clarke
BBC News
An intensive care doctor at one of the hospitals hit hardest by the second wave of coronavirus says staff feel "broken and "exhausted".
Dr Ceri Lynch, consultant anaesthetist at the Royal Glamorgan Hospital in Llantrisant, fears the situation is "worse" than during the first peak in the spring.
She spoke of the emotional toil as doctors and nurses watched patients die, and of seeing people's families "decimated" by the virus.
"We are all devastated," she said.
To date, 495 people with coronavirus have died in the Cwm Taf Morgannwg Health Board area - the highest number in Wales.
The hospital serves patients living in some of the hardest hit counties, including Rhondda Cynon Taf which had 553.8 cases per 100,000 of the population in the last week - one of the worst affected communities in the UK.
Dr Lynch said more people were coming to the hospital already seriously ill with the virus, and only surviving a few days, despite better knowledge and better treatments being available.
"I don't know whether it's because they're presenting later or the disease is becoming more severe," she said.
"I feel we've had more deaths, which is sad, with young patients and entire families affected... we're all devastated by that."
Dr Lynch said staff at her unit had been left in tears and were "broken" after seeing some of the harrowing effects of the virus, and colleagues had been infected.
"The saddest thing for us is the families that have lost several family members," she said.
"Those families have been decimated, so they'll never recover."
Dr Lynch said many relatives were unable to be at their loved-one's bedside when they died, as they were having to self-isolate after contracting the virus themselves.
"It's tragic having to do this by telephone or Skype," she said, explaining family members were having to be at their loved-one's death bed via a video call.
"I was crying on Monday, I was at the death of a patient, we try and make the deaths as peaceful as we can, and I think we do a good job.
"We've had to take the place of the family, hold the patient's hand, talk to them, and communicate with the family, and there's been a lot of tears.
"We've been through this a lot, and we are all a bit broken really."
Since the start of the pandemic, almost 12,000 cases of coronavirus have been confirmed in the health board area and cases in communities are rising.
So far 186 cases and 51 deaths have been linked to the major outbreak.
For a period in late September the hospital had to close its doors to almost all new admissions - although those restrictions have now been relaxed and infection rates now appear to have stabilised.
How many Covid-19 patients are there in Cwm Taf Morgannwg hospitals?
Latest figures show there were 446 patients being treated for Covid-19 in the health board's hospitals on 3 November. Most of them were in acute beds, but there were 16 in critical care or being treated with invasive ventilation.
This number of hospitalisations is a 21% increase on the week before.
Admissions are less however than a week ago.
Dr Lynch said that with hospitals trying to keep as many services running as possible during the second wave, some staff felt overwhelmed.
In contrast, in the spring almost all non-urgent treatments were suspended across the Welsh NHS.
"We've been going through this for months now," she said.
"We had a bit of respite in the summer, but we were working really hard catching up with the backlog of other work that had been put on hold in the first wave.
"Now we're overwhelmed with Covid again and the patients are still dying."
Dr Lynch added that many staff members had been off work after contracting coronavirus, and some had children who were having to isolate or had family members who had been ill.
"Everyone's exhausted," she said.
"We're all living in communities with lockdowns, our children are being isolated from school, and a lot of staff are infected themselves, or having to isolate.
"It's exhausting trying to balance the clinical work with being a mum.
"I'm not the only one, most of our nurses are in the same position and they are doing brutal shifts in PPE and seeing all these deaths and being engaged with people's families on a much closer level than I am."
She added: "People are off with stress and anxiety, and we are being asked to do double the amount of work.
"We are all exhausted, we are being asked to give and give and give. Which we are doing, but it doesn't feel like there's any end in sight."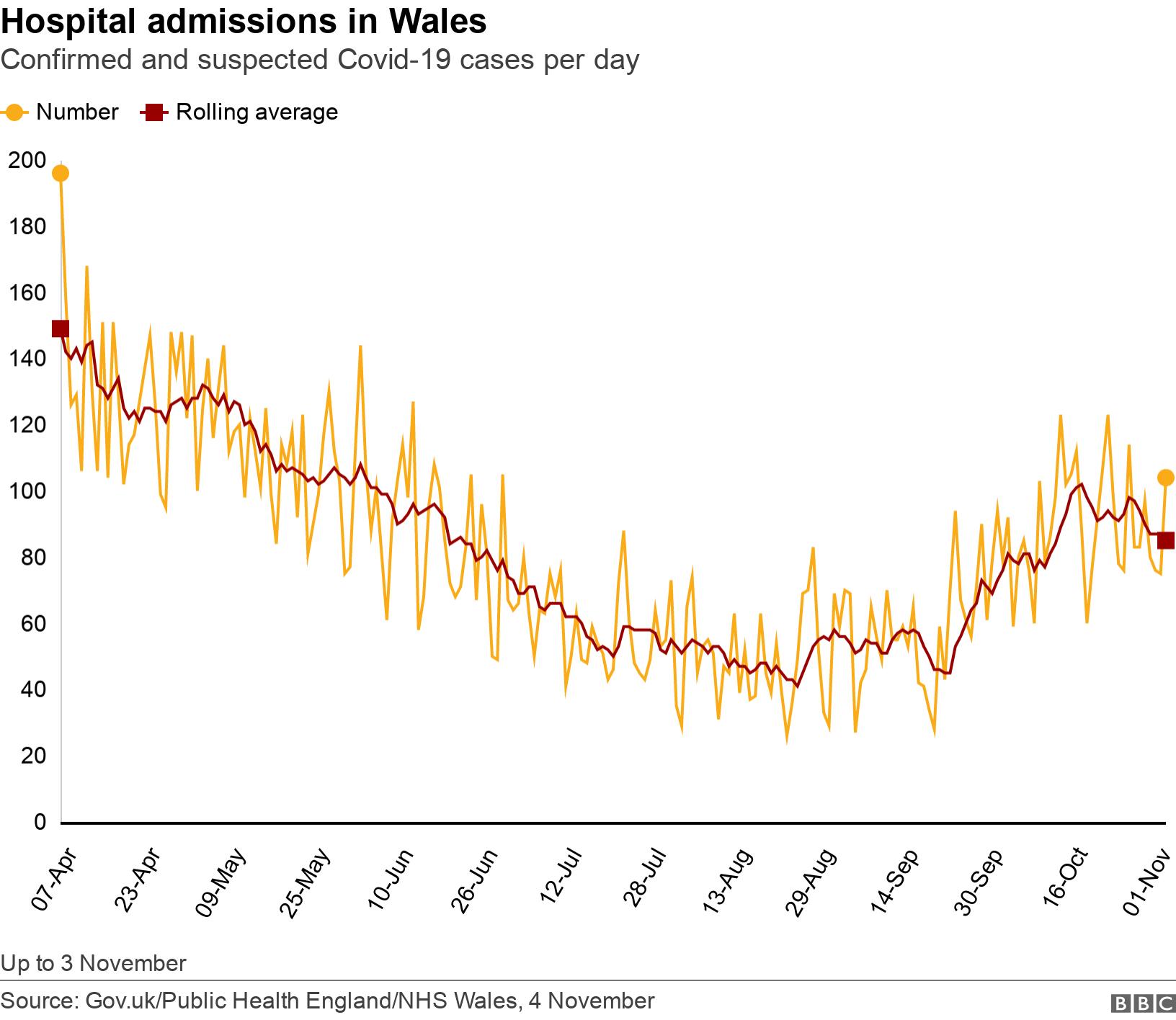 According to NHS Wales data, 899 people were in hospital being treated for coronavirus on Tuesday, the highest figure since April.
This includes patients who will have contracted the virus while in hospital, a figure which has risen to 218 in recent weeks.
Numbers of Covid-19 patients on ventilation or in critical care stood at 54, nine more than the week before.
As a Wales-wide firebreak lockdown comes to an end on Monday, Dr Lynch urged people to follow new regulations.
"It's very difficult, especially when you hear people saying it's all made up or that it's no worse than the flu," she said.
"It's very upsetting that people are not obeying the rules or isolating."