Covid-19: Number of patients in hospital grows again
The number of patients in hospital with coronavirus in Wales has grown again - up nearly a quarter on last week.
Latest NHS Wales figures show 1,110 Covid-19 patients in hospital beds, which is more than 80% of the level at the pandemic's peak in April.
Cwm Taf Morgannwg health board has nearly 100 more patients in its hospitals compared with last week.
There have been rises elsewhere, with numbers doubling in Hywel Dda, which had only 33 Covid patients a week ago.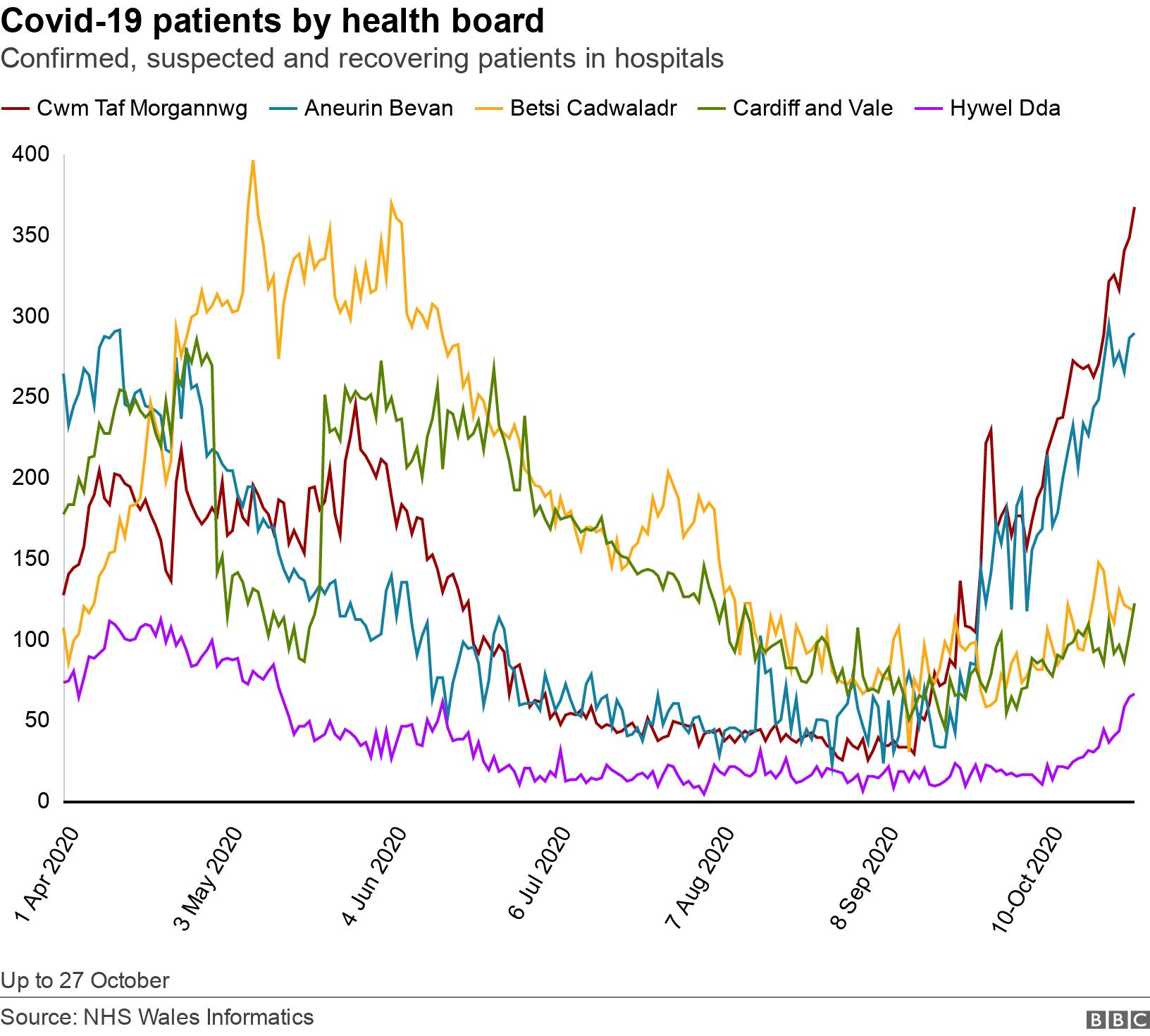 The figures show that of the 1,110 patients in hospital, 655 were confirmed Covid-19 patients - the highest figure since May.
There were 252 patients with suspected Covid and 203 who were recovering from the virus.
Aneurin Bevan health board has another 41 patients in its beds and hospitalisations have risen by 30% in Cardiff and Vale, although numbers have fallen in the Betsi Cadwaladr health board.
Rhondda Cynon Taf (RCT) council leader Andrew Morgan said there were 20 Covid patients on ventilators or in critical care in the area on Wednesday.
"The numbers in our area are quite stark in terms of the numbers of people in Covid beds," he told BBC Radio Wales.
Jamie Jenkins, former senior health analyst with the Office for National Statistics (ONS), said he believed Aneurin Bevan health board was about two weeks behind Cwm Taf Morgannwg in patient numbers, with infections within hospitals an issue.
"We're seeing increased rises across most of the health boards where vulnerable patients are catching the virus from within the hospital and what we're seeing in recent days is that this, sadly, is leading to increasing deaths," he told BBC Wales.
The director of the Welsh NHS Confederation Darren Hughes added: "What we're seeing is field hospitals which were part of the contingency planning for dealing with the effects of Covid now starting to be used - particularly in the RCT area, but also in other parts of Wales."
The confederation, which represents health boards, said it was seeing a "vast increase in the number of patients in hospital with Covid-19 related issues."
"Going into the winter months the NHS in Wales is relatively confident we will have the resources available to us, including 5,000 extra beds. But, the reality is that coronavirus hasn't gone away for our staff working within the NHS for over seven months now."
Across Wales, a total of 45 people were being treated on invasive ventilated beds, including in critical care, for confirmed or suspected coronavirus, on 27 October - two more than the week before.
Doctors are known to be trying to treat more seriously ill patients without putting them on ventilation, compared to the first wave.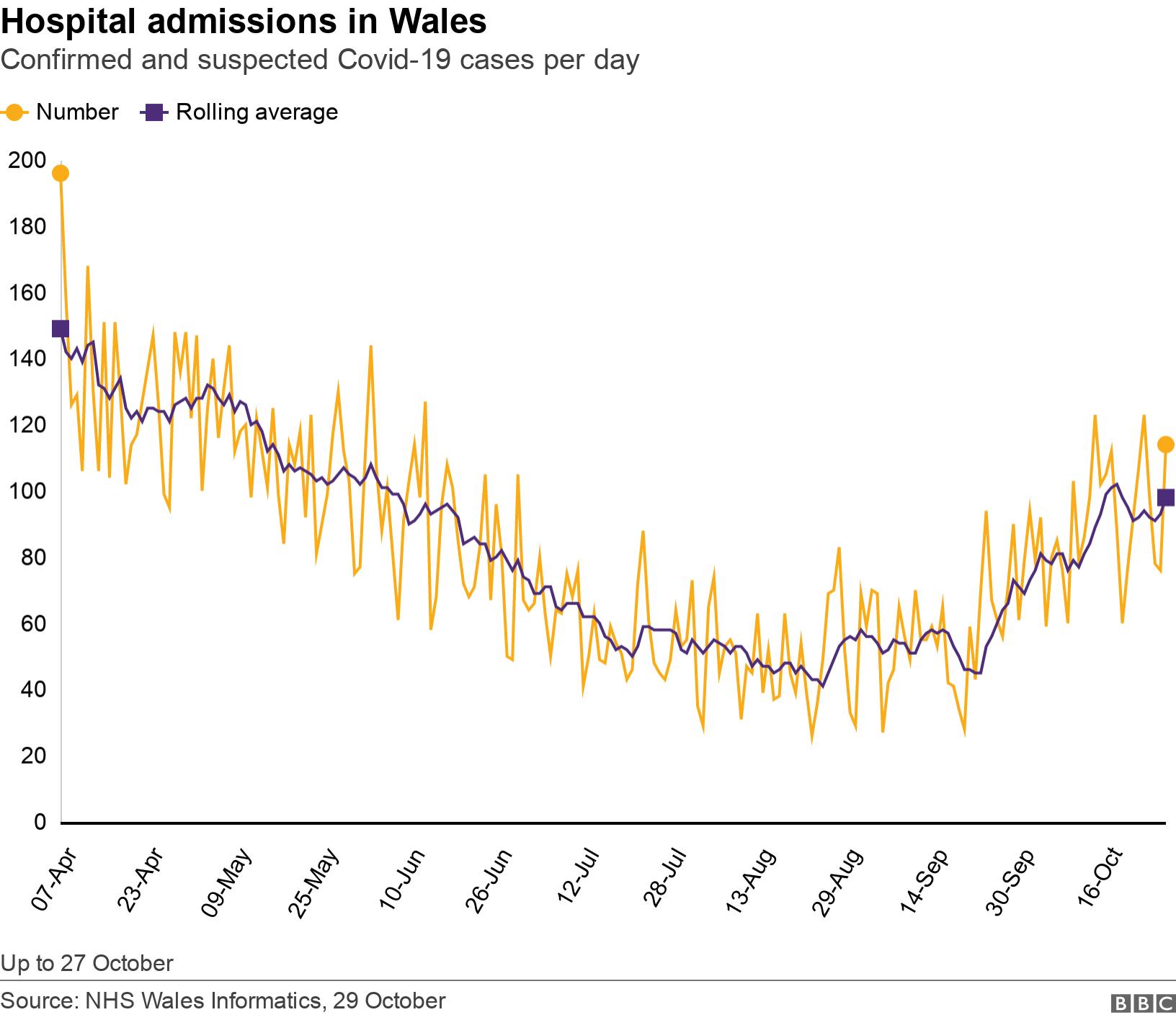 The seven-day average in total daily admissions to hospitals of confirmed and suspected Covid-19 cases continues to rise and is currently 98, up on the previous week.
Chris Williams, Public Health Wales incident director, said on Wednesday: "Rising case numbers are likely to result in rising hospitalisations and, sadly, to an increase in reported Covid-19 deaths."
The numbers of Covid patients in acute or general beds - 1,065 - is the highest since the end of April.
Latest figures from NHS Wales Informatics show there are three times as many patients in critical care with other conditions, and now occupancy is beyond the usual capacity for critical care.